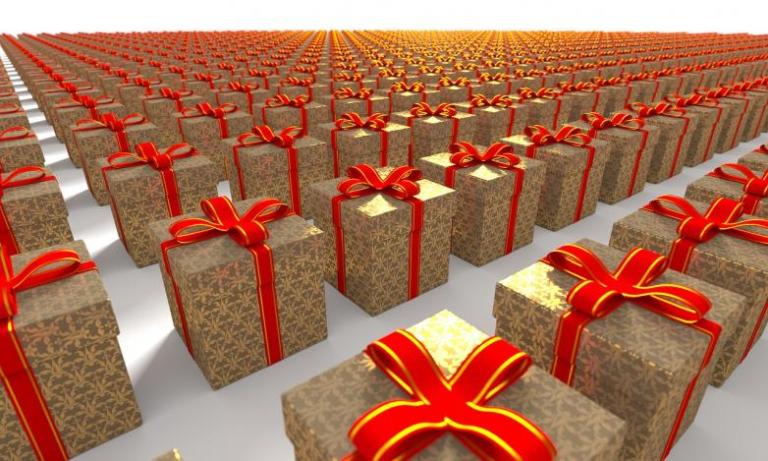 It's Christmas, hailed in at least one secular song as "the most wonderful time of the year!" This is a Christian holiday. But why do so many non-Christians celebrate it?
Nine out of ten Americans celebrate Christmas. (And the 10% who don't includes strict Christians who reject the holidays in the liturgical calendar on principle.)
Around three-quarters of Hindus and Buddhists in America celebrate Christmas, as do a third of Jews and a significant but undetermined number of Muslims. Even 87% of atheists, agnostics, and other "nones" celebrate Christmas!
Today 55% of Americans say they consider Christmas as a religious holiday, with the rest considering it only a "cultural" holiday.
Many observers conclude that the Christian meaning of Christmas is declining, so that December 25 is or is fast becoming a purely secular holiday.
But is that possible?
"Christmas" comes from the two words "Christ," whose birth the day commemorates, and "mass," a worship service. The very word "Christmas" testifies to Christ and the day's Christian meaning.
Some secularists recognize this and so draw back from the Name. They don't say or want to hear "Christmas," so they substitute some version of "holiday." But that word means "holy day." So why is the day "holy"?
I realize that the original meaning of words does not necessarily constrain contemporary usage. But the actual meaning of Christmas–the birth of Christ the Savior–continues to inform the other meanings that people assign to it.
"Christmas is about family," some say, but that sense points back to birth, which defines family, to Mary, Joseph, and the Baby Jesus.
"Christmas is about good will and kindness to our fellow human beings," some say. But all of those feelings of benevolence, the philanthropy and generosity associated with the season are remnants of the Christian ethic. The Christmas Angel proclaimed that the birth of the Savior heralds, in the words of the culture-shaping King James Version, "on earth peace, good will toward men" (Luke 2:14). And the warm feelings Christmas still inspires even among secularists is a cultural memory of what the love inspired by Christ feels like.
Furthermore, the decorations and customs that even secularists and other non-Christians employ to celebrate their "winter holiday" are Christian symbols. Lights symbolize the Light of the World (John 1:1-9; 8:12). Evergreen trees symbolize everlasting life. Holly gives us the Christmas colors of green and red, reminders of Jesus's crown of thorns, with its drops of blood, flowering into life.
Santa Claus is a shell of St. Nicholas, who championed the Incarnation at the Council of Nicaea. December 25 is immediately after the solstice, so that days start to lengthen and light starts to conquer the darkness (John 1:5). Christmas dinner is a carry over of the "feasts" that marked the liturgical calendar, in this case the celebration with food that followed the fast of Advent.
As for gifts. . . .Receiving gifts expresses the heart of the Christian message. Christ is a gift. Salvation is a gift. In worship, we receive God's gifts. In our "secular" lives, we receive God's gifts. Our daily bread, our families, our abilities, our friends, our communities, our belongings, all of what even non-Christians sometimes refer to as their "blessings" are gifts from God's hand. That we have a God who gives gifts means that Christians worship a God of grace, who bestows unmerited favor, and who went so far as to give us Himself by coming down from Heaven, to be born in a manger, and to give His life for us.
If receiving gifts is emblematic of receiving God's grace, giving gifts is emblematic of the Christian life, as we become, in Luther's words, "little Christs" to each other, by loving our neighbors with grace of our own and serving our neighbors by giving them the gifts of our vocations.
What has happened, I think, in the "secularization of Christmas" is that people, having turned away from Christianity, continue to follow its outward forms. It's like someone who goes to church and goes through the motions of worship, while oblivious to everything that it means. They retain the externals, but they have lost the meaning.
And yet they are honoring Christ even though they are doing so unwittingly and against their intention.
I think of this Christmas text from the Apostle Paul:
5 Have this mind among yourselves, which is yours in Christ Jesus, 6 who, though he was in the form of God, did not count equality with God a thing to be grasped,7 but emptied himself, by taking the form of a servant, being born in the likeness of men. 8 And being found in human form, he humbled himself by becoming obedient to the point of death, even death on a cross. 9 Therefore God has highly exalted him and bestowed on him the name that is above every name, 10 so that at the name of Jesus every knee should bow, in heaven and on earth and under the earth, 11 and every tongue confess that Jesus Christ is Lord, to the glory of God the Father. (Philippians 2: 5-11)
I have heard it said that when Jesus comes again and the dead are raised, both the save and the lost will fulfill this Scripture, whether in victory or in defeat.
But already, in observance of His first coming, every knee is bowing to "the name of Jesus," if not to His person, and every tongue is confessing that Jesus is Lord, even if their hearts are far from Him.
Secularists love the beautiful presents under their trees, but all they know is the external wrapping. We Christians should encourage them to open all of their gifts.
Illustration by QuinceMedia via Pixabay, CC0, Creative Commons