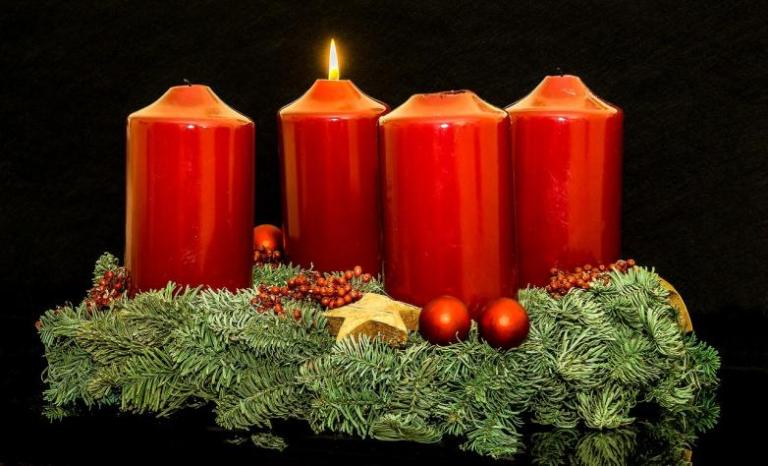 The season of Advent has begun!  The word comes from the Latin, meaning "coming to" (from ad "to" + venire "to come").   The season is about Christ "coming to" us.
He came to us at Christmas, of course, so Advent anticipates that celebration.  By reading and reflecting on the Old Testament prophecies of Christ, Christians put themselves in the point of view of the ancient Israelites, yearning through all of their troubles, for the promised coming of the Messiah.
Advent has other levels as well, all reflecting on Christ's coming to us.
He is coming to judge the living and the dead.  So Advent anticipates Christ's second coming, when He returns, raises the dead, and establishes the new heavens and the new earth.  So we too, like the Israelites, are looking ahead to that day.
We meditate on Christ's coming to us in the past (the first Christmas) and in the future (His second coming), which we put together by looking forward to the near future celebration of Christmas in a few weeks.  But we also meditate on Christ's coming to us in the present!  He comes to us through the Sacraments and through the Word.
Advent is parallel to Lent.  Both are penitential seasons, times to repent of our sins and to reflect on our need for Christ.
Christmas has spilled over into Advent, with the joy of that feast giving Advent too a joyous flavor, as opposed to its traditional solemnity.  If Advent is supposed to be a "preparation for Christmas," what that means today is not fasting, self-denial, and meditating on the Bible's prophecies.  Rather, our "preparation for Christmas" means buying presents and putting up the decorations.
I am not sure that is all bad.  But we can filter the excitement about Christmas coming and the logistical preparations that have become necessary through the lens of penitence.
All of the Christmas lights that are going up can be a reminder of how Christ comes to me in my darkness.
The evergreens that deck the halls can be a reminder of how Christ comes to me bringing life though I am dead in my sins.
Buying presents can be a reminder that Christ's coming to me brings the gift of salvation, despite my sinfulness.  This, in turn, can motivate me to give to others, as I love and serve my neighbors in my various vocations.
And yes, the stress and strain and frenetic activity that often accompanies our "preparations for Christmas" can also be reminders of our lost condition, which is our lot, except that Christ comes to us.
Photo of Advent Wreath by Myriams-Fotos, via Pixabay, CC0, Creative Commons