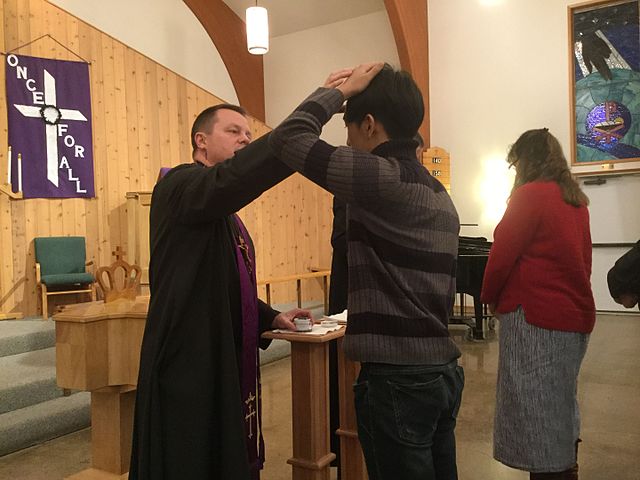 J. R. Arner, back in 1994, put together a daily devotional series for Lent that is now online called LenTree for George Herbert. It consists of a poem from George Herbert, arguably our greatest Christian lyric poet, for each day of Lent.
It starts here with the introductory poem "The Altar, " followed by Herbert's great poem of rebellion countered by God's grace, "The Collar," for Shrove Tuesday, the day before Lent begins.  Then comes Herbert's poem Lent for Ash Wednesday.  After that, just keep hitting "next" for the next day's devotional poem.
Here is a calendar for the whole series.  And if by chance you have already followed this LenTree in a previous year, there is also  a second series, using some of Herbert's lesser known poems, entitled Church Ways:  The Face of Fire.
This is a project of a wonderful site devoted to Herbert, which also includes a Tenebrae service based on his long poem about Christ on the Cross, "The Sacrifice" (which, with other Herbert poems, is alluded to in the popular Lenten hymn "My Song Is Love Unknown").
If you'd like some in depth commentary for each poem, may I modestly suggest one of my first books, recently back in print, Reformation Spirituality:  The Religion of George Herbert.
From George Herbert's Lent:
Yet Lord instruct us to improve our fast

By starving sin and taking such repast

As may our faults control:

That ev'ry man may revel at his door,

Not in his parlor; banqueting the poor,

And among those his soul.
Herbert, as he does so often, shows the internal meaning of external observances.  The point of Lenten fasts is not just to stop eating, but to "starve sin."  And in Herbert's characteristic paradoxes, he says that the best kind of fasting is eating!  We should take "repast" (that is, meals) that help control our faults; e.g., feeding on God's Word; feeding on Christ's Body and Blood in Holy Communion.  In fact, he says, Lent should be a time of revelling–we would say, partying!–but of a special kind.
Everyone should "revel at his door."  I'm pretty sure Herbert is alluding to Christ's statement that "I am the door" (John 10:9).  But the picture Herbert gives, in one of his spatial metaphors, is revelling at the door (where the inside meets the outside) instead revelling in the parlor (inside the house).  He is saying here that our spiritual focus at Lent should not just be inside ourselves, but that we also should attend to those outside ourselves, that is, to our neighbors.
Thus, in Lent, we should be "banqueting the poor."  But then, in one of Herbert's typical surprising twists at the very last word of the poem, he internalizes, while affirming, even those external good works:  When you banquet the poor, remember that "among" the poor whom you do need to take care of, is your own soul.  
A Lenten exercise that consists in reading one Herbert poem a day will take hardly any time–the poems are very brief and simple, but they are rich with levels upon levels of meaning.  Poetry has been defined as "a trap for meditation."  That is certainly true of Herbert, as each poem can become an occasion of meditating deeply on the conflict between your sin and God's grace, the revelation of God's Word, and the Gospel of Christ's redeeming death and resurrection.
Join me in taking on the Herbert LenTree!
Photo:  The Imposition of Ashes at Bethany Lutheran Church by Melissa Pittenger – was sent to me personally, CC BY-SA 4.0, https://en.wikipedia.org/w/index.php?curid=53405983