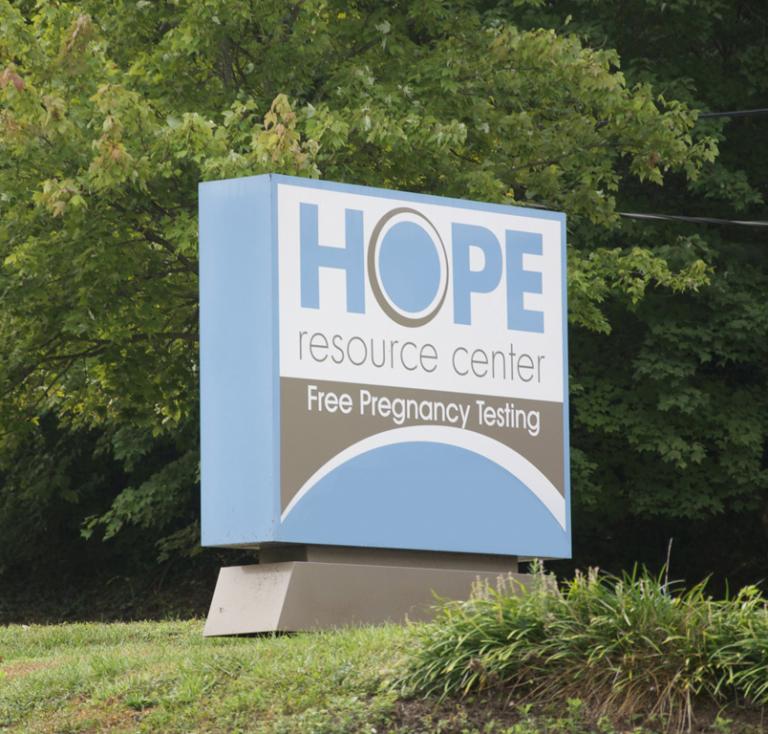 Today the Supreme Court will hear the case regarding California's law that forces pro-life clinics, among other restrictions, to provide their clients information about how to receive free or low-cost abortions.
The arguments in National Institute of Family and Life Advocates (NIFLA) vs. Becerra have to do with a California law passed in 2015 that requires pro-life crisis pregnancy centers to prominently post information, including phone numbers, about how to procure an abortion.
A rhetorical tactic of pro-abortionists is to raise the question,"why don't you pro-lifers care for children after they are born?" But they do! The pro-life clinics help pregnant women by giving them the support many of them, caring for the baby afterwards, and if necessary helping the mother put her child up for adoption. But the pro-abortion industry has made demonizing, disabling, and killing off pro-life pregnancy centers a top priority of the abortion industry. And liberal politicians–despite their claim to support the weak and marginalized–have obediently followed the abortion industry's dictates.
Normally, "compelled speech" is unconstitutional on the face of it, but an appeals court ruled in favor of the law. So now the Supreme Court will decide.
Charlotte Allen gives the details:
On March 20 the U.S. Supreme Court will hear arguments in National Institute of Family and Life Advocates (NIFLA) vs. Becerra, a case that challenges the constitutionality of a 2015 California law that forces "crisis pregnancy centers"—which supply pregnancy-related services to expectant mothers with the aim of persuading them to keep their babies—to provide information, including contact phone numbers, about how to obtain a free or low-cost abortion funded by the state of California.

Furthermore, "unlicensed" pro-life centers that don't provide on-site medical services but merely counsel pregnant women against abortion and offer material help such as diapers and baby clothes must post at least two signs on their premises, in 48-point type and in as many as thirteen different languages, stating that they are not medical facilities. The same disclaimer rule applies to all their print and digital advertising, which means that the mandatory huge fonts (48-point type is nearly two-thirds of an inch high) and multiple repetitions will effectively crowd out the pro-life message the centers are trying to convey.

The penalties for noncompliance are steep fines. The law is all too typical of deep-blue, abortion-happy California, where local legislators have over the years mandated twenty-five-foot "buffer zones" designed to squelch pro-life protests outside abortion clinics, and law professors have recommended use of the state's anti-stalking laws to bring criminal charges against the "sidewalk counselors" who try to dissuade pregnant women from going inside. . . .

Compelled speech is a First Amendment issue that theoretically ought to be open and shut. As long ago as 1943, in a case involving Jehovah's Witnesses with religious objections to their children's being obliged to recite the Pledge of Allegiance at school, the Supreme Court ruled that governments can't require people to engage in speech with which they disagree. . . .

Unfortunately, though, liberal legislators and courts, egged on by NARAL Pro-Choice America and other abortion-promoting organizations, have carved out what Catholic University of America law professor Mark L. Rienzi calls an "abortion exception" to the otherwise broad First Amendment protections for speech. Demonizing crisis pregnancy centers and thus rendering them ineffective has been at the top of the abortion-boosting agenda for years.
Photo of Hope Crisis Pregnancy Center sign in Knoxville, TN, by stmaryathens modified by FormerIP – This is a modified image. Original is at https://www.flickr.com/photos/stmaryathens/5015326507/sizes/o/in/photostream/, CC BY 3.0, https://en.wikipedia.org/w/index.php?curid=30500580