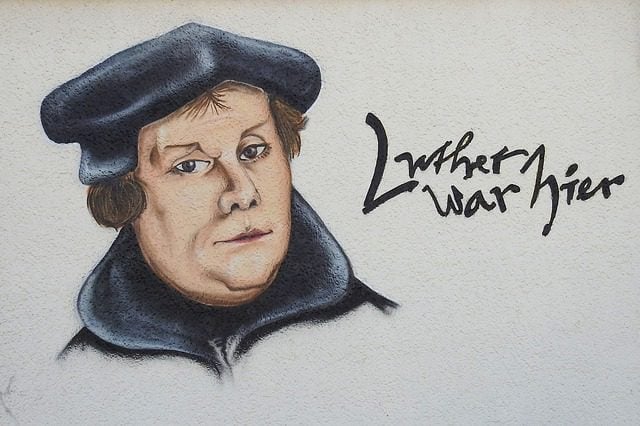 Did Martin Luther give us Donald Trump? Are Lutherans responsible for getting Trump elected? This is what some writers are saying.
Whether you think Luther's alleged complicity with Trump would be a good thing or a bad thing, most of these writers see it as bad. In doing so, they tend to get Luther wildly wrong. But in the midst of all of these claims, one writer gives us a very good explanation of Luther's teachings about politics.
Alec Ryrie in Foreign Policy maintains that Martin Luther Was the Donald Trump of 1517. Rev. Alexander M. Santora, a Catholic priest, wrote an op-ed piece in a New Jersey newspaper entitled Did Martin Luther Spawn Donald Trump?, answering in the affirmative. Michael Massing, writing in The Nation, explains How Martin Luther Paved the Way for Donald Trump.
Their point is generally that Luther was a populist, though they then also blame him for urging the princes to crush the peasants' populist uprising. They say he was an anti-establishment figure, which is true. And that he employed Trump-like inflammatory rhetoric, which is a half-truth. And that he favored brutal government policies, which is not true.
Massing has the most substantive argument. He says, "Luther also believed in the concept of the 'two kingdoms,' the secular and the spiritual, which had to be kept rigorously apart. Christ's Gospel was to apply only in the spiritual realm; in the secular, the government's role was to maintain order and punish evildoers, not to show compassion and mercy."
Massing is right to focus on the doctrine of the Two Kingdoms, but his description distorts its implications. God is the King of both realms, the secular no less than the secular. God's moral law does apply to the secular realm. In the spiritual realm, those freed by the Gospel of God's "compassion and mercy" through Christ are free of the Law, though they remain citizens also of the secular realm and are obliged to follow God's commandments as their faith bears fruit in love for their neighbors.
But even taking Massing's formulation of the Two Kingdoms as he states it, one would think that he would applaud keeping "the secular and the spiritual. . .rigorously apart." Readers of the left-leaning The Nation have been scaring themselves at the prospect of the Christian right establishing a theocracy. Luther does not keep the secular and the spiritual rigorously apart–the Two Kingdoms actually brings them together under one King–but in distinguishing between these two spheres and making a place for secular rule, he makes theocracy impossible.
Massing's biggest mistake in his article is his claim that today's evangelicals, including the Southern Baptists he focuses upon and the Pentecostalists who are enthusiastic about Trump, follow Luther. They don't!
As so often happens with British and American commentators, they conflate Luther with Calvin. Massing even associates Luther with the belief in predestination! Calvin's Reformed tradition, which has been extremely influential in England and the United States, for the most part, does not believe in Luther's Two Kingdoms distinction. They tend to believe that there is one kingdom and to emphasize Christian influence in the world. Most of American evangelicalism derives from this tradition, rather than Lutheranism, as did most of today's Christian political activism.
More intriguing is economist Lyman Stone's analysis of election data, which credits midwestern Lutherans, in part, for tipping the election to Trump. He points to the states of "Pennsylvania, which Trump flipped, and Wisconsin, which Trump flipped, and Iowa, which Trump flipped, and rural Minnesota, which Trump came astonishingly close to flipping." These states more often vote Democratic, but in the 2016 election, these heavily-Lutheran states switched to Trump, giving him the election.
Specifically and counter-intuitively, Stone credits liberal Lutherans. "In areas with 35 percent Evangelical Lutheran Church of America adherence, the pro-Trump effect direction is consistent, but the coefficient is even larger. Ten percent ELCA counties had a 4.7 percent swing for Trump; 25 percent ELCA counties had an 8 percent swing for Trump; 35 percent ELCA counties had an 11 percent swing for Trump."
How could that be? Stone compares the evangelical turnout for Trump with their turnout for Romney in the 2012 election. Evangelical support for Romney was far greater, even though many had qualms about him because he is a Mormon. While it is true that the overwhelming majority of evangelicals who voted picked Trump, a significant number, faced with the alternative of Hillary Clinton, opted for "none of the above" and did not vote for president.
The real difference, according to Stone, was the behavior of mainline Protestant voters. Those denominations, such as the ELCA, are politically very liberal. They are also in notable decline. Stone says that part of the weakness of the mainline denominations is that their political influence with their members is diminishing. Thus the large numbers of voters in ELCA enclaves who turned to Trump.
Now, Lyman Stone, who identifies himself as "a theologically confessional Lutheran and politically conservative Republican," has also written a perceptive article on Luther's actual political theology. We'll blog about that tomorrow. (Tip of the Hat to him for putting me onto these Luther as Trump articles.)
The bottom line, for now, is that comparisons between figures of very different ages can never be very accurate. Our divisions of "liberal" and "conservative" don't even work for the 19th century. Was Lincoln "liberal" or "conservative"? How about Queen Elizabeth I? Or Cicero? The questions are meaningless.
At the same time, you can construct analogies between just about any two individuals. Lincoln is like Trump in wanting to put America first. Queen Elizabeth I is like Trump in always retaliating against her enemies. Cicero is like Trump in using language to control a crowd.
At the same time, Lincoln, Queen Elizabeth I, and Cicero–and Luther–are nothing like Trump since they all exist in such radically different times, cultures, and contexts.
Illustration by hansbenn via Pixabay, CC0, Creative Commons