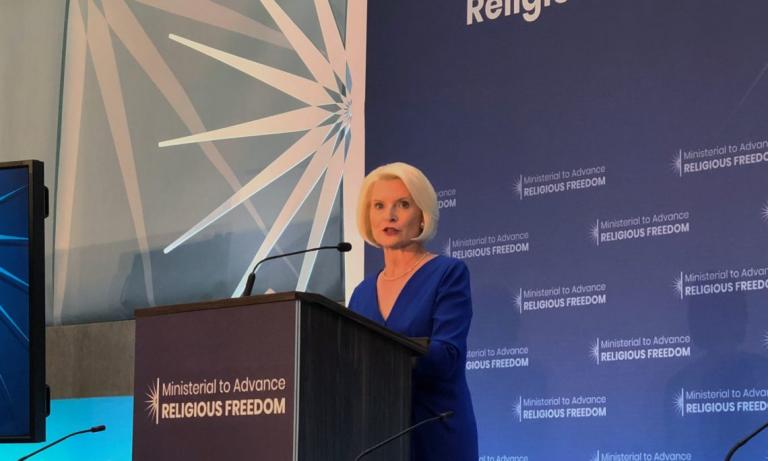 One of the participants in the Ministerial to Advance Religious Freedom  was Callista Gingrich (wife of Newt), who is now the United States Ambassador to the Vatican.
She argues that promoting the right to religious freedom also promotes the rights of women.  In the course of her discussion, she makes a distinction that I hadn't thought of before.
From Callista Gingrich, To Strengthen Women's Rights, You Must Protect Religious Freedom (based on her remarks at the Ministerial to Advance Religious Freedom):
In 2014, the Special Rapporteur on Freedom of Religion or Belief observed: "Widespread misperceptions have given rise to the idea that freedom of religion or belief and equality between men and women are norms standing in opposition to each other."

The fact is, these unfair and misleading characterizations could not be further from the truth. When religious freedom is protected, women's rights are strengthened and societies flourish.

To appreciate why this is the case, it's important to understand what religious freedom is in the first place. Religious freedom is a human right enjoyed by individuals – not a right granted to religions.

When properly recognized by governments, religious freedom can and should allow for members of peaceful religious groups – of all faiths and denominations – to form and carry out their ministry.

The human rights of women and religious freedom operate in concert with all other human rights – universal, indivisible and interdependent.
If religious freedom applies to individuals, not religions, that would clarify some issues.  A Muslim would have the right to follow the principles of Sharia law, if he wants.  But a mosque would have no standing to demand that Sharia law become an alternative legal system for all Muslims.  The Christian baker could refuse to make a wedding cake for a same-sex marriage ceremony.  But Christian churches as a whole could not claim institutional privileges from the state.
On the other hand, churches do claim institutional privileges from the state, for example, exemption from taxes.  If Mrs. Gingrich is correct, one would think that individuals could claim tax exemptions for their contributions to religious institutions.  But the religious institutions couldn't claim additional exemptions for themselves.
Can any of you legal minds tell us if Mrs. Gingrich is correct?  If it is, what would be some other implications and applications?  Could this distinction resolve some of today's controversies over religious liberty and how it relates to other human rights?
The Potomac Declaration addresses this, suggesting that while the "human right" adheres with the individual, this right can be exercised corporately:
Religious freedom applies to all individuals as right-holders. Believers can exercise this right alone or in community with others, and in public or private. While religions do not have human rights themselves, religious communities and their institutions benefit through the human rights enjoyed by their individual members.
Photo:  Ambassador Callista L. Gingrich addressing the Ministerial to Advance Religious Freedom, from U.S. Embassy to Holy See.  [Public Domain]