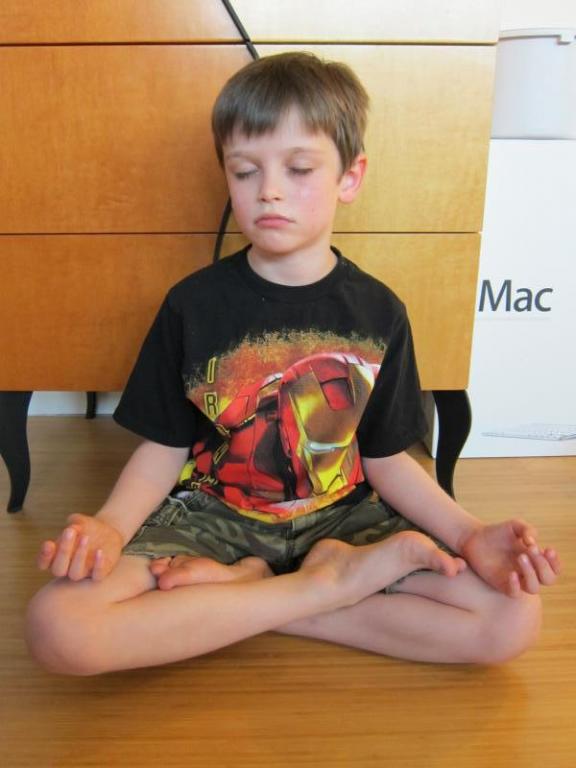 The Atlantic has an article about the growing use of yoga in the curriculum of public schools, even though some people are against it. The implication is that doing yoga for gym class is "progressive" and that the opposition consists mostly of Christians who are worried that the Hindu practice conflicts with their religious beliefs. But if schools are prohibited from including Christian practices why aren't they prohibited from including practices from other religions?
From Alia Wong, Why Schools Are Banning Yoga:
In certain parts of the United States, it's getting more and more likely that rather than a game of dodgeball in gym class or a round of Heads-up, Seven-up as a break between lessons, students will instead find themselves doing downward-facing dog. The internet is saturated with yoga-based lesson plans, teacher-training courses, and "mindful" music playlists designed for schools, while programs for certified yoga instructors who want to bring their practice onto campus have also gained popularity.

While up-to-date data on the prevalence of school-based yoga is hard to come by, a 2015 survey led by the New York University psychologist Bethany Butzer identified three dozen programs in the United States that reach 940 schools and more than 5,400 instructors. School-based yoga programs, Butzer and her co-authors concluded, are "acceptable and feasible to implement." The researchers also predicted that such programs would grow in popularity.
The writer goes on to tell about these programs, why they are being promoted, what their benefits are, and why some people are objecting to them. They are mostly concentrated in big cities on the East and West coasts. She comments, "Big cities and liberal strongholds generally tend to be vanguards when it comes to implementing 'progressive education' policies."
But in what sense is yoga "progressive"? Yoga goes back thousands of years and is a staple of traditional Hinduism. Its every detail is grounded in Hindu metaphysics and meditation. According to one ancient source, "By the word 'yoga' is meant nirvana, the condition of Siva." Are "progressives," with all of their claims to be scientific, ready to accept chakras, personal energy centers, the sacred syllable "OM," nirvana, and Siva?
Proponents cite all of the benefits of yoga, such as cultivating "mindfulness." Well, prayer, Bible reading, and Christian meditation have benefits too. But they are prohibited in public schools in the name of the "separation of church and state."
Is it just the separation of church and state that is required, and not the separation of church and temple? Why is one religion accepted but another forbidden? Why are advocates of having Christian elements in schools considered retrograde, but advocates of having Hindu elements considered progressive?
One argument is that the yoga as practiced in schools is "just exercises," that they don't teach the religious dimension. But the notion that religion is a matter of "beliefs," as distinct from "practices," is a Western, Christian notion. Hinduism does not make that kind of distinction. The practice is the religion. Yes, it has teachings about reality. But the religion itself consists of observances, such as meditation, including that practiced in yoga. Furthermore, the goal of "mindfulness" is very much a state of consciousness that is a goal of the Hindu religion.
I know there are Christians who practice yoga. They are able to disassociate the exercises with their original Hindu meanings. Fine. Maybe that's possible. I am making no judgment about that.
I am just raising the question here of how a school that keeps out prayer and Bible reading can admit yoga. How can one be illegal and the other be illegal?
One solution would be to allow yoga but also to allow prayer and Bible reading. You could allow Sufi spinning, Islamic prayers at the appropriate times of day, Zen meditation, etc. I don't know how that could be handled in a curriculum. I would NOT approve of forcing children to engage in all of these practices in some World Religion class. That would be syncretism, forbidden by Biblical religion, with agreement from the Muslims. Each would have to be voluntary, and, I would suggest, an expression of whatever the child's religion is.
Maybe there could be provisions for different religions in school based on the make-up of the local community. If there are Hindus and New Agers who want their kids to do yoga in gym, let them. If there are Christians who want a time for their children to pray, let them.
Or maybe public schools should just stay out of religion altogether, rather than mess it up as they would be likely to do.
Parents who want religious instruction for their children could provide it for themselves. That's the advantage of home schools, Christian schools, parochial schools, or, for that matter, Jewish schools and Islamic schools. There can be Hindu schools, complete with as much yoga as anyone would want.
Photo by Neeta Lind via Flickr, Creative Commons License