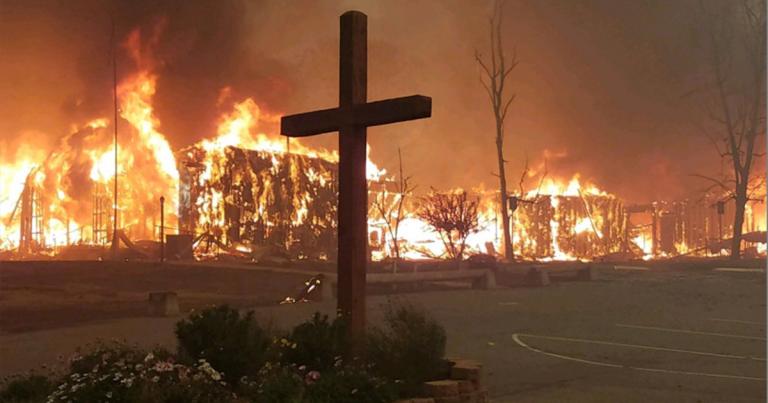 The worst wildfire in California history has killed 76, with some 1,000 people still missing.  The so-called "Camp Fire," named for its origin at Camp Creek Road in northern California, has burned 140,000 acres and destroyed some 10,000 homes, virtually wiping out the entire towns of Concow (population: 700) and Paradise (population:  26,218).
The fire is still raging after 12 days, as of today being about 60% contained.  Smoke has fouled the air to hazardous levels as far away as Sacramento (80 miles away) and San Francisco (150 miles away).
On the same day the Camp Fire started in northern California, the Woolsey Fire, named after its origin at Woolsey Canyon, broke out in southern California, killing 3 and destroying over 800 buildings, including the homes of many celebrities and film studios in Malibu.  The Christian university Pepperdine was threatened, but the campus was saved.  The fire is currently 84%.
A third fire broke out on the very same day, the Hill Fire, starting at Hill Canyon Road in Ventura County.  This fire destroyed 4 homes and has been 100% contained.  Authorities suspect this one was arson.  The cause of the others has not yet been determined, though some suspect an equipment malfunction by Pacific Gas & Electric, which caused 17 of the 21 major fires last year.
To put a human face on this disaster, read this account of what happened to the Lutheran Church in Paradise, California, and what its pastor–who lost his home too when the parsonage was swallowed up in flames–has been doing to minister to the survivors.
From Paula Schlueter Ross, LCMS church lost to fast-moving California wildfire, Lutheran Reporter:
With black smoke so thick it darkened the sky at 9 a.m., the fast-moving "Camp Fire" in Northern California had engulfed some 90,000 acres by Nov. 10, causing at least nine confirmed fatalities and the destruction of 6,713 structures in the approximately 27,000-resident town of Paradise, according to news reports.

Among buildings in the path of the wildfire's wind-whipped flames was Our Savior Lutheran Church in Paradise, which is likely destroyed, along with its parsonage, according to  LCMS California-Nevada-Hawaii (CNH) District President Rev. Michael R. Lange.

"What we know is that a member of the congregation had reported to [Our Savior] Pastor [Rev. Brandon] Merrick that, as they drove out of town, they drove by the church and it was engulfed in flames," Lange told Reporter. Another source reported that the parsonage, too, was consumed.
The Worship Ministry of the Lutheran Church Missouri Synod has issued a collect for individuals and congregations to pray:
All Holy One, as Your Son stood with the three children in the fiery furnace, protected them and brought them through the flames in safety, so may His mercy be poured out on all who are in danger or suffering loss due to the wildfires that continue to rage in California. Mercifully remember all those whose lives and property are threatened, especially those who place their own lives in danger to save the lives and property of others. Grant Your comfort to those who are mourning and to those who anxiously await word on the fate of loved ones. Lord, in Your mercy, hear our prayer.
Also, LCMS Disaster Response is on the scene.  Donate money to help the wildfire victims here.
Readers, are any of you affected by these fires?  Northern Californians, can you breathe?
The rest of us, let us imagine what this must be like–losing your home, not being able to find loved ones, having your community wiped out, having relatives and friends die so tragically– and pray for those who are going through this in reality.
Photo from the LCMS website, with this caption:  "Tyler and Elizabeth Frank captured this photo of Our Savior Lutheran Church in Paradise, Calif., burning as they were stuck in gridlocked traffic Thursday. (Tyler and Elizabeth Frank)"