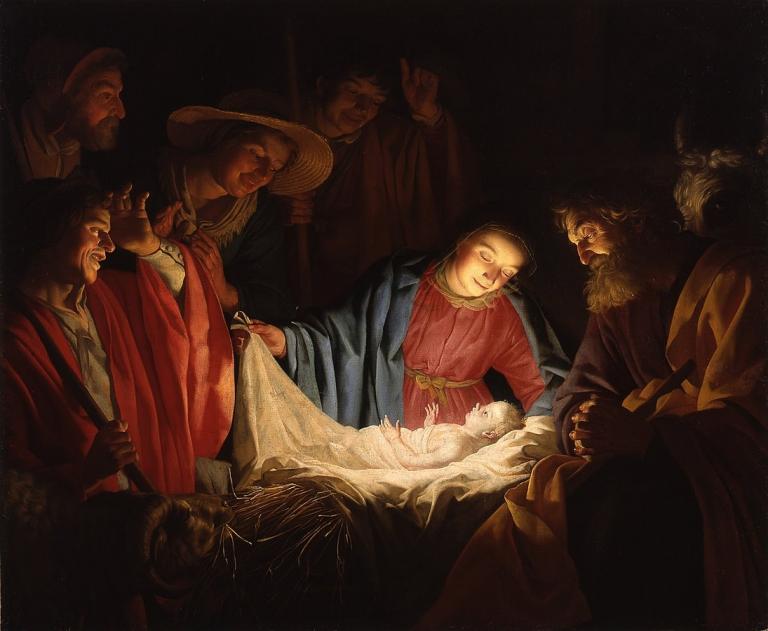 Concordia Publishing House has a good blog going, with sections titled worship, read, study, teach, and serve.
I came across a post by Mason Vieth (no relation!), who quoted Luther's commentary on the Christmas text in Luke.  He considers this verse:  "And this will be a sign for you: you will find a baby wrapped in swaddling cloths and lying in a manger" (Luke 2:12).  How are the manger and the swaddling clothes "a sign"?  What do they signify?  And Luther brings it around to vocation.
From What Luther Says About Luke 2:15-20:
"What it means to find Christ in such poverty, and what His swaddling clothes and manger signify, are explained in the previous Gospel [Luke 2:1–14]. His poverty teaches us to find Him in our neighbors, the lowliest and the most needy of them. His swaddling clothes are the Holy Scriptures. The result is that in our life of work we deal with the needy, but in our life of study and meditation we deal only with the Scriptures. Thus Christ alone is important for both lives; He stands before us in every purpose" (LW 75:254).
The Holy Scriptures
contain
Christ, they
hold
Him.  To study and meditate on God's Word is like unwrapping swaddling clothes and finding a baby!  And the poverty of the baby Jesus–that he had to be laid in a manger, an animals' trough–makes us realize that we ought not despise "the lowliest and the most needy."  Indeed, that Christ can be found in the lowliest and the most needy and in all of our neighbors.  (Think how radical that would sound in Luther's day, in the radically hierarchical and stratified medieval society.)
He is applying this to the two kinds of life that were often spoken of in that day:  the active and the contemplative.  Scholars and clerics devote themselves to thinking, to contemplation.  They have the "swaddling clothes" of Scripture.  Farmers, craftsmen, traders, officials, in their "life of work" "deal with the needy" and have the manger.
"He stands before us in every purpose."
Illustration:  "Adoration of the Shepherds" (1622) by Gerard van Honthorst – Google Art Project, Public Domain, https://commons.wikimedia.org/w/index.php?curid=45542035