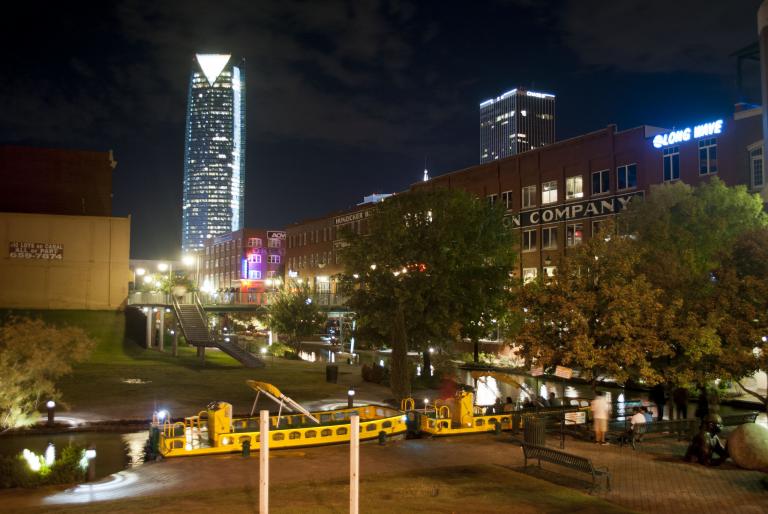 Sam Anderson is a writer for the New York Times Magazine who came to Oklahoma City to write about the curious story of the town's NBA team, the OKC Thunder–how an unlikely place like Oklahoma City managed to score an NBA team; how to account for its extraordinarily rapid success; the dynamic of the team's contrasting stars; etc. But then Anderson got pulled into the vortex of Oklahoma City as a whole, finding that the whole city now and throughout its history displays similar overachievement, contradictions, and eccentricities.
This inspired Anderson to write a "biography" of Oklahoma City entitled Boom Town, with the descriptive sub-title "The Fantastical Saga of Oklahoma City, Its Chaotic Founding, Its Apocalyptic Weather, Its Purloined Basketball Team, and the Dream of Becoming a World-Class Metropolis."
He concludes that "Oklahoma City is one of the great weirdo cities of the world–as strange, in its way, as Venice or Dubai or Versailles or Pyongyang" (p. xvii). He means that in a good way. More soberly, he says that "with apologies to Charleston, Austin, the Portlands, Fort Worth, Indianapolis, Chattanooga, Memphis, San Antonio, and of course Seattle (always special apologies to Seattle), Oklahoma City is the great minor city of America" (pp. xvii-xviii).
As an Oklahoman who has seen and lived through much of what he writes about, I found myself amused at what this New Yorker considers so exotic–such as the fact that on any given Spring evening a tornado can come down from the sky and destroy everything you own–things that I have always considered normal, but which I now see actually are exotic.
The book, which has made a number of the "best of 2018" lists, is written in the style of "New Journalism," as pioneered by Tom Wolfe, so it's lively, personal, funny, poignant, and creatively put together. Instead of a long continuous history in chronological order, Anderson hops all over the place, developing motifs that he keeps returning to. A chapter on the history of the city will be followed by a profile of something happening today, with an on-going series of chapters chronicling a season of the Oklahoma City Thunder.
We see the city's beginning in the Land Run of 1889 as a tent city of 10,000 people springs up overnight. It was then and continues to be a "boom town," filled with Wild West energy, running into "busts" due to hubris and tragedies, but always picking itself up to pursue ever-grander ambitions. We see how the city then tried to impose order and civilization on itself, with various degrees of success. Oklahoma City built itself a downtown of grand buildings, only to destroy most of them in an ill-conceived urban renewal plan. When Oklahoma City only had a population of a few hundred thousand, it went on a land annexation tear that left it with more land area than any city in the world. But the city boosters–and this is above all a story of intense civic spirit on the part of its inhabitants–recruited, started, or plundered businesses that brought on new "booms."
This is a story of colorful and consequential personalities. Clara Luper who single-handedly, just about, desegregated the city. The wildly eccentric neo-hippy Wayne Coyne of the alt.psychedelic band "The Flaming Lips," who unaccountably both loves and is loved by the conservative city establishment. Gary England, the TV weatherman and guru of storm forecasters, to whom the city and much of the state turns to when the skies turn terrifying and whose predictions and instructions have saved untold numbers from tornados.
Anderson tells lots of great stories, some of which I had never heard and some of which I never knew the full picture. For example, the reason he says, above, that we always have to give special apologies to Seattle, is that Oklahoma City has a record of thwarting that rainy, high-tech, cool city. Back before Microsoft and Amazon, in the early 1960s, Seattle's fortunes were tied to Boeing, which was gearing up for a new era of faster-than-sound air travel on super-sonic aircraft that Boeing would build in Seattle. The city was so excited about the new energy that it named its NBA team the "SuperSonics."
But the federal government worried about sonic booms and sought a city to experiment on to see if the problem were really serious. The leaders of Oklahoma City, always eager to try to put their city on the map, volunteered. Subjected to half a dozen sonic booms a day for six months, the people of Oklahoma City complained so loudly that super-sonic flights over land were banned. As if that weren't a bad enough affront to Seattle, in 2005, some Oklahoma City oilmen bought the Seattle SuperSonics, getting approval by promising to keep them in Seattle, if possible. But they knew that the city wouldn't build the team a new arena, so they used that as a pretext for moving the team to OKC, as they planned all along. The owners changed the name of the team to the Thunder, which is a kind of natural sonic boom.
I also appreciated Anderson's description of tornadoes. He described how the suburb of Moore was practically wiped off the map in 1999 by a monster tornado that killed 40. Moore was rebuilt. In 2013, Moore was practically wiped off the map again by an even more monstrous tornado, with a funnel over a mile wide. (I was there shortly after both tornados and witnessed the devastation! Anderson was with Gary England in the storm center, recounting his coverage of that dramatic night.) Just weeks later, an even more monstrous tornado, with a funnel 2.6 miles wide and winds of over 300 miles per hour, struck just outside of the city, the largest tornado ever recorded. It would have destroyed everything, but, though it was headed for the city, it somehow turned to spare the suburb of El Reno and then lifted over Oklahoma City.
Of course, Anderson describes the bombing of the Murrah Federal Building by Timothy McVeigh, the beginning of our country's plague of terrorism. That part was hard for me to read. He also describes how the city rallied to help the survivors. And how the Murrah attack became a catalyst for the renaissance of Oklahoma City that continues to this day.
Every new player on the Thunder is taken to a tour of the Murrah building memorial, with its bronze chairs for each of the 168 people in the offices and day care center that were killed. In this way, every Thunder player is introduced to the city and shown who he is playing for.
Anderson quotes Steve Taylor, a judge–the one who sentenced McVeigh's accomplice Terry Nichols to life imprisonment–who attends every Thunder game. He said that most of the fans who sell out every game and who have given the Chesapeake Arena the reputation as perhaps the loudest venue in basketball have no particular interest in the NBA. "They are there as citizens."
A final note: The value of a thesis can be seen in its predictive value. I thought of Anderson's book when Bon Appetit Magazine named a little establishment in Oklahoma City, called "nonesuch," the nation's best new restaurant of 2018.
Three young chefs, with no culinary training who worked together in a chicken-and-waffle joint, started a 22-seat restaurant with a tasting menu built around Oklahoma ingredients modeled after Copenhagen's NOMA (rated by Restaurant Magazine as the best in the world). The surprise of Bon Appetit's editors to find such quality in a seeming backwater like Oklahoma City, the creative audacity of these three chefs, their rootedness in Oklahoma City, and the whole unexpectedness of it all–this would have made a chapter in Anderson's book, if he knew about it before his publication date.
One of the ironies in the Bon Appetit story is that this incredible restaurant had so few diners. Now, though, after the publicity, the place sells out three months in advance, with people flying in from Dallas, New York, and (probably) Seattle just to eat there.
Photo by Josué Goge, Oklahoma City [from Bricktown] via Flickr, Creative Commons License