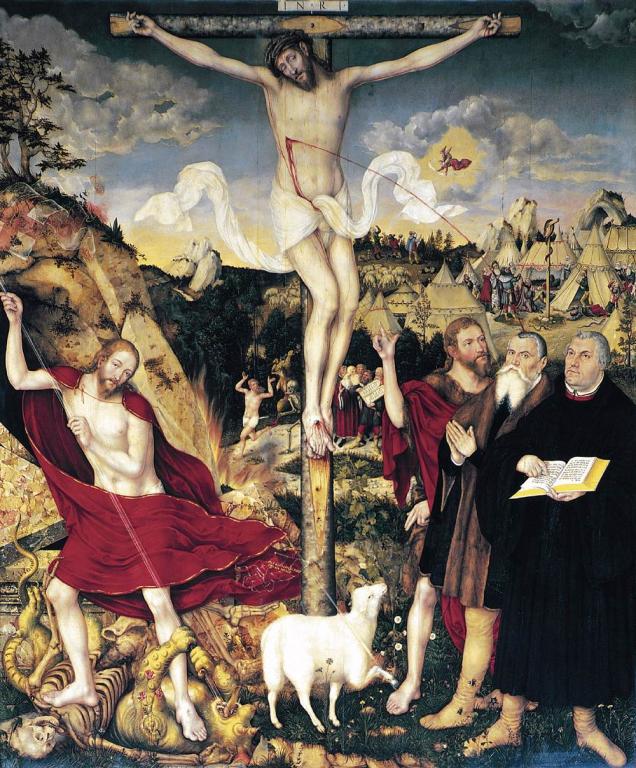 April 6 is the Day of Commemoration in the Lutheran calendar for artists Lucas Cranach (1472-1557) and Albrecht Dürer (b. 1471, who died on April 6, 1528). (Anglicans honor them, along with Matthias Grünewald, on August 5). Since Cranach is the patron of this blog, we need to celebrate today!
These Christian artists not only made significant contributions to Western art, they also expressed the faith and the worldview of the Reformation.
Rev. Joshua Pfeiffer, pastor of Bethlehem Lutheran Church in Adelaide, Australia, sent me this interview he did on these artists with Lutheran Seminary professor Thomas Pietsch. This is a video in his Kairos series. See the lineup of programs, which deal with a whole array of interesting topics, such as Luther and depression, Christian freedom, angels, evangelism, abortion, and Christian parenting. I especially commend to you the interview with my daughter Joanna on "Christian parents and autism."
In this video, they discuss Cranach's art and his faith, including the way he shows that the historical Christ on the Cross is connected to people today by means of the Word and Sacraments. Prof. Pietsch also tells a great story that I hadn't heard of before about Dürer's famous drawing of Praying Hands.
For Cranach's current vogue in the art world, see Why the Art World Is Crazy about Cranach. Read this artistic appreciation of Dürer. And go to this magnificent, cutting-edge website for vivid reproductions of his art, allowing close views of their details and brushwork: The Cranach Digital Archives.
I also recommend that you read this ground-breaking book by Harvard historian Steven Ozment: The Serpent & the Lamb: Cranach, Luther, and the Making of the Reformation. Ozment shows how Cranach played a major role in the Reformation, helping his naive friend Luther navigate the court politics of Frederick the Wise and spreading the Reformation by means of his paintings and mass-produced woodcuts. Cranach was also the matchmaker for Luther's marriage to Katherine von Bora and the publisher of Luther's translation of the Bible.
Pastor John Rickert has written some reflections on the Commemoration, including this prayer for the day:
Prayer: We give thanks to You, O God, creator and fashioner of the universe, for the work of Your servants Albrecht Dürer and Lucas Cranach; and we pray that by the vigor and strength of their creations you would open our eyes to the wonder of life, the glories of creation, and the exploration of our place in the world; through Your son Jesus Christ our Lord, who lives and reigns with You and the Holy Spirit, one God, now and forever. Amen.
Illustration: The Weimar Altarpiece by Lucas Cranach the Younger [Public Domain] via Wikimedia Commons. [Lucas Cranach the Elder is depicted between John the Baptist and Luther, with Christ's blood streaming on him, signifying his reception of the Gospel.]