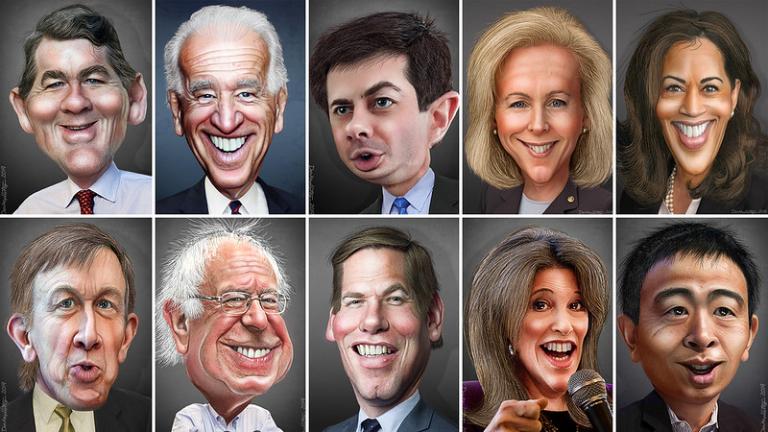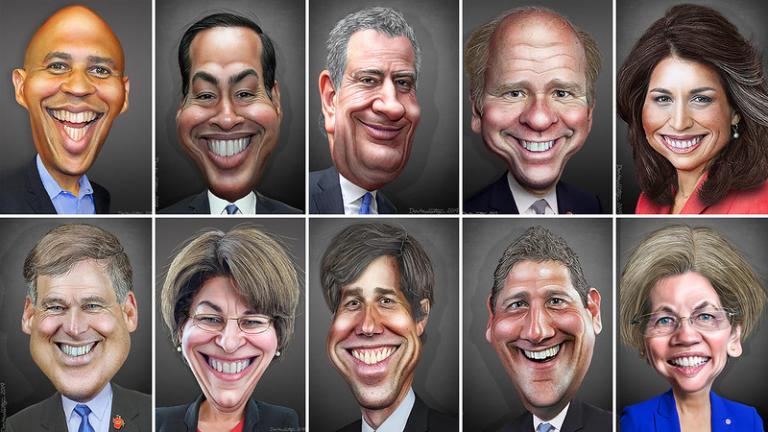 The twelve debate-qualifying Democratic presidential candidates may sound like secularists–embracing abortion, affirming the LGBT cause, deriding Christian conservatives–but none of them are "Nones." They all have specific church or religious affiliations.
Five are mainline liberal Protestants. Two are members of Black Baptist churches. Three are Catholics. One is Jewish. And one is Hindu.
I came across a useful guide to the major candidates' religious affiliations: Faith Profiles Of The 2020 Democratic Candidates by Peter Freeby at Religion Unplugged. (Click on each candidate's photo.) Here are some highlights:
Mainline Liberal Protestant
Episcopalian

Pete Buttigieg. Said, "Scripture is about protecting the stranger, and the prisoner, and the poor person, and that idea of welcome. That's what I get in the Gospel when I'm in church."

Tom Steyer. Raised by a Jewish father and an Episcopalian mother. Said of him, "As he approached 40, Steyer had what he has described as a revelation. He became more involved in the local Episcopalian church."

Methodist

Elizabeth Warren. Taught Sunday School when her children were young. "My favorite Bible verse [Matthew 25: Judgment of the Sheep and the Goats] includes two lessons that guide me every day: There is value in every single human being, and every one of us is called to action."

Reformed Church of America

Andrew Yang. Active member of his New York congregation. Consulted with his pastor on his signature issue of guaranteed annual income, who told him, "The support for Universal Basic Income spans centuries, political parties, religious traditions — from Stephen Hawking to Milton Friedman to Martin Luther King Jr., all the way back to the gospels. … Let's bring abundance to our fellow countrymen and women and remind them that a more just world is possible."

United Church of Christ

Amy Klobuchar. Speaks of her father coming to faith, which delivered him from alcoholism. Said, "The Senate prayer breakfast is a really important thing. It happens once a week, no one ever knows what people talk about. It is a mix. … Liberals go there — I promise — conservatives go there."
African-American Baptist
Cory Booker. Raised in African Methodist Episcopal Church, currently a member of the National Baptists. Said, "The life of Jesus is very impactful to me and very important to me," Booked told RNS. "He lived a life committed to dealing with issues of the poor and the sick. The folks that other folks disregard, disrespect or often oppress. He lived this life of radical love that is a standard that I fail to reach every single day, but that really motivates me in what I do."

Kamala Harris. Her father being a Jamaican-American and her mother being Indian-American, Harris said that when she was growing up she was taken both to the Baptist church and to the Hindu temple. Identifies today as a Baptist, but in California attended the Church of God. Said, "My earliest memories of the teachings of the Bible were of a loving God, a God who asked us to 'speak up for those who cannot speak for themselves' and to 'defend the rights of the poor and the needy.' This is where I learned that 'faith' is a verb; I believe we must live our faith in action."
Catholic
Joe Biden. A "practicing Catholic"; that is, a regular church-goer. Said Pope Francis is "the embodiment of the Catholic social doctrine that I was raised with, the idea that everyone is entitled to dignity, that the poor should be given special preference, that you have an obligation to reach out and be inclusive."

Julian Castro. Announced his candidacy at his parish church. Said, "I think there is a tendency to associate faith with only the right, with only conservatives… and there are many progressives who are also people of faith that I wish that more attention were spent on, on how they see the world as well."

Beto O'Rourke. Said, "I happen to have been raised Catholic, and what I take away from my religion is you do your best to love everyone, to be good to everyone."
Jewish
Bernie Sanders. Says that he is a secular, not religious Jew. Said, "I am very proud to be Jewish, and being Jewish is so much of what I am. Look, my father's family was wiped out by Hitler in the Holocaust. I know about what crazy and radical and extremist politics mean. I learned that lesson as a tiny, tiny child when my mother would take me shopping and we would see people working in stores who had numbers on their arms because they were in Hitler's concentration camps. I am very proud of being Jewish, and that is an essential part of who I am as a human being."
Hindu
Tulsi Gabbard. A Hawaiian of Samoan ethnicity, Gabbard was brought up in Vaishnava Hinduism, which teaches that the preserver god Vishnu and his incarnation Krishna is the Supreme God. Said, "After my 2012 election, I made a personal decision to take my congressional oath of office on the supreme yoga/Hindu scripture, the Bhagavad Gita, where Krishna's teachings have provided wisdom and spiritual solace to me throughout my life, including when I was serving our country in the Middle East during the Iraq war."
Some sound pretty nominal, speaking of their religious identity as "how I was raised." But others seem quite involved with their congregations and committed to their faith. This tends to be of the "social gospel" variety.
While evangelicals and other conservative Christians are roundly condemned for bringing their religion into politics and for allegedly wanting to impose their religious beliefs by means of the government, Mainline Liberal Protestants–who are evidently more influential than observers have realized–seem to have few qualms about doing that themselves.
The Catholics here sound very pious in affirming Roman Catholic social teachings, except for the abortion part. On that issue they brazenly and hypocritically defy their church's teachings, even though the foundation of its "consistent life ethic" that they seem eager to embrace rests as its first principle on the sanctity of life in the womb.
Interestingly, the favorite candidate of many anti-Trump evangelicals, Tulsi Gabbard, is not a Christian at all and doesn't pretend to be, holding instead to a polytheistic religion to which she is devoutly committed.
Illustrations: "Democratic Primary Debate Participants June 26, 2019," by DonkeyHotey via Flickr, Creative Commons license