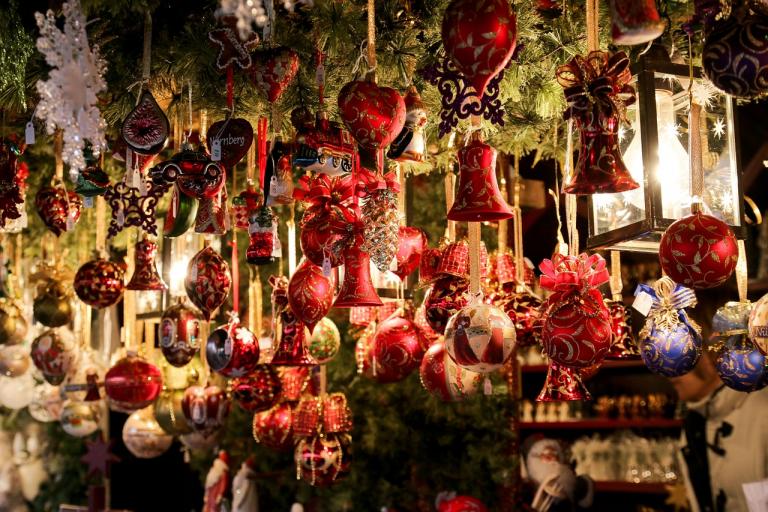 Today, the day after Thanksgiving, shoppers plunge into "Black Friday," the lights go up, homes and businesses deck their halls, city sidewalks dress in holiday style, Santa Claus comes to town, Christmas muzak fills the air, and the overall Christmas frenzy begins. Yes, we decry the commercialization of Christmas. And yet, don't you still enjoy the Christmas hooplah?
Michael Brendan Dougherty says he is one of the "complainers" about the secular observation of Christmas. He even calls himself an "Advent snob," who insists that this is not the Christmas season at all–that's the 12 days after Christmas–but Advent. Nevertheless, he says that when the decorations go up, they create a positive feeling that he needs right now.
From Michael Brendan Dougherty, in National Review, Let Christmas Come Early
A few days after Halloween, my wife walked in and remarked on the Christmas decor at Target. I had noticed the Christmas titles creeping up on our streaming services too. And we could see Christmas coming upon us in all its red, green, and gold tinsel fury. Soon the Xmas earworms would be drilled into our heads — Mariah Carey's "All I Want for Christmas." Soon would come the nights where the kids are falling asleep, and my dearest puts on the meandering, warm rom-com The Holiday. My wife noted those commercial displays that were "already" up, and paused before daring to say: "I don't hate it."

And surprising myself, I thought: I don't either. . . .

The commercialism of Christmas seems almost like a relief from the commercialism of social media. At some point the hobbyists and amateurs who made the internet a fun place to share information were crowded out by the professional "influencers," people who make their living turning their home rehabs, their electronics hobbies, and their passion for fashion into merely commercial pursuits.

At least the commercialism of Christmas carries within it news of "joy" and "goodwill to men." And in a time of great change, it offers us stodgy, solid traditions. In a dark mood, it blares in with a message of light. The Victorian-era residue on Christmas points us away from our meritocratic striving and our ceaseless pursuits of distinction. It reminds us to do charitable works, and to share our blessings with the poor, the less fortunate. It points east, with the giddy rumor of some great outburst of hope and a promise of peace.

So let it come. Break out the jazzy crooner Christmas albums. Deck the halls, find a new recipe for Chestnut soup. Let the women put on those cheesy rom-coms. And let a little of the joy come early. I think we need it.
I've been thinking about the curious phenomenon of how seemingly secularist cultures make such a big deal of a Christian holiday celebrating the birth of Jesus Christ. And how efforts to secularize Christmas don't quite work. And what all of this tells us about secularism, the cultural influence of Christianity, the unique nature of this particular holiday, and the person of Christ. I'll be blogging about this sort of thing in the weeks ahead during the Christmas season–I mean, Advent.
What about you? Do you agree with Dougherty? Or are you more like Ebenezer Scrooge, though perhaps a Christian Ebenezer Scrooge, who opposes the trappings of Christmas on principle? If you are not a Christian, do you still celebrate Christmas? If so, why?
May you survive the shopping riots of Black Friday and have a blessed Advent and Christmas season!
Image by Gerhard Gellinger from Pixabay