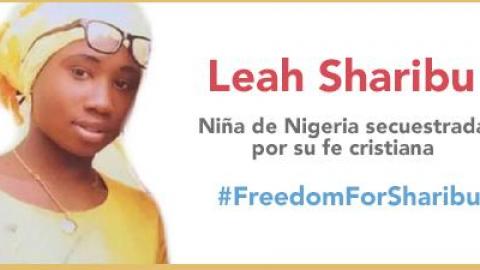 Did you know that Christians are being exterminated in Nigeria? Two different Islamic groups have killed some 52,000 Christians over the last decade, and the attacks are continuing. Human rights groups are using the term "genocide." And many of these severely persecuted Christians are Lutherans.
From Lela Gilbert, Is the World Ignoring a Christian Genocide in Nigeria? in Providence:
In short, there is a bloodbath in Nigeria. Those of us who track religious freedom violations and Christian persecution agree with those who increasingly speak of another genocide. Murderous incidents are acted out with accelerating frequency, perpetrated primarily by two terror groups—Boko Haram and Fulani jihadis. Tens of thousands of Nigerians have been slaughtered in the last decade. But their stories rarely appear in mainstream Western news reports.

ICON—International Committee on Nigeria—is a research group that reports on terrorism in Nigeria. According to ICON, Boko Haram was responsible for nearly 35,000 deaths there between 2015 and 2020. Meanwhile, Fulani jihadis reportedly murdered some 17,000 between 2010 and 2020.

Unfortunately, no one really knows the precise numbers thanks to mass burnings, chaotic aftermaths, disappearances, and population displacement. Still, the numbers are horrifying no matter how inevitably imperfect the recordkeeping may be. . . .

Because of these multiple deadly threats, despair haunts Nigeria's Christian communities, despite their deep faith and commitment. . . .

In Nigeria's northeastern states, Boko Haram's Islamist jihadis first gained notoriety during the 2014 #BringBackOurGirls campaign. Radically anti-Christian and anti-Western, they carry out their own violent invasions, kidnappings, and beheadings.

Today their best-known victim is Leah Sharibu, one of 110 young schoolgirls kidnapped in 2018 during an attack on an all-girl science and technical school. Leah was just 14 years old when abducted, and today she remains in captivity. Because she refused to renounce her Christian faith, Leah was not released with her classmates. Instead, she was enslaved. . . .

My colleague Nina Shea, director of Hudson Institute's Center for Religious Freedom, is also deeply concerned about Nigeria. "More Christians have been targeted and slaughtered by extremists in Nigeria," she told me, "than in the entire Mid East in recent years. . . .It's time to shine a spotlight on this crisis. We need to demand that the Nigerian government protect the Christians there."
With a population of 206 million, Nigeria is the largest nation in Africa. (By way of comparison, the United States has 330 million, making us the third most populous nation in the world, after China, 1.4 billion, and India, 1.37 billion. Nigeria ranks number 7.)
Some 47% of the population is Christian, living mostly in the southern half of the country. The northern half, with 53% of the population is mostly Muslim.
The country is similarly divided politically, and since Muslims have a slight majority, they largely control the central government, which recently passed a measure allowing the northern states to be governed by Islamic Sharia law. Most of the violence is taking place in the north, where the Muslim radicals are trying to eradicate the Christian minority.
There are about 2.3 million Lutherans in Nigeria. (The LCMS has just under 2 million.) These include the Lutheran Church of Nigeria, which is in fellowship with the LCMS and is located in the Christian-friendly south. Most Nigerian Lutherans, though, are members of the Lutheran Church of Christ in Nigeria, which has 2.2 million members and is centered in the Muslim dominated north.
These Lutherans are among the targets of Boko Haram.
In fact, according to a statement from the Lutheran World Federation, the "LCCN is among the churches most affected by the conflict, as it has the largest concentration of its members in the north-eastern region of Nigeria."
On January 20, Lutheran pastor Denis Bagauri was killed. The number of other deaths among Lutherans is unknown, since they are not sorted by denominational affiliation, but many Lutheran churches have been burned down and thousands of church members have been driven out by the Muslims, losing their homes and becoming "displaced persons."
I had a friend from Nigeria, Uche Godswill Simon, a pastor who was for awhile a colleague of mine at Concordia Wisconsin. He always inspired me with his faith, talent, and zeal for ministry to his country. He passed away some years ago, before these current troubles, but he told me about the religious division in his country and his fear of what would happen if Sharia law were adopted in the north.
As we feel sorry for ourselves here in the United States, we should pray for the Christians of Nigeria.
Illustration depicting Leah Sharibu, the 14-year-old kidnapped by Boko Haram who was enslaved and is still in captivity because she would not renounce her Christian faith, by HazteOir.org via Flickr, Creative Commons 2.0 License