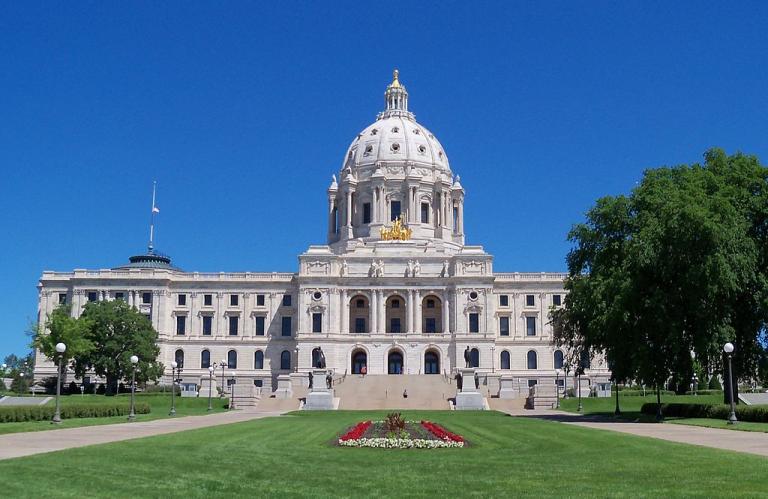 UPDATE: Minnesota governor Tim Walz has changed his rule in response to the protests and will allow churches to meet at 25% capacity. The LCMS and Catholics had planned to open at 33%, but still. So this post, written earlier, is dated. I'm still putting it up as an extraordinary example of the LCMS choosing the path of civil disobedience, a decision that actually changed the offending policy. . . .
The two Minnesota districts of the Lutheran Church Missouri Synod, along with the Catholic Archdiocese, have announced that they will defy the Minnesota governor's decision to keep churches shuttered, even as other public gatherings are allowed.
LCMS and Catholic congregations throughout the state will begin in-person worship services, under strict social distancing protocols, starting today, with Sunday worship services beginning on Pentecost, May 31.
From Steve Karnowski, Minneapolis Star-Tribune, Catholic, Lutheran churches to defy Walz and hold services:
Roman Catholic and Lutheran Church-Missouri Synod congregations across Minnesota plan to resume worship services in defiance of the state's ban on gatherings of more than 10 people, their leaders said Thursday, the strongest direct challenge to Gov. Tim Walz's restrictions to slow the spread of the COVID-19 pandemic.

The leaders said at a news conference that the ongoing restrictions are an unconstitutional violation of their churches' religious freedom, given that bars, restaurants, shopping malls and tattoo parlors are now being allowed to reopen. They said they shut down voluntarily in the early days of crisis but that executive orders now prevent them from holding normal in-person services. . . .

Catholic and LCMS churches plan to resume worship services Tuesday next week, with their first Sunday services May 31 on Pentecost Sunday. Churches will be limited to 33% of their normal capacity, with seating in only every third row. Families will sit together but will be separated from other worshipers. Other hygiene protocols will also be in place.

"Now that the state has deemed the risk of spreading coronavirus low enough to open noncritical businesses, we believe that we can responsibly and safely allow our communities to open in accordance with accepted public health guidelines," said the Rev. Lucas Woodford, president of the Minnesota South District of the Lutheran Church-Missouri synod.

Woodford said they had reached out to Walz and Attorney General Keith Ellison, including in letters sent Thursday, but that the state officials had declined to engage with the church leaders "in any meaningful way.". . .

Some smaller churches are suing the state to block enforcement of the restrictions on in-person worship. But Hebda and Woodford hope their challenge doesn't come down to a lawsuit, said Eric Rassbach, vice president and senior counsel at the Becket Fund for Religious Liberty, which is representing the two leaders. He said they would rather work with the governor and attorney general.
Other confessional Lutherans in the Wisconsin Evangelical Lutheran Synod and the Evangelical Lutheran Synod have joined the Lutheran Church Missouri Synod in a letter of protest to the governor and some of their congregations are also considering restoring in-person services.
The Wall Street Journal editorial board has come out in support of the church actions. From The First Amendment Faithful:
The churches are asking for equal treatment not special treatment, and the decision to reopen came only after efforts to work out an arrangement with the Governor were ignored. As a result, starting June 1, while a restaurant or bar can serve up to 50 people outdoors, churches remain restricted to gatherings of 10 or fewer—indoors or out. As the Becket Fund notes, these Minnesota churches plan to reopen with only 33% capacity, rigorous social distancing and hygiene protocols.

This will put Gov. Walz in an awkward position. Are the cops going to cite or arrest people for going to church? It is a dilemma entirely of his making, and he can't say he hasn't been warned.

Last month Attorney General Bill Barr reminded mayors and governors that there is no "pandemic exception" to the U.S. Constitution. The Sixth Circuit Court of Appeals ruled against a Kentucky lockdown biased against churches. And this week the head of Justice's Civil Rights Division warned California Gov. Gavin Newsom that civil-rights protections forbid favoring secular over religious activities.
Lucas Woodford, president of Minnesota South, used to be our pastor when we lived in Wisconsin! This is a bold act of defiance, involving not just a few isolated pastors or congregations but two entire official LCMS districts.
Lutherans have had the reputation for being obedient to the governing authorities, to a fault sometimes. So committing civil disobedience is a big step, both for the two LCMS Minnesota districts and for the people in their congregations.
Defying the state orders will also require boldness on the part of parishioners who will have to break the law if they show up at church. Should the church authorities really be calling on their members to commit civil disobedience? This subjects church-goers to the possibility (however remote) of arrest or fines. And what if disobeying the law is a sin? Should the regional church governments put local parishioners in that position?
Do you think this action violates the principle of submitting to the lawful authorities (Romans 13) and the Doctrine of the Two Kingdoms? Or is it an example of standing up for one's legal rights, as St. Paul did in appealing to Caesar (Acts 25)? Does it violate the principle of love of neighbor by risking the further spread of the virus? Or is it a case of obeying God rather than men (Acts 5:29)?
UPDATE: LCMS President Matt Harrison has said that he supports the Minnesota actions. Read this from the synodical website, which also tells about similar efforts that other districts and congregations are making.
UPDATE: Again, the governor gave in and will allow services after all. But we can still discuss the issues this whole incident raises.
HT: Justin Benson
Photo: Minnesota State Capitol Building by AlexiusHoratius / CC BY-SA (https://creativecommons.org/licenses/by-sa/3.0) via Wikimedia Commons