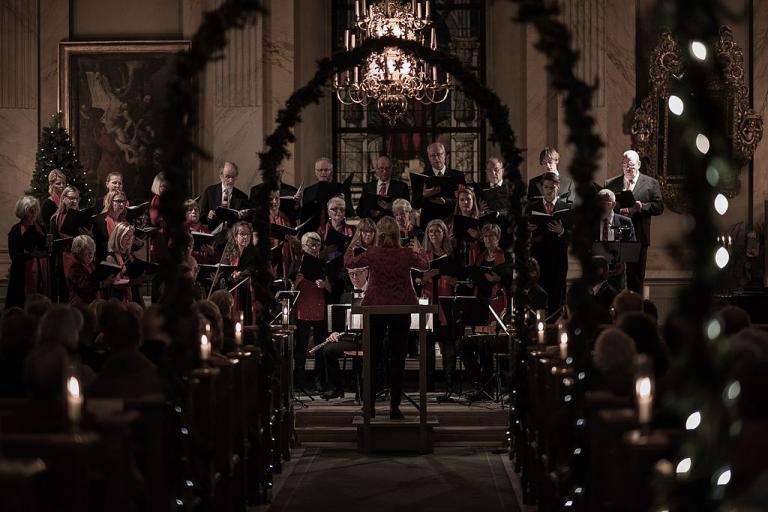 I have a high toleration for the secular observance of Christmas, seeing in it an unintentional homage to Christ, a partial fulfillment of the promise "that at the name of Jesus every knee should bow, in heaven and on earth and under the earth" (Philippians 2:11). But I'm finding that I can't listen long to all of the "holly jolly" songs on the radio.
Christmas is mysterious. The notion that the transcendent God of the universe has been born as a flesh-and-blood baby is mind-blowing, an occasion not for sentimentality but for awe. There is Christmas music that reflects that.
I grew up in a liberal mainline Protestant church that made a point of having no particular doctrines. But at Christmas we sang songs like "Hark! the Herald Angels Sing." I remember being haunted by the lyrics, "Veiled in flesh the Godhead see,/ Hail the incarnate Deity." I wondered, What did that mean? Is that who Jesus is? In our church, I had never so much as heard mention from my pastors or Sunday School teachers the doctrine of the Incarnation, that Jesus is God in the flesh. But that song did.
Later, when I started going to churches that did believe in such things, I grew to love songs such as "O Come, O Come, Emmanuel," with its ethereal, reverential melody. (I know, that's an Advent song, but this was before I was a Lutheran and we sang it as a Christmas song.)
So I greatly appreciated the article in The Federalist by Cara Anne Dublin entitled This Collection Of Deep-Cut Carols Will Help Prepare Your Heart For Christmas. She looks at lesser-known Christmas songs, including the category she calls "eerie songs." She defines those as "Christmas music with a dark and profound undertone, the kind that can cause a chill to run down your spine even as you pause in wonder."
Her prime example is "Let All Mortal Flesh Keep Silence." I had never heard that song until a few years ago, but now I hear it frequently. It comes from an extremely ancient source, associated with St. James the Less, the disciple, possible brother of our Lord, and the first bishop of Jerusalem. Let these words sink in:
1 Let all mortal flesh keep silence,
and with fear and trembling stand.
Ponder nothing earthly minded,
for with blessing in his hand
Christ our God to earth descending
comes, our homage to demand.

2 King of kings, yet born of Mary,
as of old on earth he stood,
Lord of heaven now incarnate
in the body and the blood,
he will give to all the faithful
his own self for heav'nly food.

3 Rank on rank the host of heaven
streams before him on the way,
as the Light of light descending
from the realms of endless day
comes, that pow'rs of hell may vanish,
as the shadows pass away.
All of this to a melody that is achingly beautiful and, yes, eerie:
And take a look at this artistic animated interpretation:
Our Lutheran Service Book includes this (#621) as a Holy Communion hymn, but that's fitting too, since in the Sacrament, the Christmas message of Christ's coming "in the body and the blood" is tangibly realized.
In her Federalist article, Carrie Dublin cites some other "eerie" Christmas songs. For example, she quotes the lines from the Basque Carol:
The angel Gabriel from heaven came,
His wings as drifted snow, his eyes as flame.
Also a modern carol that I haven't heard before, "Bethlehem Down," with these lines:
When He is King, they will clothe Him in grave-sheets,
Myrrh for embalming, and wood for a crown,
He that lies now in the white arms of Mary
Sleeping so lightly on Bethlehem Down.
What are some others?
Photo: Christmas Concert by Bengt Nyman from Vaxholm, Sweden, CC BY 2.0 <https://creativecommons.org/licenses/by/2.0>, via Wikimedia Commons