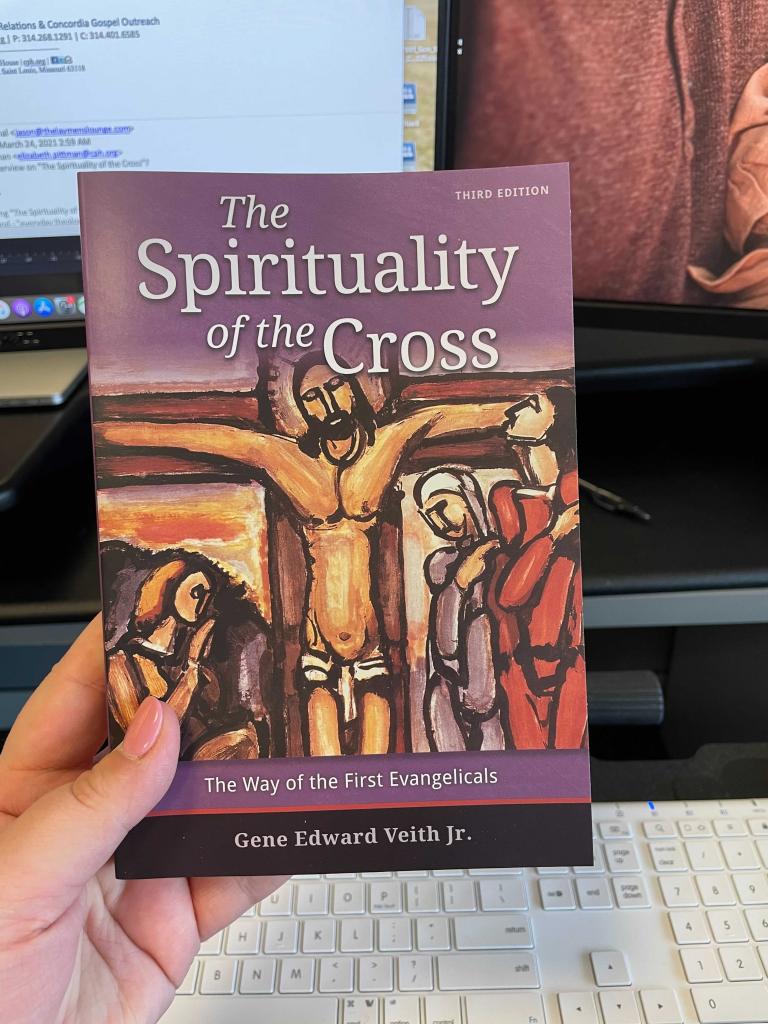 I have written, co-written, or edited, at last count, 27 books. My favorite, though, and the one closest to my heart is Spirituality of the Cross. That's the one that tells what I have learned and how I have been helped by Lutheran theology and the Lutheran church.
This is the book that seems to have had the greatest impact. It isn't just that the book has sold more than the others. I keep hearing from people that "your book changed my life." I have heard that everywhere I go, including, since the book has been widely translated, in my trips overseas. Yes, it has brought lots of people into Lutheranism. But, by explaining the Gospel in a way that is not always heard today, it has brought some readers into Christianity, into the Kingdom of God.
This includes Nones, people who are "spiritual but not religious," and followers of Eastern Religions. My daughter frequented a coffee shop in St. Louis and got to chatting with the barista, who, recognizing her last name (this was before she was married), said that she had read by a book by someone named "Veith." She had been following the Bahai religion, but after reading that book, she is now a Christian.
I have heard from ministers from various denominations who have read the book and then colloquized to become Lutheran pastors. I have heard from parents who have given this book to their straying children, thanking me for drawing them back to the church.
All of this is very gratifying, of course, but when I hear things like this I find it overwhelmingly humbling. God is actually using this little work of my hands.
Last year, the publisher at Concordia Publishing House, Paul McCain (who has a chequered history at this blog) asked me if I would be interested in putting out a new edition of Spirituality of the Cross, one that addressed the new issues and the new religious climate that we have now, which is rather different from that of the first edition in 1999, and the second revised and slightly expanded edition in 2008.
We discussed it back and forth, and I told him of other things I'd like to do with the book. I have kept living and studying over those decades, and I know much more, for example, about vocation than I did back then. I had other ideas I wanted to incorporate, including answering questions people have asked, particularly about my own life, things that I had only hinted at in the previous versions.
Anyway, I worked on the new version through the COVID lockdown–which gave me plenty of time–and I finished it just a few months before Paul died. Now, as of yesterday, it has been released as The Spirituality of the Cross: The Way of the First Evangelicals–Third Edition.
This version is 42% longer than the previous edition. I know that one of the virtues of the previous editions is their brevity, and this one is still pretty brief in the way it elucidates spiritual issues. There is just more in this one. There is a substantial new preface addressing the state of contemporary Christianity, every chapter includes significant new material, and I have added a brand new chapter on what I have come to realize is a key Lutheran distinctive: Christology.
Among the new material is an expanded discussion of worship, including an explanation of what is going on in the Divine Service, the central Lutheran liturgy. I also overcame my reluctance to talk about myself to include personal details about my own spiritual journey, from growing up in Mainline Liberal Protestantism, to discovering the content of Christianity by reading C. S. Lewis, to a flirtation with Eastern religions while I was in college, to reading the Bible and becoming an evangelical Christian, to my eventually happening upon the Reformation and Lutheranism.
So if you liked the older versions, I am pretty sure that you will like this one too. I kept the good parts of the earlier edition, and my additions are in the same personal, down-to-earth, non-polemical style. If you liked the older versions, I think that you will also want this expanded version, since much of it will be new to you.
Back in 1999, when the first edition came out, evangelicalism was booming and megachurches were sprouting up everywhere. Today, evangelicalism is said to be in the doldrums, church membership in America has fallen below 50%, and we are in the era of the "Nones." That is the context and that is the audience that I write to in this third edition.
According to Luther, "The CROSS alone is our theology." I didn't even know that great Luther quote when I was writing the earlier editions, but it is now the epigraph to this one. I unpack what that means–in all of its senses and applications–in the Spirituality of the Cross. And it has never been more relevant.
To download a sample–the Preface (brand new), the Introduction (mostly the same), and the chapter on Justification (same, plus lots of new)–go here. You can buy it from Amazon or directly from Concordia Publishing House.

Photo: From Concordia Publishing House