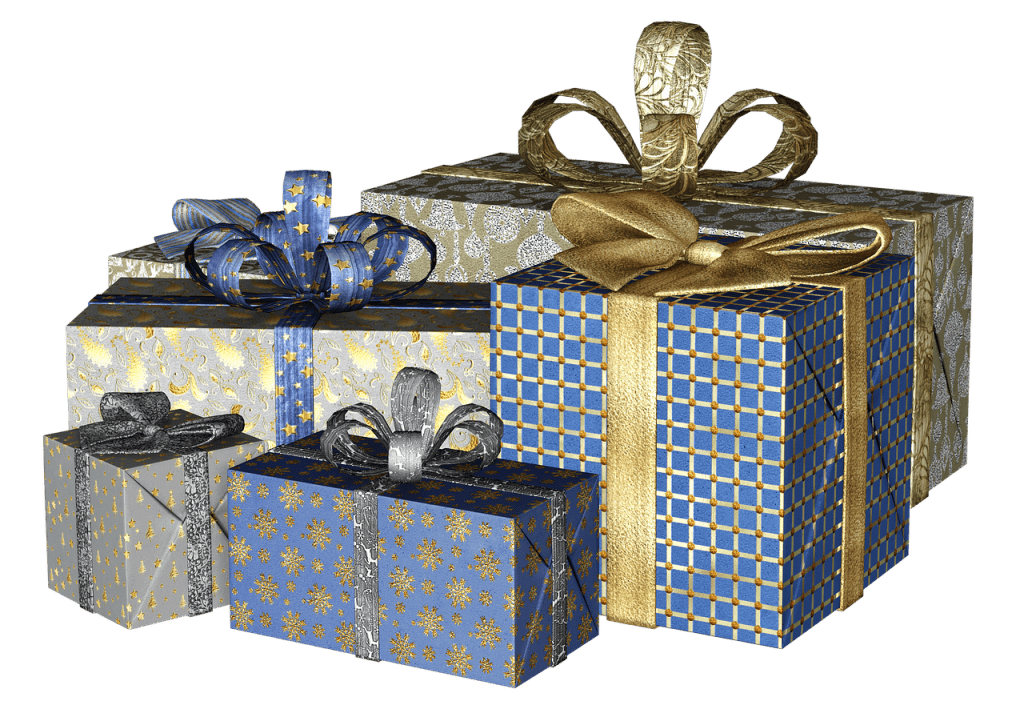 Readers, in gratitude for your coming to this blog over the past year, I'd like to give you some Christmas gifts. I did much of my shopping online, and these particular gifts will stay online, little things I've found that you might enjoy and find edifying.
First, here is my Christmas card. It's a contemporary painting of Mary showing her Baby to the shepherds and wise men, a different take on the subject filled with joy and great expressions. The painting, entitled "Nativity" by Carol Aust, is accompanied by a discussion of the work by Laurel Gasque, who not only unpacks the painting but meditates on what it means.
(1) Coming across that work introduced me to the first present I want to give you. The site that the "Nativity" is on is called ArtWay. It's run by some Dutch Christians associated with the late evangelical art critic Hans Rookmaaker. The scope of the site, though, is international and ecumenical, but, from what I can tell, orthodox. My gift, should you decide to accept it, is this: Every Sunday ArtWay will send you a free Visual Meditation much like the "Nativity" painting and its commentary, featuring the work of a Christian artist old or new. To sign up for this gift that will keep on giving throughout the year, click here.
(2) Also, I don't know if you like to receive presents from your friends' children to put up on your refrigerator but this is of a different order entirely. My daughter Mary Moerbe has a website called Meet, Write, and Salutary (get it?), which features Lutheran writers–conversations by and about them, lists of writers you may want to follow, and reviews of their books. She gives away a ton of free resources. She also has another website that some of you will find very helpful, Lutheran Homeschool Marketplace & Press, which also offers lots of resources for you homeschooling families, many of which are free and others of which are worth the price.
(3) A gift of a different kind is a movie: The Shootist. This was John Wayne's last movie, made in 1976 when the Duke was 69 and in bad health, three years before he died. And it features a constellation of other megastars near their end–Lauren Bacall and Jimmy Stewart–as well as lesser-but-still-wonderful lights like Richard Boone, Hugh O'Brian, Harry Morgan, and John Carradine. And one up-and-comer, the young Ron Howard.
John Wayne plays an old gunfighter who is dying of cancer. We witness the country doctor, played by Stewart, breaking the news and see how the hero takes it. (Wayne would say that he had already had that conversation with his doctor in real life.) He checks into a boarding house, run by Bacall, for his last days. The problem is, other younger gunfighters want to fight him to put a prestigious notch on their guns. And the landlady's son, played by Howard, wants to grow up to be a killer like him. Meanwhile, the John Wayne character is taking stock of his violent life and his imminent death.
I am in awe of this movie. The actors may be at the end of their careers, but they are at the top of their craft and their performances are stunning. And young Howard, between Opie and Richie Cunningham and long before his directing career, won himself a Golden Globe nomination for this part, which turns into far more than we expect. And despite the theme of aging, death, and farewell to the genre of the Western, the story, far from depressing, is gripping and exciting, with a brilliant double-twist at the end.
When we watched this a few months ago, it was streaming on a free channel via Amazon Prime, but I see that's it not available now. The companies must have realized what they had. Now it's free if you have Hulu, but you can rent it for $2.99. So I guess what I'm giving you is not a movie, as I wanted, but a suggestion for a movie.
(4) Social Media and search engines are having trouble distinguishing between a satirical story and actual news–I got an Onion story on my Google News feed a few days ago–but that's OK because sometimes I can't either, so absurd our times have become. At any rate, I give you the Gift of Satire: Lutheran Satire, Babylon Bee, The Onion.
(5) This is one you probably already have, but that's traditional in Christmas gift giving too. But, if not, you should read, mark, and inwardly digest it : Bible Gateway. It has some 200 translations of the Bible in 70 languages, including the original Greek and Hebrew. You can easily search it by word, verse, chapter, topic, or just about any way you like. You can also compare how different translations render a text. And you can copy and paste passages, making this an ideal resource for pastors, teachers, writers, or other students of the Bible, as we all should be.
Finally, you can also have the presents I gave you in 2019, which are still available. Feel free to regift.
So have a happy Night Before Christmas and a joyous celebration of our Savior's birth! He is the gift that all of our other gifts symbolize!
Image by anaterate via Pixabay