Here I am again with another ramble. This is the fourth in what I hope to be material I can use for a paper I will be delivering at The Academy of Philosophy and Letters at its annual conference. 
You can read my first ramble here, the second you can read here, and here's the third.
Now onto part 4:
The pessimist in me can see all the reasons this will never work just as well as you can. But the optimist in me believes that people want the good life as much as ever, and what I have in mind here is the best life I can imagine.
Besides, people are already pursuing the ideal I am holding up. What they're doing goes by other names, and none of them are a full realization of it. But these are signs of hope.
Paradoxically, the first sign is a loss of faith. No one believes in a safe, secure job, with benefits anymore.
My father-in-law learned the truth the hard way. Back in the early 90s, after working for United Technologies for over thirty years, he was downsized out of a job. Having no real prospects, and being in his late 50s, he was forced to sell himself back to the company as a consultant at lower pay and no benefits. I can still see his bewildered expression.
The reason I consider this hopeful is because one of the reasons the economy moved out of the house and into the workplace was the promise that people would find economic security there. Today, people no longer believe in big business.
But people still long for security. It is my conviction that some people are already turning back home to find it. In yet another paradox, precisely because houses are small institutions, these people will have to take matters into their own hands. They won't be able to sit back and leave the driving to others. It will only be through the exercise of virtue, and by taking prudent risks, that they will be able to create a greater measure of security for themselves.
At the moment, this remains a small minority of people. Most people are still looking to other institutions to provide the security that they lost with the demise of the industrial economy. I'm thinking primarily of our social welfare and educational institutions. But it is my belief that those institutions will ultimately fail us as well. Who but the most pig-headed socialist can deny that they aren't doing so already? Our social welfare and educational institutions are over taxed, too expensive, and they don't deliver the promised goods.
The minority I mentioned are trying to provide these services for themselves through the household economy. I think of them as domestic economy entrepreneurs. What follows is a list of some of the more obvious examples. You're probably familiar with most of them. I suspect that you haven't thought about them in quite this way, though.
Homeschooling
This is the most developed and best-known example of the revival of the home economy. Largely it got its start because public schools could no longer be trusted to reinforce the most important values cherished in traditional and religious households. Now, after many success stories, as well as an erosion of faith by even secular people in the public schools, homeschooling is no longer a fringe phenomenon. It is a broadly accepted method of education. Considering the strength of the teachers unions, this is something of a miracle.
Home health and eldercare
Rising healthcare costs are sending people back home. And the threat to a loss of inheritance has prompted children who might otherwise be just fine with sending granny packing to the nursing home have gotten directly involved in meeting the old girl's needs. Because visiting healthcare providers and domestic helpers are not able to be there around the clock, children and grandchildren usually make up the difference. With the revival of both home hospice and midwifery, the beginning of life, and its end, increasingly happens at home. (A young woman in my church just gave birth to a strapping 9 pound boy in her home, attended by a couple of midwives.) And with parents and children either moving in, or returning home, builders know that in-law apartments and ADUs (alternative dwelling units) are a growing segment of the home-renovation market.
Generally speaking, mothers and daughters are leading the way in these areas. Nevertheless, there is plenty for others to do. When my children were small and homeschooled, the older siblings often helped the younger ones with their studies. And now that my nearby mother-in-law needs help keeping her place up, primarily it is my sons who drop in to help her around the house.
These tasks largely leave the head of the house out of the picture. In a way they could be described as self-help or frugality—but they wouldn't be described as productive work, something considered traditionally as a man's domain. But that is changing.
Homesteading
I subscribe to a magazine with the name: The New Pioneer: Your Guide to Self-Reliant Living. Articles in the latest issue include: Debt-free Dream Life, Start Your Own Mini-Farm, and Build a Solar Hot Water Heater. I know of several other magazines like it. Homesteading channels on Youtube in some cases have millions of subscribers.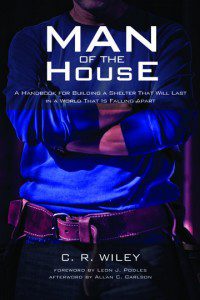 As you can tell from the titles, mostly this is a rural phenomenon, but not exclusively. There are urban homesteaders who are providing much of their own food on very small urban lots. Many of those people are behind the urban gardening movement where vacant lots are turned into community vegetable gardens.
While some of these homesteaders are raising produce for the market, most of them are striving for self-sufficiency. Renewable energy is a recurring theme. These are the people behind the backyard chicken movement. We might think of them as bring back subsistence farming. Most of them are content to supplement the family diet with home-raised goods. While women and children are heavily involved with these things, the heavy lifting, in the sense of truly taxing physical work, is left for the men of the house.
I suppose it shouldn't be a surprise for the first to leave to be the last to return. In my next post I'm going to address the final phase of the recovery of the household economy–how technology is bringing productive property back home, and with it, the men of the house.
From the draft of a paper that I am slated to read at The Academy of Philosophy and Letters.
_________
Here's something else for you to enjoy. Wipf and Stock, the publisher of my book, Man of the House, has given me permission to share a little sample of the book with you. The hope, of course, is you will like it enough to purchase a copy. Enjoy!.
Click here to download the book excerpt as a PDF: Man of the House_Excerpt