Kevin Knight is the Sacramental Preparation and Education Specialist for the Archdiocese of Denver. He is also the founder and editor of New Advent, which will celebrate its twentieth anniversary on May 1st.
Read more entries in the How I Pray series.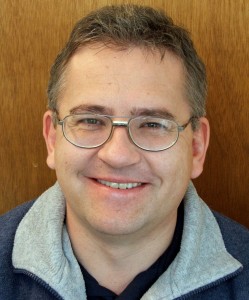 Who are you?
My name is Kevin Knight, editor of the New Advent website, staff member of the Archdiocese of Denver and loyal servant to the true emperor, Jesus Christ. Father to two wonderful sons, husband to a wonderful wife. And I hope to have my reward not in this life, but the next.
What is your vocation?
On paper, I look like a "professional Catholic", but my true vocation is to be a family man who quietly seeks sanctity in ordinary life.
What is your prayer routine for an average day?
Ideally, it would include daily Mass, daily spiritual reading, daily mental prayer, a daily Rosary, and a visit to the Blessed Sacrament.
How well do you achieve it, and how do you handle those moments when you don't?
I achieve it less than ideally, and I can get frustrated when my daily duties keep me from getting to Mass and visiting our Lord. I always think of something that Fr. John Hardon once wrote:
It is impossible in human terms to exaggerate the importance of being in a church or chapel before the Blessed Sacrament as often and for as long as our duties and state of life allow.
I very seldom repeat what I say. Let me repeat this sentence. It is impossible in human language to exaggerate the importance of being in a chapel or church before the Blessed Sacrament as often and for as long as our duties and state of life allow.
That sentence is the talisman of the highest sanctity.
But I recognize the peril in cultivating this type of frustration, so I try to sanctify my daily duties and find joy in my state of life as much as possible.
Do you have a devotion that is particularly important to you or effective?
My favorite devotion is to pray the Rosary after reading the Gospels.
Do you have a place, habit, or way of praying?
No. I really don't. My favorite place to pray is in a quiet church but I also like to pray silently throughout the day. And ever since giving up my car radio for Lent a few years back, I've found my car to be a surprisingly great place to pray.
Do you use any tools or sacramentals?
I love the RSV Bible with audio that can be found in the EWTN and Lighthouse smartphone apps. I also love Magnificat — both the app and the print version. And wherever I go, I carry a rosary and a pocket Bible.
What are your relationship with the Rosary?
I love it and pray it daily.
Is there one particular book or spiritual work that has been particularly important to your devotional life?
Frank Sheed's treatment of the Most Blessed Trinity in Theology and Sanity. Everyone should read it at least once and then meditate on it as much as possible.
What is your current spiritual or devotional reading?
The Gospels, which I carry in my pocket and try to read often.
Are there saints or other figures who inspire your prayer life or act as patrons?
The guardian angels. I try to cultivate a friendship with my own guardian angel, and I like to greet other angels silently as I meet people throughout the day.
What is one prayer you find particularly powerful or effective?
A couple of times recently, I've had a couple of particularly tough prayer intentions that seemed hopeless on a human level. I offered them to Our Lady Undoer of Knots and was amazed at how quickly and completely the problems seemed to resolve themselves.
Also, I try not to be superstitious about it, but St. Anthony has never let me down when I've asked for his help in finding a lost item.
Have you had any unusual or even miraculous experiences in your prayer life?
Yes. While I can be lazy and inconsistent in every other part of my life, I never skip the Rosary. I started praying it regularly on December 8, 1991, and I've missed only one day (when I was sick) in twenty-three years. This is purely a gift from God, and it definitely does not happen through my own diligence.
I'd like to see ________________ answer these questions.
Dan Burke and Anthony Lilles of Catholic Spiritual Direction.
Anything else you'd like to add?
Yes. If you're still reading this, please say a prayer for me!