First post, explaining what this blog is about.
Shorter Bio
I'm a Catholic revert, medievalist, catechist, writer, editor, gamer, husband, father, traditionalist, Distributist, Ratzingerian, Augustinian, chicken-owner, and some other things I forget at the moment.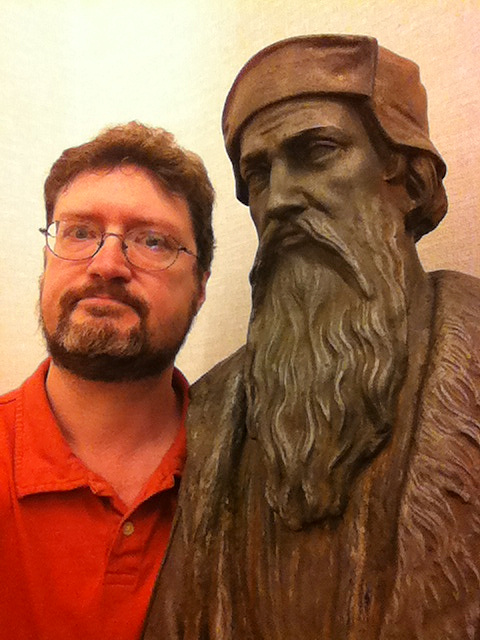 Longer Bio in Fake Third-Person Voice
Tom has been a full-time freelance writer and editor since 1991, publishing 3 books and more than 1,600 features, articles, and reviews in consumer, specialty, and academic publications.
Although he writes about literature, history, and religion, much of his career has been spent as a technology journalist, covering both interactive entertainment and emerging technology for dozens of magazines and newspapers. He has been a columnist for Computer Gaming World, T3: Tomorrow's Technology Today, PC Gamer, PC Entertainment, Cemetery Dance Magazine, PC Ace, and Computer Life.
His work has appeared in The Star-Ledger, PC Magazine, Faith & Family, Atlantic City, Mercator's World, The Thomas Wolfe Review, Fortean Times, Shaman's Drum, BookPage, AudioFile, Mystery Scene, Armchair Detective, and many other newspapers, anthologies, magazines, and journals, as well as on websites like Gamespot, CNet, IGN, DVDReview, and many others. Before coming to Patheos, he blogged about gaming at State of Play. He was Editor-at-Large at Games Magazine for 14 years and wrote the "Game Theory" column for Maximum PC for more than 18 years.
For the past 9 years, he has also been a religion writer, contributing stories and reviews to the National Catholic Register, Homiletic and Pastoral Review, Catholic News Service, Catholic World Report, and Our Sunday Visitor.
He has a masters degree in Theology, with a concentration in Church History, and is a certified catechist, teaching Church history, writing curricula, and preparing students for Confirmation. His Latin is pretty bad. His Greek and Hebrew are worse.
He contributed multiple entries to Supernatural Fiction Writers (Ed. Richard Bleiler. Scribner, 2002) and The Fine Art of Murder (Ed. Ed Gorman, et al. Carroll & Graf, 1993), as well as other anthologies and collections. In 1999, he created and wrote the text for a special museum exhibit on the history of golf games for the World Golf Hall of Fame.
Tom's books include Sun Tzu's Ancient Art of Golf (with Gary Parker Chapin), Sea-Cursed (Ed., with Stefan Dziemianowicz and Martin H. Greenberg) and Tom McDonald's PC Games Extravaganza (published in 14 languages).
He is an experienced journalist, ghost writer, editor, technical editor, photographer, and racing tout. In addition to teaching writing and mentoring writers, he has been a moderator, panelist, and guest at various writing and genre conventions.
He earned his BFA from New York University in 1990, with a double major in Film (from the Tisch School of the Arts) and English. Before turning to writing full-time, he worked in film and television production in New York.
He has been known to write about himself in the third person, even though this makes him acutely uncomfortable. He does not know why he does this, but it seems important.
Contact
The best way is via Twitter.