The How I Pray series was inspired by Lifehacker's How I Work series, which asks tech and business folks a set of questions about their work habits.  I decided to answer those questions myself as a counterpart to the prayer series: ora et labora. 
Location: The New Jersey Pine Barrens
Current Gig: Writer, editor
One word that best describes how you work: Desultorily
Current mobile device: iPhone 5S, iPad 2
Current computer: Custom desktop PC running Windows 7, and cheapo Dell Inspiron N5050 bought at Walmart
What apps/software/tools can't you live without? Why?
Dropbox, Drafts, and Scrivener.
Dropbox is the repository for everything I do: files, pictures, text, notes: everything.
Drafts is kind of the traffic cop: it allows me to write, clip, and push text anywhere I want. I've stopped using Evernote for ideas, lines, and quotes and just use Drafts to append time/date-stamped text to TXT files in Dropbox. I'm really not sure why I still use Evernote, actually. I'm writing this post in it now, and I clip some stuff here now and then, but really that's just habit.
Finally, Scrivener is the perfect word processor. I like distraction-free plain text editors, but after playing with all of them I still find myself writing straight in Scrivener. I have projects for different subjects (Tech, Catholicism, and individual books), and then keep folders in those projects for each magazine, with other folders for each assignment, and files for each piece of each assignment. It's nothing but folders all the way down. It's amazingly easy to use once it's set up.
Let me also give a shoutout to Boxer (an excellent mobile email app); Verbum, Kindle, GoodReader, Universalis, and Shakespeare Pro (all reading apps); MagicalPad and Textlus (my favorite mind-mapper/outliner and word processor for mobile); and especially Newsify, my RSS reader. I use each of them a lot. And, no, I'm not linking all those.
I use a lot of different pencils and pens so I'm not going to list them all. I like the Palomino Blackwing 602, for the writing quality, and the Faber-Castell Perfect Pencil, because the cap lets me carry it in my pocket. I also carry an Opinel No. 6 folding knife everywhere. I use unlined green Moleskin Volant notebooks in 7-1/2″ x 10″ and 3-1/2″ x 5-1/2″. I don't carry a laptop at all any more. I use an iPad with a Zagg keyboard for all my mobile writing.
What's your workspace setup like?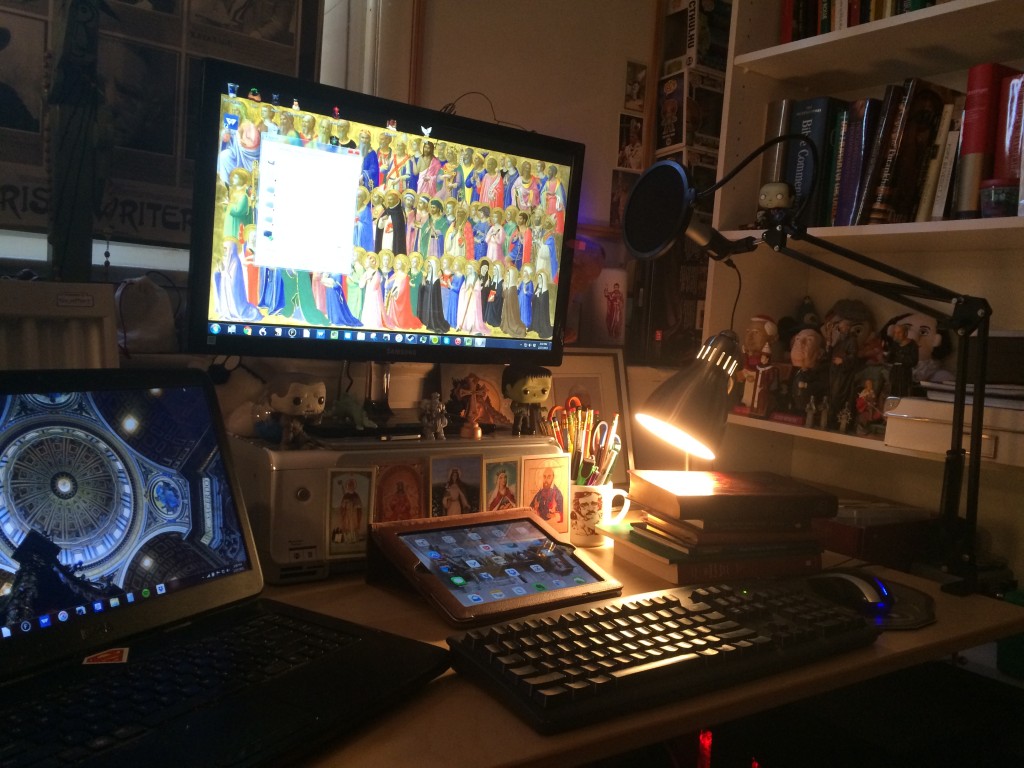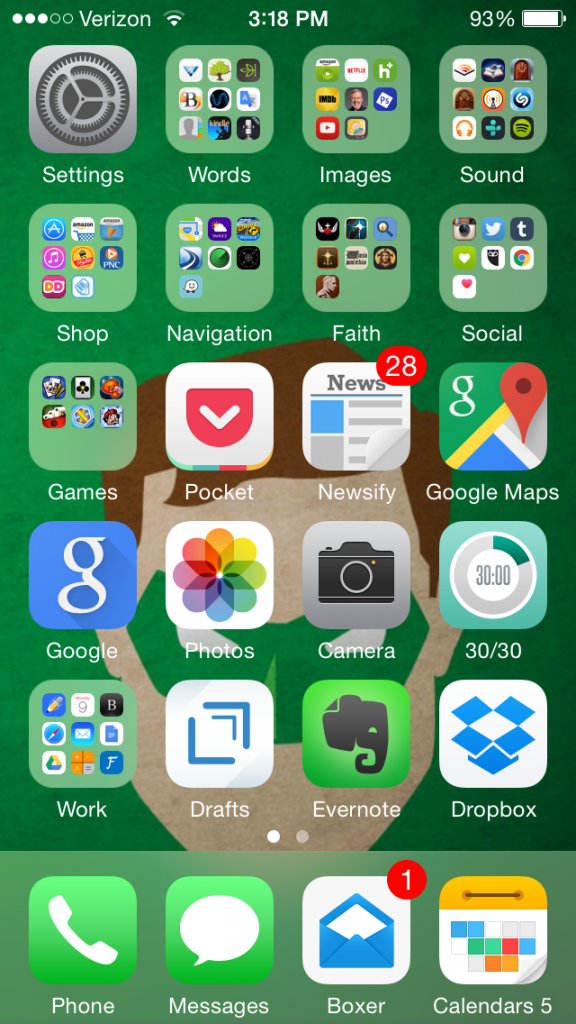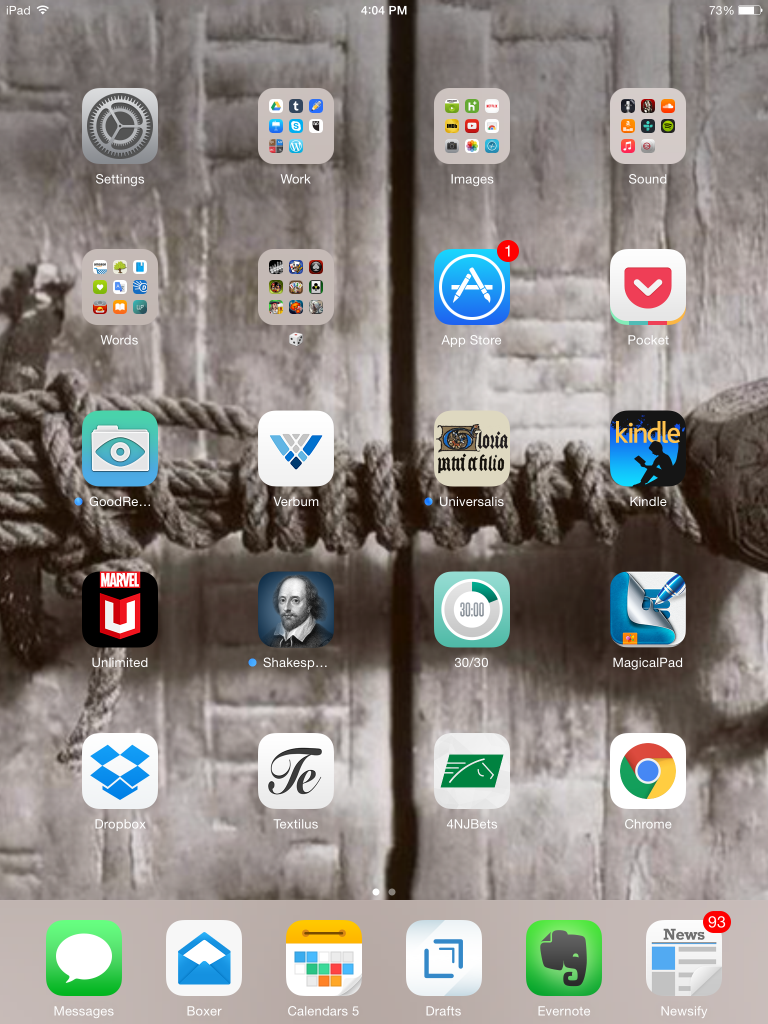 What's your best time-saving shortcut/life hack?
I send things to Pocket. I subscribe to dozens of RSS feeds and find countless stories that interest me as I browse through them at breakfast. Rather than just watching the morning slip away while I flit from one to the other, I send them to Pocket for future reading. The best part is that I rarely get to most of them, so it's a built-in time-sink filter. However, when I want to do a quick search for a subject, stories based on my interests are always there.
What's your favorite to-do list manager?
I've tried Every. Single. One. Right now I use a combination of Readdle's Calendars 5 and a whiteboard over my desk. The Calendar tracks assignments, appointments, and general to-dos. At the end of each day I write the next day's tasks on the whiteboard, sometimes with with times for each one.
Besides your phone and computer, what gadget can't you live without and why?
None. I can live fine without any of them. Pushed to pick one must-have machine, I'd say it's my well. I drink about a gallon of water a day, straight out of the ground, and it is the best water you'll find anywhere. Filtering it would actually make it less pure.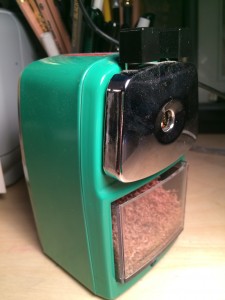 I like my coffee maker; my cheap-o blu-ray player is a complete media hub for movies, music, Hulu, Amazon, and Netflix; and I always carry a nifty pen/stylus/flashlight thingie that my father-in-law gave me, but I'd survive if they went away.
One of my favorite machines is my Classroom Friendly Supplies Groovy Green Pencil Sharpener. I write longhand a lot, and it's a perfect pencil sharpener.
What everyday thing are you better at than everyone else? What's your secret?
Sequencing tasks. Maybe it's all those years of computer-gamer training, but I can set up a mental queue of things to do that will group tasks by location, theme, difficulty, whatever, and just knock them off.
What do you listen to while you work?
Usually nothing. I find music distracting most of the time. When I do listen, it's either medieval or baroque, lounge (Martin Denny, Les Baxter, Esquivel), or soundtracks (Morricone, Carpenter, Tangerine Dream)
What are you currently reading?
I'm doing 15 minutes of Bible and 15 minutes of Shakespeare every day. And by "every day" I mean, "not really every day but I try, really I do." Like most readers, I'm always in the middle of several things at once. Right now I'm reading Ancient Near Easter Thought and the Old Testament, Terry and the Pirates Vol. 1, and the CUA edition of the Dialogues of Gregory the Great on my Verbum app, along with other odds and ends and Lenten reading.
What has changed over the years since you started and what do you do differently?
When I first started writing professionally, it was on an electronic typewriter. A short time later, I would print out my text on a dot-matrix printer and mail it to the magazine or newspaper along with a floppy disk including the file. I talked on the phone to editors and subjects all the time. I traveled to trade shows and companies to look at products. Now much of what I write never appears on paper, I deal with everyone electronically and avoid talking to people whenever possible, and I don't travel. And you know what? I like it better this way.