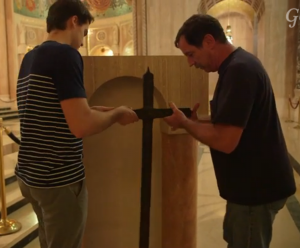 When the pope celebrates mass at the Basilica of the Immaculate Conception in Washington DC, there will be a fascinating piece of history there with him: an iron cross made for the first mass in the English colonies in 1634.
The Georgetown University site has the story. The cross is believed to have been forged from iron on one of the ships–The Ark or The Dove–that brought Jesuits and settlers from England to St. Clement's Island in Maryland.
The upright is engraved with the words, "This cross is said to have been brought by the first settlers from England to St. Mary's." The crossbar says "Ad perpetuam rei memoriam" ("For the eternal memory of this event").
The cross was lost for a long time until Fr. Ronald Murphy, a professor of German at Georgetown, starting searching for it in 1989. He finally found it attached to a palette in the south tower of the university's famous Healy building.
"This cross from England was the cross erected over the first Catholic school in the 13 colonies, at St. Mary's in Maryland, then at the school at Bohemia Manor, and finally at the first Catholic university in the English New World, Georgetown University," Murphy notes.
And the cross is about to add another first: it will be at the first mass said by the first Jesuit pope in the United States.
The whole story is worth reading, so check it out, along with the video.
h/t: My wife, GSU '89.