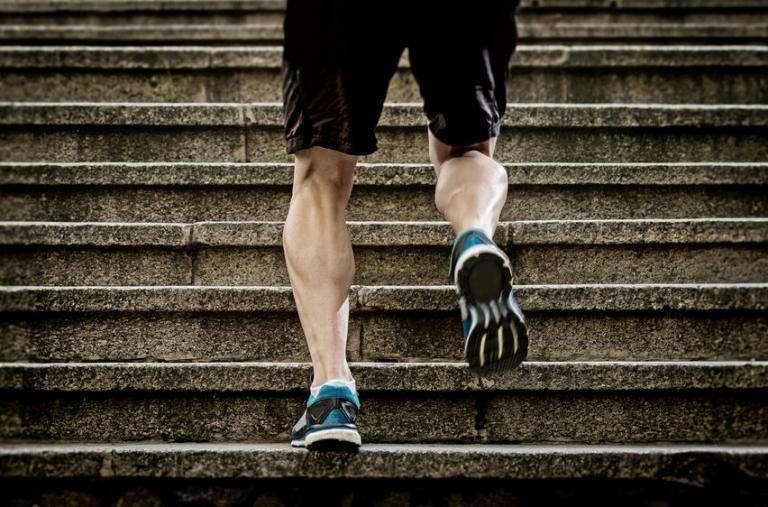 One minute of exercise is HARD. I'm not usually into fitness trends, but lately I've been trying out a form of high intensity interval training (HIIT). For a workout, I spend a grand total of eight minutes on an exercise bike. Seven minutes of that is gentle pedaling. The other minute, in three 20-second bursts, is all out sprinting. It doesn't sound like much, but by the end of it I'm ready to collapse.
Theoretically, doing this workout two or three times a week will increase my fitness as effectively as substantially longer bouts of steady jogging would. Unlike with a lot of fitness trends, the science on this seems pretty consistent. And it has me wondering if there are ways to apply the lessons of HIIT to the exercise of faith.
Paul and his contemporaries leaned heavily on athletic metaphors when describing the experience of lived faith. (So much so that there's a Wikipedia page for "New Testament athletic metaphors.") The author of the epistle to the Hebrews, for example, exhorts his readers to "lay aside every weight, and the sin which so easily ensnares us, and … run with endurance the race that is set before us, looking unto Jesus, the author and finisher of our faith" (Hebrews 12:1-2). Like much of Paul's athletic imagery, that paints the picture of a long race, a marathon rather than a sprint. And this is how I often tend to think of it: a slow, steady movement toward God despite setbacks and stumbles.
But there are other Biblical images that lend themselves to an "interval training" perspective, a place for focusing on shorter sprints as well as the long view. There's the cycle of fasts and feasts, the weekly cycle of work and Sabbath rest – different seasons for different efforts.
I think there might be a value in setting aside relatively short periods of time for intense, all-out spiritual work. I'm not sure exactly what that might look like – maybe a whole day set aside for in-depth self-examination and repentance, maybe an hour of intense introspection a few times a week, ten minutes of intense, focused, non-distracted prayer every morning. There's a passage from the book Doctrine of Life that I think has bearing here:
Let [a person] resist evils in intention only once a week or twice in a month, and they will perceive a change. (§97)
There's more value in a twice-a-month actual change than in a steady state of good intentions that don't actually lead to anything concrete.
Part of the key, I think, lies in what you do when you're not sprinting. The in-between times are not times where you get off the exercise bike – you keep pedaling, but without the intensity and focus. You don't excuse sin even when you're not intently focused on it; you don't forget about God when you're not wrapped up in intense prayer. Hopefully, those moments of intensity carry you through the more mundane ones, and end up giving you more endurance to run the long race.
These are ideas I'm just starting to play with. What about you? What have you learned from physical exercise or activity that has helped you in your spiritual practice?
(Image copyright: ocusfocus / 123RF Stock Photo)