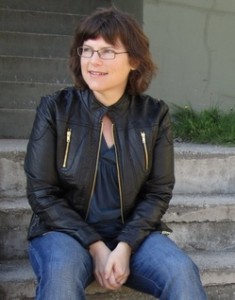 Almost exactly two years ago, I made my Good Letters debut with a post titled "The Work Awaits," in which I wrote about my vocational insecurities and obstacles, and how living out my life as a writer hasn't felt the way I expected it to.
This sequel is long in coming, and it's my last post as a regular contributor.
The two years that have marked my tenure here happened to coincide with one of the most difficult periods of my life. I've used this space to work through many of the puzzles I found myself facing at midlife.
I've written about my father, depression, diabetes, not being a mother, Jazzercise, John Mayer, and Peanut M&Ms. Mostly I've wondered: Am I doing what I'm meant to be doing, in the way I'm meant to be doing it?
And also: Is this all there is?
At the beginning of 2012, my psyche and spirit bottomed out. Burnout and anxiety and depression and my tendency to analyze my thoughts to absolute death pushed me to a place where I went on meds, and prayed that some day I would begin to feel better.
I finished two book projects and cleared some space in my schedule and tapered off of Prozac, and got through days one at a time. But I didn't feel "good." Or, more accurately, I didn't feel like the self I once had been or had believed myself to be. I would look in the mirror and not recognize the me who looked back.
Eventually I gave up hope that I would ever be the old self again. I would have to adjust to a new reality. This is me now, I thought. This is me in the second half of my life. Guess I'd better get used to it.
No matter how many times I've experienced it, what I always seem to forget about, or what I can't believe, is the secret, invisible work that goes on inside the tomb.
One day you're in there, dead and laid out on a slab in the pressing dark. And some time later—you're not sure how long, exactly, it's been—you are walking out into the sunrise, a little wobbly but certain you'll make it to wherever it is you need to go next.
That's what's happened to me in the last month or so. I feel resurrected. I'm not the old me. I'm a strengthened, healed and healing version of me, with the certainty that where I need to go next is back to my fiction.
And I need to return to it with the experience gained by having made this my career, but also with the passion and focus and faith I had seventeen years ago when I sat down to a blank document and began my first novel.
Here's what excites me about being alive:
Human connection. Complicated difficult funny sad confused optimistic doubting tomb-lurking home-seeking people making connections. The spark of one live soul rubbing up against another. The flash of recognition. The getting closer, tiny degree by tiny degree, to who we're meant to be.
That is also what excites me about writing fiction. It's what I want to create on the page, and maybe by creating on the page help to create in the world.
And I have been doing that work—I never stopped writing fiction through this season. But only what I had to, only what was being pulled by deadlines and momentum rather than faith and desire leading the way.
For a while, I feared that my sense of being emptied out and dragged along might be a sign that I should no longer write at all. That perhaps the work that awaited involved a call-center cubicle.
By grace, thank God, and to my immense relief and joy, faith and desire have returned.
I know now more than ever that fiction is my true love and first calling. It's what I'm meant to do. And the way I'm meant to do it—for now, anyway—is with my whole heart. So, save for the possibility of guest posts, I'm taking down my Good Letters shingle.
I have loved the opportunity to write nonfiction here. It's stretched me and made me think in new ways. I've felt moments of vulnerability and connection that have touched me deeply. The twice-monthly deadline has taught me a lot about letting go and being okay with imperfection, and has trained me to keep my eye out for meaning in the everyday.
Most of all, it's been a privilege to share this space with readers and my fellow Good Letters writers. Thank you for making connections with me here, for the soul-spark and the recognition. May God bless and keep you, and I hope we meet again soon.