By Shannon Huffman Polson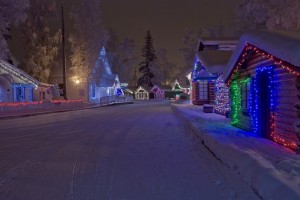 I went alone that Christmas to a place far away from any one or any place I knew.
Two mountain passes and four hours of driving, and a flat gray lake absorbing the wake of a rickety ferry fell behind me, and I sat with my head against a school bus window bumping up a dirt road into a snowy mountain valley and arrived to an unlocked dorm room with a single bed and white walls blank enough to give the shadows I brought with me a place to live.
I'd heard about Holden, a tiny Lutheran community in the North Cascades tucked into a mountain valley, and I decided to go.
Alone.
My coming here had alarmed those I knew, who demanded I come to visit, who let voices drip with disapproval that I wasn't going home.
But I'd helped sell my childhood home the previous summer after my dad and step-mom were killed. There was no home for me to visit.
I had orchestrated a funeral, a burial, a house cleaning, a house selling, and an adoption of some new version of normal I didn't want and couldn't interpret in my life in another city.
I had no interest in maneuvering through family dynamics with those who remained. I had no interest in submitting to others' attempts at cheer or denial or counsel.
Christmas had always been my favorite holiday. Returning home and walking off the plane in past years, I easily sighted my dad's tall figure next to my step-mom at the back of the crowd just past security, mountains glowing icy-white in the quick-falling Alaska night through the terminal windows behind them.
The easy holiday cheer, both sacred and secular, pierced any young-adult angst I might have carried with me. I loved midnight mass and the carols and someone wearing a Santa hat passing out presents, and stockings stuffed with oranges, toothpaste, and sundries.
This year was different. The walls closed me in and I wanted them to. I wanted to shut out the artificial brightness of lights and smiles. I watched shadows. I looked at snow on the mountains and my mind processed blankness.
I went for walks. I sat at communal tables forcing small smiles during meals and it took everything I had to participate in conversation. "You're here alone?" someone would ask. "Yes," I'd say, and though I was used to answering that way, both the question and my answer stung.
And then, because I didn't want to hide and I didn't know how to be polite, I would say: "My dad and stepmom were killed by a bear last summer. I needed to be somewhere quiet this Christmas."
In the city when you say something like that it shuts people up.
At Holden, shock dissolved on open hearts the moment it appeared, an acceptance of brokenness. Maybe it was the wilderness, the circling shield of a mountain valley. Maybe it was Christmas.
At dinner my first night in Holden, a father, also a pastor, said: "I'm so sorry." The way he said it put me at ease. He didn't break eye contact, didn't have that momentary hesitation that begs you to stop interrupting a comfortable life with tragedy.
He introduced his wife and son and daughter. The boy asked me to pass the basket of bread, and I did. I found out they were from Wisconsin.
I went to my tiny bare room and wrote letters to my dad that smeared under my tears.
I went to the chapel to help someone put up a tree from the forest, someone who didn't comment on my reticence. The needles crushed under my hands, impaling me, and I breathed in the deep smell of pine.
I went back to my room where the white walls protected me and I napped and I cried and I stared at—and only sometimes out of—the window.
This was good, I thought, because tears had not come easily. My tears had not come until the day of the burial when their deluge threatened to obscure the cruelly long Alaskan summer day.
Despite my desire to hide, the meals added a liturgy to my life that week in the mountains. There was a place to be, and a time to be there, a communion with others recognizing the presence of God–however absent he felt to me–and acceptance of my thin reaches for connection and desperate retreats into privacy.
I went for a snowshoe with two other visitors, and saw ice sparkling on the trees, and we walked by the furnaces Holden staff kept fired to warm the buildings against the winter freeze.
And then I went back to my room and subjected myself to emptiness and to flooding. Somehow I knew how necessary were these rivers, as impotent as they seemed.
They tore off scabs so that brief moments of fellowship with humanity or God or the brightness of snow crystals or the fast darkening days could heal the edges, begining to form the scar of grief that would start to allow life.
The secular world begins celebrating Christmas during Advent, a season of waiting. But even in the Christian tradition, after the waiting, the gift of Christmas does not come simply wrapped in a ribbon.
After bearing my own children, I know that the gift can come with discomfort, with blood, tearing, and screams. The arrival of the gift does not negate the pain.
And sometimes the gift is the pain.
That Christmas loneliness was the waiting, and aloneness was the gift. Reticence was the waiting, and community was the gift. Solitude was the waiting, and the quiet mountains and the music carried on the flickering of candles in a dark chapel was the gift. Pain was the waiting, and acceptance of that pain was the gift.
It was only by receiving the pain that I could begin to imagine one day letting it go.
Shannon Huffman Polson is a Seattle based writer and graduate of Seattle Pacific University's MFA program. Her memoir, North of Hope: A Daughter's Arctic Journey, came out in April 2013.