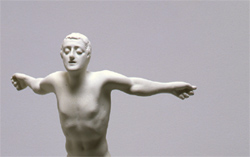 When I chose "Art and Risk" as the theme for Image journal's 2013 Glen Workshops, I had no idea that by the time those events took place, through no fault of our own, Image would be facing a serious, unprecedented financial crisis that would decimate our nonprofit organization.
Nor did I expect that I would have to take the further risk of bringing this whole sorry situation to light in order to ask you to help us get through it. (More on that in a moment.)
As I set out many months ago to prepare my opening remarks for the Glen, I searched my mind for what I knew about the subject of risk. Of course I knew plenty about it, existentially speaking. You can't start a nonprofit arts organization and not know about risk in a visceral, occasionally pulse-pounding way.
But I needed inspiration to help me think about the meaning and value of risk.
Then I recalled a book I had read back in graduate school entitled The Risk of Love, by the Anglican theologian W.H. Vanstone. I wasn't sure it would be relevant to the life of the artist, but I thought it was a place to start.
What I found was a book in which the central analogy—the epitome of human and divine love—was of the artist for her creation.
Vanstone tells the story of an experience that helped drive him to write the book. He had charge of a couple lollygagging teenage boys over the course of a summer and found himself racking his brains for how to overcome their boredom. He came up with the idea of challenging them to create a sort of diorama of a bucolic scene they'd all come across on a hiking trip to Ireland earlier in the summer.
After the usual teenage balkiness, the boys finally got down to work. Very soon they were engrossed, often debating with one another whether they'd gotten the various twigs and pieces of moss they were using to represent trees and so on to look right. Difficulties were encountered…and overcome.
Then the process slowed down. "The two workers came to have, as it were, less room for manoeuvre: they worked less but watched and waited more." Whatever insouciance they had when they started the project disappeared: the boys became more anxious that nothing damage or mar their work.
That's when it hit Vanstone: what he had witnessed in the behavior of these two boys came very close to revealing the inner workings of love.
Three things stood out.
First, the boys became so engrossed in the work that their love for their work seemed limitless. Even with their adolescent metabolisms, they forgot mealtimes and all other distractions.
Second, the creative act was revealed as precarious. Each difficulty that presented itself in terms of getting the work right involved a process of improvisation, of ever-shifting approaches and stratagems.
Third, the further they got into building the diorama, the more its ultimate outcome generated in the boys a sense of vulnerability. They weren't sure if it would be a success or a failure but they watched and waited and improvised and hoped for the best.
These are the hallmarks of the creator's love for his creation: an endless love that must always shift with circumstances to see to the good of the beloved. And a vulnerable love that cannot force a response from the beloved but must watch and wait and hope for a response, whether it comes or not.
Theologian that he is, Vanstone could not help feeling that these were the characteristics of God's love for us—a self-emptying (kenosis) love that is always attempting to find out how to address the welter of circumstance that is every individual life. "The vulnerability of God means that the issue of His love as triumph or tragedy depends upon His creation."
That statement may raise a few theological questions in the minds of some readers, but Vanstone's argument deserves to be engaged in its context before anyone renders a judgment.
But as an analogy to the arts, Vanstone's point—that the creator puts a work out into the world and becomes vulnerable to the "power of response" is something that every artist knows intuitively.
So it is, I would argue, with a creative endeavor like Image.
When we signed up with an online event registration company to take in all of our registrations and fees for the Glen Workshop in the fall of 2012, we made ourselves vulnerable to them.
We had no idea they would stop paying us in January of this year and that by the time Glen East began, we would be owed $65,000. (It is worth noting that this was not a fly-by-night operation but a company founded in 1997 that serves hundreds of clients, including major universities like Stanford and Cornell.)
So there we were at beautiful Mount Holyoke College during the day, talking about making art and all the risks that it entails, while at night the Image staff met, spoke with board members by cell phone, and scrambled to find out just how vulnerable this commercial relationship had left us and decide what we were going to do about it.
In the next post here at Good Letters, my colleague Stuart Scadron-Wattles will tell you more about how we have attempted to recover our money and avert a cash-flow catastrophe.
What I can say for now is that we need your help to recover at least $25,000 that we will likely never be paid. We will watch and wait and hope that you, our loyal supporters, will demonstrate the power of response and help us improve and overcome this challenge.
We stand with every artist—and all the artists we have striven to support over the years—in solidarity with the vulnerability that seeks to offer a gift to the world without any guarantees of the outcome.
If you can help us get through this crisis by making a tax-deductible donation, we would be most grateful. It will help us continue to take risks for the risk-takers.
Find our fundraising campaign page here.
Read Stuart Scadron-Wattles's follow-up post here.
Gregory Wolfe is the founder and editor of Image. He serves as Writer in Residence and Director of the low-residency MFA in Creative Writing program at Seattle Pacific University. In 2013 he launched a literary imprint, Slant, through Wipf & Stock Publishers. Wolfe's most recent book is Beauty Will Save the World: Recovering the Human in an Ideological Age.