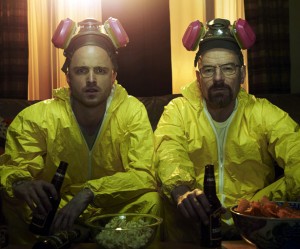 "It's over, bitch."
That's how she put it in no uncertain terms as the credits rolled at the end of the series finale.
It was the voice of Jesse Pinkman that she chose, the show's outlaw Robin to Walter White's cancer-clad Batman on a self-destructive mission to save his family from financial ruin at the cost of such greater ruin.
She being the bitch, of course—or, rather, the son of one in the best sense of that term.
After six long years of our on-again, off-again, you-ain't-seen-nothing-yet-again seasonal trysts, Breaking Bad is done with me.
But I'm not done with it. Un-uh. Not so fast. Not before I get to say a few words myself, thank you very much. So get back here like the trophy show that you are and hear me out—lest you forget that you needed me way before I needed you.
Truth be told, it wasn't a six-year affair in my case, as it was for hundreds and hundreds of thousands of other viewers; no, I was among the greater number who only caught up on back seasons of the series in time to watch this last one live.
She and I, we made up for lost time in a serious way.
The thing is, this wasn't like me: I may work in television, but I sure as hell don't get hooked on it like…a meth addict.
Hell, yeah, I did, this time around. Are you kidding me? Don't make me start talking like Pinkman's sidekick, Skinny Pete, after sampling a fresh batch of crank.
Don't make me do a Riverdance like his other sidekick, Badger, after sampling the same.
But most of all, don't bother me with questions of whether I think Breaking Bad is the best TV show ever. I don't know. And I certainly don't care.
But I do know this: it is certainly the most dramatically satisfying show I myself have ever seen. I haven't seen every contender, nor even every episode of the contenders I have watched, but for the sheer sense of total dramatic satisfaction? As hard as the drama was to swallow in certain moments: B to the B, yo.
Inevitably, given the spiritually-minded traffic the "Good Letters" blog attracts, there are those who would argue that for all the good things that can be said about Breaking Bad dramatically speaking, its host of evil things is a serious problem for the godly viewer.
After all, in sixty-two episodes of the series run, there is not a single mention of God (as far as I recall), nary a character or story with the faintest apparent concern for any power higher than kingpin drug dealers and local DEA agents.
So why does it feel like the most spiritually rigorous show that I have ever seen?
For starters, I would be hard pressed to recall a single gratuitous moment in all sixty-two episodes, which is no small badge of honor given all the violence and nearly zero sex. If you think this isn't saying much in today's sensationalist, competitive landscape that defines much of television, think again. Or spend a night watching some.
Graphic moments? Yes, some unbearably so. Gratuitous? No.
The corollary to this dearth of gratuity is an unparalleled moral calculus that unfolds across the series like a lengthy complex theorem on the Walter Whiteboard of his own self-induced demise.
Or, more to the point of his having been a high school chemistry teacher before he put his skills to more profitable use as a crystal meth cook: watching the show was like watching a chemical reaction of ethical proportions take place step by step in super slow motion.
To put it differently for the purposes of this blog, is there any other show in recent (or even distant) memory that so faithfully abides the principle of you reap what you sow?
The long, slow burn before certain lead characters broke two (among others) of the Ten Commandments lent such common TV pastimes as murder and adultery a moral gravity that was viscerally refreshing. And one that puts to shame much of the more palatable fare out there, whose whiplash depravities have as much moral weight as the next commercial break.
"Sow a thought, reap an action; sow an action, reap a habit; sow a habit, reap a character; sow a character, reap a destiny," the adage goes.
That is foundational Christian ethics. And that is Breaking Bad in a nutshell—pun intended. It begins with Walter White sowing a thought on a ride-along with his condescending DEA brother-in-law…and it ends—well, avoiding all spoilers, let's just say that it ends on a note of parabolic perfection.
If this isn't a paean enough already—and Breaking Bad has had them aplenty long before this one—what makes me appreciate the show all the more is knowing (though not knowing him personally) the good reputation that precedes its creator and showrunner, Vince Gilligan.
This, too, is no small badge of honor, in an industry whose showrunners often fancy themselves the kind of brilliant, mercurial antiheroes they love to create. Gilligan isn't the type to take sole credit for the masterpiece of Breaking Bad, so I would be remiss not to name his trusty staff of writers who deserve a shout-out: Peter Gould, George Mastras, Sam Catlin, Moira Walley-Beckett, Thomas Schnauz, and Gennifer Hutchison.
I imagine they're all feeling the shaft, too, after the finale. Even if they brought it upon themselves, just like Walter White. That's what they get for a job so well done.
On that note, I'm done with her. There were just a few things I needed to say first.
Sorry, but I'll be having the last word.
Bitch.
Bradford Winters is a screenwriter/producer in television whose work has included such series as Oz, Kings, Boss, and The Americans. His poems have appeared in Sewanee Theological Review, Spoon River Poetry Review, and Georgetown Review, among other journals. He lives in Brooklyn with his wife and three children.