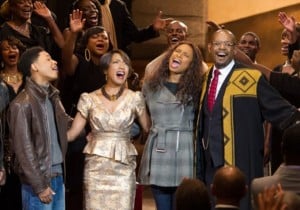 Guest Post by Christine A. Scheller
What good is a shepherd
that goes to sleep? Suppose a wolf would come,
and steal your lambs away,
what you gonna tell
your master next day?
—Langston Hughes, Black Nativity
Who is the shepherd? Who are the sheep? Those were a couple of my questions about a new film adaptation of the 1961 Langston Hughes play Black Nativity after seeing it twice and then reading the short play for myself.
Is the reverend who drives his daughter away the bad shepherd? Or is it the man from whom he tries to protect her? Maybe it's her, as she deprives her child of his heritage because she refuses to forgive. Or the mother, who enables her father's dysfunction.
I didn't think about these things until I compared the film with the play. I also didn't realize how entirely different they are—the word adaptation may be a stretch. The film is metaphor for the play, I think. Or as its writer/director Kasi Lemmons said at a Los Angeles press junket, it is a "container" for Hughes' work, which appears toward the story's end as a Christmas pageant in the wayward pastor's church.
"If you tell a lie your tongue might slip. If you tell the truth he might bust you in the lip…. You can't preach one thing then up and do another, look out for yourself but try to con your brother. No-good shepherd! No good-shepherd!" wrote Hughes.
In the film, the reverend pays a long, hard price for preaching one thing and doing another, for violating the Christian law of love. But even as he confesses and repents, the character whom he wrongs (the guy who would have led his daughter astray) essentially says the reverend may have been right.
"Jesus died upon the cross that I might have life, and have it more abundantly. Yes, he did! But we ought to try harder to deserve God's love, and goodness. We ought to look inside ourselves and see if we need fixing, need any personal repair work done," wrote Hughes.
In the film, as in life, everyone needs work—the pastor, his wife, his daughter, her son, the boy's father. That is its strength. No character is a caricature. They all need and find redemption. This may be a stretch, or as Lemmons described it, a little everyday miracle.
"You can do better; I messed things up," Jennifer Hudson's character Naima says to her son.
"Ain't no miracles, just money—who got it, who ain't," sings Jacob Latimore as the cynical boy named Langston.
"Apparently I'm your grandfather," Forest Whitaker's character, the self-righteous Rev. Cornell Cobbs, declares upon their introduction. Later, acknowledging the depth of his sin, he says the true colors his daughter saw through his misguided act were his own.
"I'm not perfect, but He loves me anyway," sings the pastor's wife, Aretha Cobbs, played by Angela Bassett—a woman Lemmons described as "beautiful" both inside and out. The role was written for her, an actor able to exude the "pure love" Lemmons was after.
Lemmons dipped her pen into Langston Hughes' well and spilled fresh ink. Her actors drew upon their own reserves to make that ink dance upon the screen.
"This film is about love and forgiveness. That was the most important factor and working with the individuals and having the experience that we had," said Bassett. Fear of singing on camera and of not fully grasping Lemmons' vision intrigued both her and Whitaker as artists.
"I couldn't make sense of it. But she makes perfect sense to me as a storyteller, as a writer, as a director, as a friend. So, what place does spirituality play? It's a faith walk. If they say the definition of faith is the assurance of things you can't see, well I couldn't see it, but I had faith in her and her vision and her ability," Bassett said.
"It was exciting because it's like Angela said…I wasn't sure; I couldn't see the movie…. I was a little nervous, a little frightened by it, which for me is a good sign," added Whitaker.
A vibrant musical score holds the work together.
"Langston is a big jazz guy, so to fuse gospel with a big jazz person like Langston was perfect for me," said Grammy Award-winning artist and producer Raphael Saadiq. "I grew up around jazz and blues—delta blues. So to fuse everything I know…and put it in a film and make all the different people I know around the world feel it…that was the challenge that I wanted for myself. I think that's what I did," he said.
"Music always connects me to whatever emotion it is, so if I'm getting ready to walk on the set, and I have to act and not sing, if I have that music in my ear to help me find an emotion…it's always the underlying for me," said Jennifer Hudson, who plays the pastor's daughter Naima.
Fixed my leak in the building.
I went on my knees in prayer.
I laid my foundation while I was there.
Oh, yes! Oh, yes! Oh, yes! Oh, yes!
And I built my walls with grace,
I covered my roof with faith,
and I built my doors with love,
and I placed God's name above,
and about that time,
my landlord came.
You ought to know who I mean—
My God and your God!
My Lord and your Lord!
He said, 'I'm pleased with what you've done.
And your race has been won.
I'm here with your key,
and I've got your deeds with me.'
Hughes wrote it. Lemmons reinterpreted it. A superior cast of actors and musicians embodied it with grace. I was moved and inspired by it.
Yes, there were weaknesses, or viewing challenges, depending on one's perspective and taste—but a story about life that rings true, because of artists reaching through time and sharing their gifts with the world, what's not to love about that?
Christine A. Scheller is a widely published writer who spends her weekdays advancing dialogue about science, ethics, and religion in Washington, D.C., and her weekends tending her garden at the Jersey Shore. Her award-winning essays have been included in anthologies like "Suffering Redeemed: Stories of Grace in the Midst of Personal Tragedy." Follow her on Twitter @cascheller.
Photo: Fox Searchlight Pictures