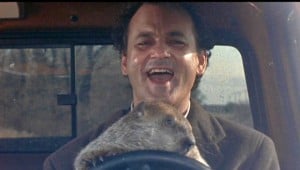 Guest post by Steven D. Greydanus
A joke can be so big that it breaks the roof of the stars. By simply going on being absurd, a thing can become godlike; there is but one step from the ridiculous to the sublime.
—G.K. Chesterton
Chesterton is known as the "Apostle of Common Sense," but a 1922 article in a religious paper once called him something even more appropriate: "The Apostle of Laughter"—laughter being, for Chesterton, both the soul of common sense, and something far deeper.
For Chesterton, the spiritual life and high spirits are inseparably connected; there is even something divine about humor: "A good joke is the one ultimate and sacred thing which cannot be criticized."
The internet abounds with best movies lists, including lists of comedies of all types: screwball and slapstick, comedies romantic and black; comedies of manners and of mannerlessness. There are even lists of religion-themed comedies, though of course a transcendently funny joke is not necessarily about religion, and jokes about religion are not necessarily transcendent or profound.
The Arts & Faith Top 25 Divine Comedies offers what may be, but should not be, an unusual angle on the comedy genre: It focuses on movies that explore the space between the ridiculous and the sublime. Explicit religious themes are not a notable feature in most of these films, yet all of them, in different ways, touch on questions of ultimate import.
This is in keeping with the tenor of conversation carried out for the past fifteen years among the online community at ArtsandFaith.com, a diverse group including critics and artists, pastors and seminarians, believers of various stripes and individuals of no particular faith.
The Arts & Faith Top 100 Films list looks at world cinema through a broadly spiritual lens; a similar perspective informs previous top 25 lists (horror films, road films, marriage films).
All A&F lists are created by a voting process open to all members, with votes weighted by board participation.
Films you might not expect to find on other top comedies lists include the Coens' A Serious Man; Craig Gillespie's Lars and the Real Girl; Whit Stillman's Metropolitan; Wes Anderson's The Fantastic Mr. Fox, and Woody Allen's The Purple Rose of Cairo. All of these, in one way or another, have been important films for the community at A&F.
There are naturally also titles one would expect to find on a list of "divine comedies"—starting with the top film on the list, Groundhog Day, co-written and directed by Harold Ramis (who died on Monday).
Actually, one would expect Groundhog Day on such a list now, though when it was released in 1993 it was not immediately recognized as a film with great spiritual significance. A comedy about Bill Murray (then best known for the likes of Ghostbusters, Stripes, and Caddyshack) trapped in a small-town nightmare, greeted every morning by Sonny and Cher and "Pennsylvania Polka," surrounded by hicks he despises, stepping over and over into that icy puddle, driving on railroad tracks, etc., does not immediately strike us with its potential for profundity. That, Chesterton would say, is precisely our problem.
Those familiar with A&F's previous lists may be surprised at the number of familiar titles on this list, and, even more, the dearth of any foreign language titles—the first such list A&F has ever produced.
I suspect Chesterton might have defended the populism of this list, particularly in contrast with the comparative obscurity of some previous A&F lists. As the Rev. Ian Ker of Oxford University remarked last year in a lecture at the Lumen Christi Institute, Chesterton was a great champion of the hilarious vulgar masses over solemn intellectuals who despise vulgar jokes. Chesterton might well have taken issue with the rather downbeat art-house tenor of the Top 25 Marriage Films—marriage being one of his favorite themes for cracking wise ("a duel to the death which no man of honour should decline").
Yet even he might regret the absence of, say, an Ealing comedy such as Kind Hearts and Coronets. (Kind Hearts was a distant runner-up; higher up the list of runners-up were Jean-Pierre Jeunet's Amélie, Krzysztof Kieslowski's Three Colors: White and Jacques Tati's Playtime.) And with four directors (the Coens, Terry Gilliam, Chaplin, and Wes Anderson) contributing ten films, and Pixar contributing four more, the list could be more diverse.
(Other films that came close to making the list include The Muppet Movie, Duck Soup, The Station Agent, and Young Frankenstein.)
Even the name "Divine Comedies" is a joke. The word "comedy" originally referred not necessarily to a humorous tale, but to a story that, in contrast to tragedy, had a happy ending. Dante's Divine Comedy is not without elements of humor—ironically, particularly in the Inferno—but the title refers to the trajectory of its journey from hell through purgatory to paradise.
Not all the comedies in this list make it to paradise, or even to a happy ending; in some, the comedy is of the darker variety, like the humorous bits of the Inferno.
Yet all of these films, in one way or another, explore existential wonder, longing, or desire for redemption. Even when happiness seems elusive, in laughter we may hear an echo of final happiness beckoning to us. Even gallows humor may be either despairing or hopeful; it matters infinitely which.
To go the Arts and Faith Top 25 Divine Comedies list, click here.
Steven D. Greydanus is film critic for the National Catholic Register and writes regularly for Catholic Digest, Christianity Today, Catholic World Report and other venues. He is a member of Online Film Critics Society. Steven co-hosts the cable TV show "Reel Faith" (NET TV) with former USCCB critic David DiCerto.