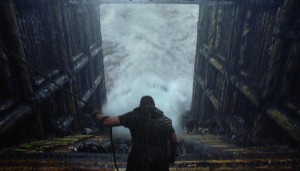 Yesterday I wrote about the film Noah and the believing soul's ambivalence to God. Today I want to quickly note that in his book God, Guilt and Death, Merold Westphal describes how there is actually ambivalence to God on the part of the unbelieving soul as well.
"I don't believe," the unbeliever says with real reason—she doesn't see enough evidence to believe, or the problem of evil and the unearned suffering of children make an all-good and all-powerful god, to her view, untenable—"but wouldn't it be great if I could believe, if there were a God to give ultimate meaning to existence."
This category does not apply to Aronofsky's Noah. There are no unbelievers in this film as far as I could tell. The villainous Tubal-Cain was just as devout a believer as Noah was. As a matter of fact, he embodies one aspect of the believing soul's ambivalence to God: resentment.
According to Westphal, resentment toward the Holy niggles at the mind of even the most devout believer. He observes that Kierkegaard's Purity of Heart Is To Will One Thing is not a prescription for doing things right, but a meditation on the fundamental double-mindedness in even the most pious soul.
Resentment says that not only is God taking my place at the center of the universe, he is not running things properly (which usually but not always has to do with my own success, health, and happiness). It says, "If I had the power of my (heavenly) father, I would surely have arranged things differently."
Tubal-Cain seethes with resentment. He is sincere when he cries out to the Creator, "Am I not created in your image?" He demands to know why it has to be as it is. A stowaway in the ark, he explains to Ham that he, and not Noah, is the one following the Creator's original command to "take dominion" over the earth. He is angry with God for not ordering the world as he thinks God should, and for not giving him his rightful place in it. Tubal-Cain is committed to righting that wrong.
We find Noah on the other side of this ambivalence: I am just a creature, one who must die; knowing this, I long for my life to have, what Ernest Becker in his book The Denial of Death calls "cosmic significance." I can come to terms with my inevitable death as long as I can attach some universal significance to my life. The only chance at achieving that is by annihilation of self into the will of God—he must increase, I must decrease.
Aronofsky's Noah is consumed, obsessed with carrying out the Creator's wishes. In being obsessed, Noah is not different than Aronofsky's other protagonists. Whether it is drugs, or the thrill of performance, or fame—or the secret name of God found in math, or the tree of life—the protagonists are all completely consumed by something. They move as compelled toward their obsession to the destruction of all else, including the relationships in their lives and their own physical well-being.
While Noah is an extreme example, his concern is not different than that of every believer: my existence is worth nothing relative to God who is the Ultimate Reality, and I can find significance in nothing but that very Reality—I must align myself with God if my life has any chance at meaning.
Aware of his own inadequacy, Noah gives himself up to what he believes is the Creator's will. As Jay Michaelson observes in The Jewish Daily Forward, "Aronofsky's Noah is a zealot. He obeys God too much, even to the point of threatening to kill his own family in order to extinguish the human race. He is troubled by the deaths of innocent people, but does not intervene to save them… unlike Abraham, who argued to save the lives of the wicked, Noah just follows orders."
Just like the obsessed characters in Aronofsky's other films, Noah is offered the chance to back away from his obsession and turn to one who stands right before him offering him the option of love, human connection. The filmmaker seems to be asking, what if the zealot could step down from this screaming obsession and simply love and be loved by his neighbor? They do not, so we do not find out.
While he tries to care for earth and the environment, it appears that Noah's certainty about what the Creator wants might not always be justified. Is he interpreting the signs correctly? Is he delusional? The flood comes for sure, but is he supposed to kill everyone, including—an allusion to the equally baffling story of God's command that Abraham murder his son Isaac—his own miracle progeny?
Is that really what the Creator demands? It is impossible to say for sure. Noah has to carry on in the absence of total understanding. There is guesswork involved. No one can rightly claim to have figured it all out.
Michaelson writes that "Noah… is midrashic, magical, and radical. Its characters are deeply flawed and deeply complicated. It questions the meaning of faith." True. He adds, "It is, in the best senses of the word, quintessentially Jewish."
I would say that it is quintessentially human.
Vic Sizemore earned his MFA in fiction from Seattle Pacific University in 2009. His short stories are published or forthcoming in StoryQuarterly, Southern Humanities Review, Connecticut Review, Portland Review, Blue Mesa Review, Sou'wester, Silk Road Review, Atticus Review, PANK Magazine Fiction Fix, Vol.1 Brooklyn, Conclave, and elsewhere. Excerpts from his novel The Calling are published in Connecticut Review, Portland Review, Prick of the Spindle, Burrow Press Review, Rock & Sling, and Relief. His fiction has won the New Millennium Writings Award for Fiction, and been nominated for Best American Nonrequired Reading and a Pushcart Prize. You can find Vic at http://vicsizemore.wordpress.com/.