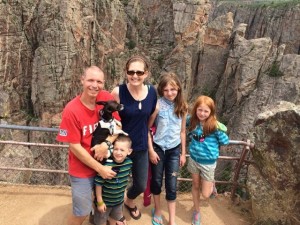 I've tried to stop policing adoption language, no matter how much phrases like "real mom," "put up for adoption," and "kids of your own" make me flinch. Before I entered the world of adoption (and not even the cross-cultural or international variety, which invite their own plethora of zingers), I didn't understand the negative emotional power of these phrases. Such language virtually never originates from a place of disdain, however, but from a genuine lack of understanding.
We gave birth to two daughters who are now eleven and nine. We adopted Samuel, now six, when he was a newborn. One of the most common comments we receive goes something like this:
"He looks just like you guys! He fits in so well, you can't even tell he's adopted."
The remark is always meant as a compliment, of course, and I try to accept it as such. While I believe Samuel looks nothing like us—he is much cuter than I could ever imagine being—I appreciate the affirmation of our family, that Samuel is indeed a "real" Runyan. However, the "you can't even tell" piece of the comment evidences our culture's deep-seated belief that adoption is somehow lesser, shameful, or even deserving of secrecy.
Samuel has known his story for as long as he's been capable. We tell him he was born in Pekin, a town a few hours south of us, to Hannah, who was sixteen at the time. We tell him she loved him very much—and still does— but wanted him to live with a mommy and daddy. Once Samuel understands the birds and the bees, we will be able to explain the role of the birth father as well. For now, he knows he grew in Hannah's tummy, not mine, but is not ready to comprehend how he got there.
Samuel keeps a photo album, just like his sisters, that celebrates the first days of his life. The pictures of everyone holding him in the hospital—me, my husband, my husband's sisters, Hannah, the birth father, and the birth grandparents—tell his story. We continue to see Hannah and her parents several times a year. We've taken trips, gone to church, and celebrated holidays together. The biological grandparents have considered our daughters to be their grandchildren from the start.
Many people believe that open adoption is a form of co-parenting that confuses the child. In fact, while we were awaiting Samuel's birth, a friend exclaimed, "He's gonna know his birth mom? Weird. No thanks."
It's curious that many people who claim to be pro-life believe that a birth mother should carry a child to term then immediately erase all connections. They also want to ignore the research that overwhelmingly supports the benefits of open adoption to the child. Isn't this the life we claim we want to protect?
There has never been any question that we are Samuel's parents. After first meeting us at seven months pregnant, Hannah told her mom, "He kicked a lot when Tania talked. Do you think he knows she's going to be his mommy?"
We took him home at two days old to feed, clothe, and diaper him. He lives in our house, hangs his artwork on the fridge, and receives the expected hugs and timeouts. He calls me Mom and my husband Dad because we are. He calls "Hanny" (his name for Hannah) his birth mom because she is. The belief that we must earn true parenthood by ignoring Samuel's roots or, alternatively, consider ourselves stand-in parents for the "real" ones is a false dichotomy.
I'm not going to pretend that every open adoption goes as smoothly and sweetly as ours. Visiting biological parents can be painful, awkward, and difficult. Sometimes the birth parents are uninterested, addicted to drugs, or focused on other children. However, we owe our children, when reasonable to do so, the opportunity to learn their stories before reaching adulthood. And if we can bring them in relationship with their biological roots in a loving, directed manner, they may not need to conduct a painful, nearly inevitable, search later in life.
Angie Johnston, adult adoptee and mother, writes the following in her article "Why Adopted Children Need to Know Their Stories," in Lifelines, the magazine published by Bethany Christian Services:
"When we openly talk with our children about their stories—however good or bad—it connects them with their existences. When we parents are unafraid of their stories we honor children's existences. We say to them, "You are real. You are here. You exist.'"
This is what is real about Samuel.
He looks like both birth parents, two dark-haired, blue-eyed beauties. A lot. His eyes crinkle to the point of disappearing when he smiles, just like his birth father's. He also has his birth father's quirky sense of humor and ability to raise one eyebrow to the moon. Like Hannah, Samuel makes friends everywhere he goes, from Target to the doctor's waiting room, but requires his space to recharge. He also exhibits her natural dance moves and attraction to funky fashion choices. The power of DNA extends to the most surprising of details.
This is also real about Samuel.
He lies on the couch—smushed between the dog and his two sisters—as we read stories for hours. He hikes through the mountains with us on summer road trips and splashes in the waves with his cousins. He experiments with recipes in the kitchen while employing all manner of sardonic Runyanisms. The power of family extends to every moment of his life.
Often when Hannah visits, she will take some time to tuck Samuel in. I will hear them reading, laughing, and singing together upstairs. The worst thing? A little boy gets additional hugs and attention from someone who cares about him. A young woman receives the reassurance that the baby she gave birth to six years ago is cherished and safe.
Love always fits right in. You can tell.
Tania Runyan is the author of the poetry collections Second Sky (Cascade Poiema Series), A Thousand Vessels, Simple Weight, and Delicious Air, which was awarded Book of the Year by the Conference on Christianity and Literature in 2007. Her book How to Read a Poem, an instructional guide based on Billy Collins's "Introduction to Poetry," was recently released by T.S. Poetry Press. Her poems have appeared in many publications, including Poetry, Image, Books & Culture, Harvard Divinity Bulletin, The Christian Century, Atlanta Review, Indiana Review, and the anthology In a Fine Frenzy: Poets Respond to Shakespeare. Tania was awarded an NEA Literature Fellowship in 2011. She tutors high school students and edits for Every Day Poems and Relief.
Image used: The Runyan Family, provided by Tania Runyan