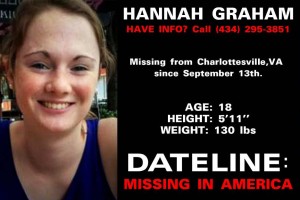 It was forty degrees this morning when I got into my car. The back window was spotted white with frost. As I drove to work, a new appeal came from news that had made me heartsick for weeks. It was a plea from the mother of Hannah Graham, the eighteen-year-old student who disappeared in September from the University of Virginia.
"Please, please, please," the mother's anguished voice came over the radio with a British accent. "Help us find our girl," she cried out (to someone who knows something? Anyone? God?). "Please, please, please, help us bring Hannah home."
The police are still looking, as are fire departments and federal agents and hundreds of volunteers. Hannah is out there somewhere these cold nights. No one is talking about whether or not she is still alive, but they are scouring the countryside for clues, "a cell phone, or a shoe," as one searcher told reporters, "anything that will point us to Hannah."
Jesse Matthew, the suspect arrested on charges of abduction "with intent to defile" has invoked his right not to speak. Hannah cannot speak right now. It is likely that no one else knows what happened. Will Hannah ever break her silence?
Just this past weekend, I read Rebecca Solnit's "Casandra Among the Creeps" in Harper's, which deals with the silencing of women's voices, particularly in the face of sexual violence. Solnit writes, "credibility is such a foundational power…and women are so often accused of being categorically lacking in this department." When a woman speaks up about male misconduct, "especially if it has to do with sex, the response will question not just the facts of her assertion but her capacity to speak and her right to do so."
Six months ago, I blogged about the sex abuse scandals at Christian college campuses, how they were covered up, how the victims were shamed, silenced, blamed. Basyle J. Tchividjian, grandson of evangelist Billy Graham and executive director of Godly Response to Abuse in the Christian Environment (GRACE), was investigating some of these scandals at Bob Jones University before the school shut him down.
Tchividjian is also a law professor at Liberty University, where Jesse Matthew was a student and a football player from 2000 to 2002 when a woman went to campus police and reported he had raped her. The police questioned Matthew. It came down to a question of consent—he said the sex was consensual, she said it was not. There were no witnesses.
The woman decided not to go forward with her accusations and the prosecutor let the case drop. "It's one of those things where you don't want to victimize the victim by going forward with a case where she wanted nothing to do with it," Virginia Commonwealth Attorney Michael Doucette told a reporter.
From Liberty, Matthew went to Christopher Newport University, where, in 2003 he was accused of sexual assault. It is not clear how CNU handled the case. Lori Jacobs, spokeswoman for CNU, "declined to say what action was taken after the allegation or how the case was resolved."
Matthew quit the football team and dropped out of school the following week. He went on to drive a cab, work as an operating room technician at the University of Virginia Medical Center, and as an assistant football coach at Covenant High School.
Victim silencing, Solnit asserts, "like Dante's hell, has its concentric circles." The first is "internal inhibitions, self-doubts, repressions, confusions, and shame that make it difficult to impossible to speak, along with the fear of being punished or ostracized for doing so."
If a woman finds the nerve to meet these internal hazards, she encounters external forces arrayed against her, "humiliating or bullying or outright violence, including violence unto death."
If she makes her way through this gauntlet, she faces a litany of accusations from incredulous males in power. Solnit turns to Judith Lewis Herman's groundbreaking Trauma and Recovery to describe what the victim faces from the accused: "it never happened; the victim lies; the victim exaggerates; the victim brought it on herself; and in any case it is time to forget the past and move on."
Cassandra, in the most famous version of the myth, Solnit tells us, was cursed by Apollo to tell the truth to unbelieving ears because she refused to have sex with him. "The idea," Solnit writes, "that loss of credibility is tied to asserting rights over your own body was there all along."
There is a great divide between men and women on this issue.
Freud discredited the women he interviewed when what they told him was too damning of men. Instead, he insisted they imagined the abuse, that they secretly wanted it.
Arlen Specter, participating in the humiliation of Anita Hill, proposed that she "imagined or fantasized Judge Thomas saying the things she has charged him with."
Hotel maid Nafissatou Diallo spoke out against Dominique Strauss-Kahn, the head of the IMF, and caught hell for it. What would have happened if other women had not stepped forward with their stories of sexual assault as well? Still, criminal charges were dropped against Strauss-Kahn.
Where did Dylan Farrow's story go? How many of us even remember it?
The women who spoke out had to fight their way through the rings of hell to voice their horror aloud. And their voices were swept away as in a beach wind. There is "this pattern of discrediting," Solnit writes, which makes it necessary to recommence "the credibility conversation every time a woman speaks."
Jesse Matthew has now been linked to the 2009 disappearance and death of Virginia Tech student Morgan Harrington, and other disappearances in the area are getting new scrutiny.
It has been more than a month since Hannah Graham's disappearance, and all we hear is silence.
Silence from other young women who have disappeared, or been found murdered, from the women in the 54 percent of rape cases not reported, from the women at secular and Christian universities—Christopher Newport and Liberty—who gathered the courage to speak and were not heard.
"Sexual assault, like torture," Solnit writes, "is an attack on a victim's right to bodily integrity, to self-determination and -expression. It's annihilatory, silencing."
Hannah's mother is not silent. Her tormented voice on the radio this morning called out, "please, please, please."
Vic Sizemore earned his MFA in fiction from Seattle Pacific University in 2009. His short stories are published or forthcoming in StoryQuarterly, Southern Humanities Review, Connecticut Review, Portland Review, Blue Mesa Review, Sou'wester, Silk Road Review, Atticus Review, PANK Magazine Fiction Fix, Vol.1 Brooklyn, Conclave, and elsewhere. Excerpts from his novel The Calling are published in Connecticut Review, Portland Review, Prick of the Spindle, Burrow Press Review, Rock & Sling, and Relief. His fiction has won the New Millennium Writings Award for Fiction, and been nominated for Best American Nonrequired Reading and a Pushcart Prize. You can find Vic at http://vicsizemore.wordpress.com/.