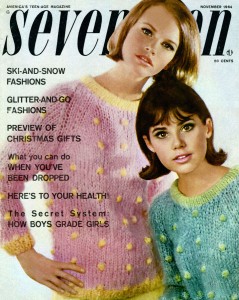 Look at my new Easter eggs.
Red and blue with yellow legs.
See them run around and around.
Then they tumble on the ground.
I've just discovered this intriguingly surrealist verse in a box in my attic labeled "Nostalgia." The box has been sitting there for decades, and I got curious recently about what might be in it. Judging from the large, carefully printed lettering of this poem, I'd guess it's from first grade, before I'd learned cursive.
Examples of my literary juvenilia abound in this box. I'll spare you most of them. But one poem from my high-school literary magazine, Inkling, stands out for me. Called "Waiting," it begins:
On a battered bench in a city park
Sits a man—old, tired, and weak;
On his aged skin there is many a mark—
A scar on his neck. A cut on his cheek.
The jingly lines go on, describing his tattered clothes, etc., until this final verse:
There is no one to try to relieve his distress—
His want for security, never to cease.
So he wanders about feeling lost and depressed
Waiting for death to bring comfort and peace.
What fascinates me now about this poem is that not a word of it had any grounding in my experience. I did not frequent city parks where abandoned old people sat on benches waiting for death. Though I'm sure I felt at age fifteen that this poem was sincere, now I can say with equal certainty that its pathos was wholly invented. I thought this was what poems were supposed to be about and how they should sound.
Further down in the Nostalgia box, beneath the piano and dance recital programs, I come to my high-school scrapbook. I flip through (as the dried-out Scotch-taped items fall off the pages): a glossy book cover emblazoned with "Forest Park High School"; the dried, pressed corsage from my Junior Prom; a playbill from Damn Yankees, with its back cover ad showing a woman happily smoking a Chesterfield cigarette ("mild, yet they Satisfy!"); a newspaper clipping listing Top News Stories of 1957 (#1. Sputniks launched… #10. Civil rights bill passed); program from a "Sweetheart Dance" with my writing on the cover saying "I went with Fred Barron," of whom I have absolutely zero memory; a glossy ad-filled program for a game between the rival boys' high-school football teams.
Scrapbooks: do girls still make them?
Digging further down, under the scrapbooks, there's a ribbon-tied bundle of letters I wrote to my parents from college. I can't bear to open and read them, but I'm quite sure they're a model of self-censorship. I certainly did not report, for instance, what to me was the most important event of my college years: the time I first "went all the way" with my boyfriend.
Finally, at the very bottom of the box, I reach the treasure I'd been seeking throughout this archeological dig: a dozen issues of Seventeen magazine, which I subscribed to from age thirteen to fifteen. Certainly not when I was seventeen! Did anyone subscribe to Seventeen at seventeen?
I lift the heavy magazines out of my box and start flipping through. Mostly there are ads for clothes (shirtwaist dresses, bras, nighties) and deodorants (stoking the fear that you might give off…horrors…body odor!). Quite a few ads, too, for diamond engagement rings and the silver pattern you must choose for your wedding. The only ads relating to jobs are for secretarial schools. This was the 1950s; girls (we weren't "women" yet) didn't have careers.
There are regular monthly features on makeup and hairstyles. In the March, 1957 issue (I would have just turned thirteen), I see in the Table of Contents that I'd checked the "Dear Beauty Editor" feature. I turn to its page, and there's my telltale pencil mark revealing the problem that plagued me at the time: "Dear Beauty Editor, I have a very small bosom, and I wonder if exercise could improve my figure. —J.D., Detroit, Michigan." (The answer is "no; try a padded bra.")
But the monthly feature I'm most drawn to today is "From a Boy's Point of View." Written by Jimmy Wescott, it contains helpful tips on how a girl should behave toward boys. "Don't talk about yourself," Jimmy advises. "Learn enough about things that fellows like so you can ask him questions about them."
"Foreign cars. Every fellow loves sports cars, and you don't have to know a lot about one just to mention it. Stop by a place that sells foreign cars and look inside them. They're beautiful inside, you know. And if you just say this to a fellow, he'll take off on the topic and then you'll be in a real conversation!"
Occasionally Seventeen includes a quiz. I see in one issue "How Do You Rate on a Date?" In another, I see "How's Your Party Etiquette?"
But I'm frustrated because, in this stash of issues that I saved in my Nostalgia box, I don't find the one quiz that has given me laughs over the years whenever I've recalled it: "How Do You Know If It's Really Love?" Questions included "Do you sit by the phone waiting for his calls?" "Does he remember you on your birthday and Valentine's Day?" But surely the clincher is this: "Does he seem more attractive to you when you're together or when you're apart?"
My son has asked me not to throw out my Nostalgia box; he wants to keep it as family memorabilia. I think his daughters (now twelve and fourteen) would get a kick out of it. They're just about the age for Seventeen—but I sure hope they'll see it as campy, and not (as I did) as gospel.
Peggy Rosenthal is director of Poetry Retreats and writes widely on poetry as a spiritual resource. Her books include Praying through Poetry: Hope for Violent Times (Franciscan Media), and The Poets' Jesus (Oxford). See Amazon for full list. She also teaches an online course, "Poetry as a Spiritual Practice," through Image's Glen Online program.