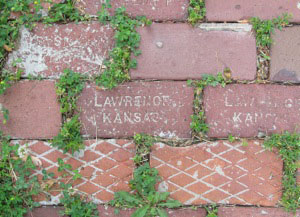 As much as I associate Kansas with The Wizard of Oz, I have yet to come across one canary-colored brick in my eight years as a Kansan. There are, however, a number of historic red brick sidewalks and streets in Lawrence, the city I call home. The words "LAWRENCE KANSAS" appear, imprinted, on the bricks, so no one can mistake their parentage—they belong to their municipal mother.
One day, while walking alone on one of those sidewalks several years ago, a red milk crate sitting next to a dumpster in a nearby alleyway caught my eye. I decided to investigate, and soon found myself thumbing through the cache of rejected records inside—my inner pop culture junkie jonesing for a fix, my eyes sparkling in their sockets like twin disco balls.
Had my wife Becki seen me, she would have said I reminded her of the silver-haired hoarder who rummaged through the rubbish bins outside of her old apartment. How could either of us forget that bow-backed man, whose spine was shaped like the curve of a shepherd's crook?
I suspected his posture was the result a lifetime of straining over the sides of too many dumpsters—searching for treasures in the trash. He certainly had enough loot. The haul in the bed of his rusted truck stretched skyward, making his vehicle look like a landfill on wheels.
As I knelt by that milk crate, I felt as if I understood that man, if only for a moment. Surely he experienced similar excitement each time he found something of worth among so many worthless things.
While I hoped to find a rare gem or two, I mostly expected to find a congregation of musical misfits. Dilapidated, dusty albums by nameless might-have-been bands. Record sleeves featuring frighteningly friendly families with grammatically incorrect band names like "The McKeithen's"(Stop singing about the apocalypse and learn how to use apostrophes, folks!).
But this was no ordinary record collection—no sir.
That crate housed a small stockpile of '80s artifacts, including records by A-ha, Depeche Mode, Flock of Seagulls, Split Enz, XTC, and Yaz. When I found a twelve-inch of the Nine Inch Nails single, "Down in It," it seemed more than a little meta since I was down on my knees and up to my ears in vinyl at the moment.
I adopted those albums that day. Like a mother hen gathering her chicks under her wing, I tucked my treasures under my arm and walked home.
I knew the long-players would feel at home in my record hutch alongside other '80s classics like The Jesus and Mary Chain's Psychocandy and The Smiths' The Queen is Dead. The singles, on the other hand, would find kindred spirits in Til Tuesday's "Voices Carry" and U2's "Pride."
I mention U2 because plenty of people in the press have trashed the band in recent months for partnering with Apple to invade iTunes libraries everywhere on September 9. For some reason, Apple's 500 million users did not rejoice when Bono and Co. supplied them with free digital copies of U2's new album, Songs of Innocence.
While many objected to Apple's disregard for user consent and U2's sonic spam, my feathers remain unruffled. I am that odd duck, after all, who loves U2, loves free music, and loves when U2 provides me with free music. So I cherished the new addition to my music library while detractors deleted Songs of Innocence from theirs and thereby relegated it to the digital equivalent of the milk crate by the dumpster.
The backlash against Songs of Innocence reminded me of the public's reaction to another much-maligned entry in U2's canon—1997's Pop. The album served as a celebration of surface over substance, and suggested that Bono had traded his bleeding heart for an artificial one that thumped like an 808 kick drum. Pop sounded like it was destined to be discarded.
Somehow it seemed appropriate then, when Bono sang of "looking for baby Jesus under the trash" on the album's third song, "Mofo." The more I heard that lyric, the more I liked the image of Jesus as a divine dumpster baby.
In Jesus, I see God descending into the rubbish heap of humanity, where so many of us throw our lives away and treat those around us as if they are worthless. But Jesus is in the trash not because his Heavenly Father abandoned him, but because he's chosen to be God in the garbage. He's chosen to join the ranks of those who would echo the words of singer-songwriter Elliott Smith: "God don't make no junk / but it's plain to see he still made me."
One hardly has to feel like junk to question one's value though. As a writer, I regularly question the value of my work because I write in an age of disposable words. In the age of the Internet—of information bombardment—people seem to forget writing almost as fast as they read it. When I consider all the other wordsmiths in the world, slaving over their precious paragraphs, my writing suddenly seems as common as the grass on the ground or the identical garbage bins that line the curbs on collection day.
I take heart, however, in the notion that even common things may have value—even those things we might forget, throw away, or trample underfoot. Consider once again those "LAWRENCE KANSAS" bricks, which the Lawrence Vitrified Brick Company manufactured early last century. The residents of Lawrence love these bricks and collect them—and why?
To own one of those bricks is to own a part of the city we love so dearly. Even now one sits above my writing desk—the words on its face making a mason's otherwise ordinary handiwork into an extraordinary signifier of home that I cherish in my heart. When I doubt the worth of my words—or my own worth as a human being—I think of my heavenly father marking me with his name, and remember that I, too, am treasured.
Chad Thomas Johnston is a slayer of word dragons who resides in Lawrence, Kansas, with his wife Rebekah, their daughter Evangeline, and five felines. A former regular contributor to "Good Letters," he was written for In Touch magazine, The Baylor Lariat, and CollapseBoard.com. Johnston's writing debut, a whimsical memoir titled Nightmarriage was a finalist for a 2013 Shirley You Jest! Book Award in nonfiction writing.