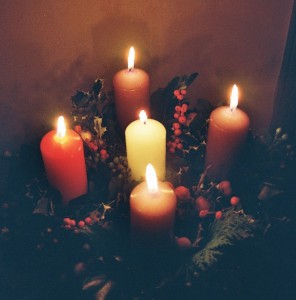 Last year at this time I wrote about suggestions my spiritual director had given me for living within Advent's special gift. For Advent this year, I want to share some of the other ways I've found over the years of to observe this graced season.
Mostly, I've loved mantras.
At the start of each Advent, I've chosen a quotation that carries for me Advent's special texture of waiting in hope; I've written out the quote to put on the kitchen table. Before dinner each Advent evening, my husband and I say the words together.
For instance, as I sift now through my folder of Advent materials, I'm finding multiple hand-written copies of Isaiah 30:15; clearly we've used it many times:
By waiting and by calm you shall be saved,
In quiet and in trust your strength lies.
I'm also finding multiple copies of my favorite line from Psalm 46:
Be still and know that I am God.
Then there's this well-known passage from Micah (6:8):
What does the Lord require of you?
To act justly and to love mercy
and to walk humbly with your God.
Whichever of these brief passages was chosen for a particular year's Advent, it wasn't limited to dinnertime attention. I wrote above that I loved mantras. And that's how I used these passages. I'd try to remember during each Advent day to pause and say the lines to myself, maybe even aloud (if I wasn't out in public!).
Sifting further through my folder, I find a passage that evidently I gave special prominence to: I printed it out in large boldface, and taped it onto cardboard to stay propped against the kitchen table's honey jar. It's an excerpt from Fr. John Kavanaugh, so I must have copied it years ago from America magazine, where he used to have a regular column.
We rush through time to get things done. When we are not getting things done, we think we "waste" time. But the real waste of time is the way we rush through it…. In hurrying to prepare ourselves for things not yet upon us, we are unprepared for what is here.
That passage is obviously too long to be a mantra. But I wrote out an abbreviated form that could serve as a mantra: We rush through time to get things done.… But the real waste of time is the way we rush through it.
The iambs of the first sentence, and the four beats of the second, helped me learn this easily by heart.
Falling now out of my folder are two little slips of paper with quotations I treasure for Advent, but I hadn't written down their source. There's:
Remove the things that hinder us from receiving Christ with joy.
I'm guessing this is part of an Advent Opening Prayer at Mass. Wherever it's from, I love the gentle way that it inserts penitence into our Advent experience. Because, at least for Catholics, Advent definitely has a penitential dimension: the Gospel readings for the first two Sundays of Advent are about Judgment Day and repentance.
The other slip of paper says:
Let everything within you watch and wait—
For the Lord your God draws near!
This, too, sounds to me like part of an Advent prayer. It would make sense to pair this prayer with the one just above, because together they express Advent's two phases. In the first two weeks, repentant hope: Remove the things that hinder us from receiving Christ with joy. Then, for weeks three and four, as Christmas draws closer, this call to hushed attentiveness: Let everything within you watch and wait—For the Lord your God draws near!
Watching and waiting in joyful hope: this is Advent's mode, its meaning. So each Advent I remember a Taizé Advent service I went to years ago, because one of the songs was the chant "Wait for the Lord":
Wait for the Lord—
His day is near.
Wait for the Lord—
Keep watch, take heart.
The words alone don't do the song justice. But take a listen. Doesn't your pulse slow down, your hope swell?
Peggy Rosenthal is director of Poetry Retreats and writes widely on poetry as a spiritual resource. Her books include Praying through Poetry: Hope for Violent Times (Franciscan Media), and The Poets' Jesus (Oxford). See Amazon for full list. She also teaches an online course, "Poetry as a Spiritual Practice," through Image's Glen Online program.