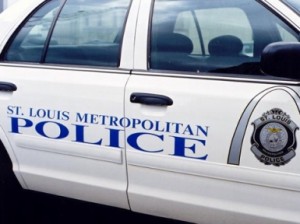 Guest post by Linda Wendling
 I love St. Louis. I love Ferguson.
My whole family grew up loving this burg. Two kids went to school there; my friends and I ate girly tea-party fare at The Thyme Table. And we all hit The Ferguson Bakery (famous for its chewy anise cookies). Ferguson and St. Louis proper are rich in historic homes, multicultural communities, and a long tradition of block parties (can you say "toasted ravioli?"). Two of my children still live in St. Louis. We still belong to the St. Louis Mennonites. It's home.
This is the story of a young St. Louis mother who has to walk in far more deliberate grace and patience and with a cooler head than most of us—to not let her little girl catch the rage disease. Jaimie* is the child who came to us as a young single adult. Jaimie is the daughter who (gently) muzzles me now and then.
Jaimie muzzles herself.
I've always been what you'd call vocal.
And, yeah, kind of a jerk about it.
Raising my (now grown) kids, I was a noisy white Warrior-Mother for social justice; it was all very Mennonite of me (well, not the loud part). My kids, racially integrated by birth and adoption, rode out protest marches eating baggies of Cheerios in a wagon my husband and I pulled behind us.
So yeah, I figured I was kind of a big deal.
But over the years, I've begun to wear a muzzle.
My other three kids, one white and two black, were raised in a middle-class, cheerfully integrated, welcoming St. Louis neighborhood, where the same nice cops watched them grow, knew where they lived, paused to wave or wink at them, and hand out Hershey bars each Halloween. My first two black daughters enter public spaces with a quiet, natural confidence, assuming most cops are friends.
Jaimie does not.
A little girl can be far too acculturated to abuse, and when she grows up, she can be as strong and as statuesque as you like, but sometimes it takes more than beauty and grace to eradicate the widening of the eyes when a police car slows down beside you.
So—Tuesday: In the middle of an ordinary afternoon as Jaimie carried a grocery bag home, two young white women greeted her as they came out of a shop.
"Oh my god!" one girl said. "Look! Our shoes match!"
Jaimie gasped, and the three started laughing and talking about pretty shoes.
Of course, a passing police car stopped.
Of course it did.
Both officers got out and approached Jaimie.
They asked where she lived. When she pointed out her charming, classic Old St. Louis walk-up, her cheery windows above a chic little salon, they didn't believe her.
The officers said they needed to take her in because "sometimes black women recruit white girls as sex slaves. So we have to check you out." Scared and embarrassed, she avoided the other girls' stares and climbed into the back of the car, her grocery bag cold and wet against her leg.
At the station, she stood near the door where they'd placed her, waiting for something to happen. She was not charged with anything, not put into a cell. When no one spoke, she finally said, "I need to go walk my little girl home from school."
Still, nobody spoke.
They didn't charge her, but they didn't let her go. They just waited her out as she stood there in the small waiting area; the milk, the chicken, the tomatoes she'd bought, all growing warm in the grocery bag. She worried about her child.
Finally, she got it:
She paid them, with shaking hands, whatever she had with her for the privilege of opening that door. They released her—with no receipt and no apology, of course, for the insulting sex slave remark.
How are we as her white parents, and mostly white church, to respond?
Listen, yes. Be her family? Of course.
And be White-Warrior-Mothers, right?
"I can't believe this!" I say into the phone. "Jaimie, this requires a response. We can't let them get away with this!"
And now in my head I already make plans. I picture myself flying up there. I am seeing how I will join forces with Jaimie's circle of church sisters she has dubbed "my m&ms" (her "mothers and mentors"). I picture how we m&ms will gather others from church: We're urban Mennonites, we take action for peace and social justice, right? And everybody loves Jaimie.
We will storm that police station! Ask for names! We will haul our churchy white faces in there and—
I am already checking out flights.
"Mom?" she says quietly.
"Jaimie, this is illegal, and—"
"I know. I just—"
It's her silence that finally silences me.
"Jaimie?"
"I'm just so tired, Mom. And they're local police. You know? I just don't want trouble for my baby girl. It's nice here, she's in an excellent school, and she doesn't want me to move her again, you know?"
I finally get it.
Jaimie appreciates all her Warrior Mothers.
But sometimes she requests our silence.
Sometimes she gently fits me with that muzzle like a piece of ancient sackcloth.
Because at the end of the day, she's still alone in her apartment at night.
Me, I can unpeel my White-Woman Rage at will.
But for this daughter, every silence broken is weighed first against its consequence—
—as she wonders who knows where her little girl lives;
—as she folds blankets against the crack beneath her door to block tear gas "just in case" (a thought that never occurs to my other grown children);
—and as she stands guard by the window, on an ordinary Tuesday night, watching her little girl sleep.
*Jaimie's name has been changed for precisely the reason she muzzles her mother.
Linda Wendling was a Milton Fellow from 2004–2005, and later a Starr Novel Fellow and Writer-in-Residence at The Writers Colony at Dairy Hollow. She's been a Best New Stories from the South winner (Algonquin), a Pushcart Prize nominee, and has won the Heartland Fiction Prize (New Letters). She was Guest Editor of Peculiar Pilgrims—Stories from the Left Hand of God (Hourglass) and currently has short fiction pending in David Shields's anthology Life Is Short—Art Is Shorter (Knopf).