Have you abandoned your New Years' resolutions yet? Mine are usually a distant memory by this time, and they resurface, intact, the following January, only to be abandoned again.
A recent article in Inc. Magazine reveals that only 9% of Americans succeed in keeping their New Year's resolutions. It goes on to declare that "most people toss in the towel on January 19," which one researcher nicknamed "Quitter's Day."
Inc. suggests that if you want to be one of the few who succeed, you need to set goals that are challenging and that matter to you, and get yourself a support system. That's great, but it's cliche – and I can say with some authority, is not going to work for most of us.
Here's why: setting the perfect goal and assembling the perfect cheerleading squad are merely preliminary steps. It's the easy part. The really hard part is in the accomplishing.
For example, let's say you want to lose ten pounds in 2023. First you vow to eat less and exercise more. But…isn't that what you did a thousand times before, and it didn't work?
I think it was Albert Einstein who said, "the definition of insanity is doing the same thing over and over, and expecting different results."
That's probably why the next piece of advice we hear is to "think outside the box."
Merriam-Webster explains that this means "to explore ideas that are creative and unusual and that are not limited or controlled by rules or tradition."
The idea may sound obvious, but it's not so easy to implement. We're pretty hooked on our rules and tradition – our status quo. We often limit ourselves by seeing the status quo as an immovable force, a fact of life. Or we may not see it at all. Status quo is a given, which makes it invisible. It's hard to question something we don't even realize is there, and hard to think outside of it if we don't know what it is.
That's why I say, before we can think outside the box about achieving our goals and New Year's resolutions, first we need to think about the box. We need to admit – at least to ourselves – that the box is flawed. Only then do we have any real hope of changing.
(Commercial: if you question "business as usual" in Christianity – or want to question it – subscribe to my newsletter, and we can journey together!)
Hello, Status Quo
Sticking with the ten-pound weight loss example, what is the box that you need to think outside of? What are your go-to diet foods? Why? How many meals a day do you eat when you diet? Why? What is your definition of exercise, and why are you doing less of it than you should?
I made a resolution to lose ten pounds on my last birthday, twelve weeks ago. Before I got started, I faced my status quo – my "box." Weight loss requires:
skipping meals
protein shakes
salads ad nauseum
nothing yummy, ever
probably joining a gym and using their treadmill for long, boring walks to nowhere (I'm too old to run)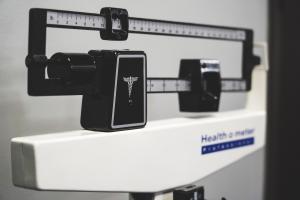 I've tried and failed countless times with this mindset. So guess what? After that I acknowledged the inadequacy of my "box," I was ready to think outside of it. I did something I've never done before: hired a personal trainer!
Best. Decision. Ever. And totally the opposite of status quo.
Next: I decided I'm not too old to run, so my trainer has been able to train me to run. (As an aside, I thought I knew how to train myself to run, but this was not the case. Another status quo blown to smithereens.)
My trainer, bless her heart, has also patiently talked me through all of my dieting assumptions and blown all of them out of the water.
Oh, and did I mention? I've also actually lost ten pounds.
This worked because I defined my box, accepted its insufficiency, and allowed new learning to take me outside of said box.
Your assumptions define the boundaries of your status quo, the dimensions of your box. Thinking outside the box means thinking beyond your current assumptions, not just tweaking them a little.
When you rethink your whole approach to something that isn't working – that's the only way to get different results (and to achieve your New Year's resolutions). Einstein said so.
But mostly, I'm not talking about losing ten pounds. I'm talking about spirituality. I'm talking about living in 2023 outside the old spiritual box – which starts with thinking about that box.
And that is the subject of the next post.
(PS Grace-Colored Glasses is back from several months of hiatus. All is well – I just needed some time to recalibrate.)
(If you are energized by challenges to the evangelical status quo like this, you'd enjoy my blog. Sign up for my free newsletter here!)
(If you would like to comment, please pop over to my Facebook page. All of my posts are there and open to constructive comment! I welcome your thoughts. And don't forget to subscribe to my newsletter!)
---
PREVIOUS POSTS THAT YOU MAY ENJOY:
My will be done: an annotated Lord's Prayer
Lies we tell ourselves about poverty and the poor
Straight talk about abortion and a woman's right to choose
"Let's just agree to disagree about guns" is irresponsible
Last year's New Year post: One simple, zero-cost action to make you wiser in 2022
---