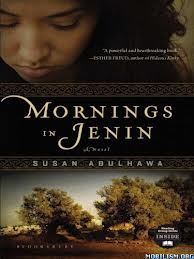 Last night, I lay awake as the gory images coming out of Gaza filled my mind. Tears pooled in my eyes but would not come out. I kept checking on my children, each warm and asleep in their beds in the safety of our home. I lay down again, and the face of an 18-month-old girl killed by the attacks appeared. Her tiny battered and charred body could have been my son. I attempt to close my eyes again and see a young child shrouded in white as the bereaved father stands over him, eyes closed and face distorted in agony. That could have been my daughter. How could I sleep in the comfort of my home while families were burying their children, watching with fear and horror as their homes are being destroyed, and neighbors massacred?
I had just finished reading the beautifully written Mornings in Jenin, by Susan Abulhawa, and I felt ashamed of the tears I shed over this story. I was ashamed of my ignorance of the deep history and issues of a people long forgotten by the world. I was ashamed for never understanding the Israeli/ Palestinian conflict, and the struggles of a people evicted from their own land. I felt humbled, knowing that I am, in some small way, connected to all this history, yet never personally connected with it. It took this novel for me to finally come to grips with a past and present that will forever haunt this world.
The story chronicles four generations of the Abulheja family from the beginning of the Israeli occupation in 1948 to the present day. The family, who for generations lived on their land, were suddenly banished from their homes and placed in refugee camps in Jenin. There they faced endless terrors, in the form of massacres, kidnappings, beatings, torture, and humiliation. The main character, Amal, takes us through her childhood in a refugee camp, where she became orphaned. She eventually escapes, fortunate enough to pursue an education in the United States. In the midst of cultural shock and transition, she loses her identity and becomes Amy. Thirteen years later, she returns to Lebanon, after hearing word of a brother she once had. She reunites with long lost family and friends, and even finds love.
As Amal's life moves forward, the unthinkable happens: the refugee camp in Lebanon is invaded and attacked by the Israelis. The childhood nightmare has returned. She is left with a daughter, who grows up to demand answers about who she really is. Together they return to Jenin where Amal revisits her painful history, piece by piece.
I spent much of my younger years in Lebanon during the Civil War that lasted from 1975-1990. Over two decades later, I have still not fully recovered from the fear and horror I internalized during those times. I spent many years having nightmares of war and destruction, fire and flame. Till this day, I still tense up and cringe at the sound of strong winds and rushing water, because they remind of the military planes that would attack our village in the dead silence of the night. By the grace of God, I never experienced hunger, torture, or loss, as the people of Palestine have faced for decades, but death always lingered in the air. I struggled with my own identity as I was shipped back and forth in my childhood, between Lebanon and America, from being a Muslim in one land and being a Catholic in the other. In many ways, I felt lost, just as Amal did.
Once I returned to the US to live with my mother for a long period, I became disconnected from my father and family in Lebanon. When I returned to Lebanon ten years later, everything had changed. I felt like an outcast in my own country, where I became known as the "Americani." I felt it in the stares, and in the cold treatment from many of my relatives. I was no longer a part of their lives, nor were they of mine. As much as I tried, I could not fill the gaping hole that time had dug.
I met my husband, an American born Palestinian, in college who often speaks of the conflicts of his ancestor's country. I have now been married for 7 years, and have two wonderful children. Last summer, after much debate and emotional distress, we brought them to Lebanon for the first time. I will never feel completely safe when I am there, and often count down the days till our return. But in a way it will always feel like the distant memory of a home I once knew and loved with the warm, spicy aroma of the city filling the air as we drive through Beirut to my hometown village of Baalbeck.
After reading Mornings in Jenin, I felt as though my heart opened up, revealing feelings I have long been repressing. For years now, the Middle East has been in turmoil from one civil revolution to the next, and I have not allowed myself to really let in what has been going on because of the fear of the fate of its people. I felt the fear that gripped Amal, as she watched her family under attack on the media, when my own family became refugees in Syria during the Lebanese Crisis of 2008. Although I was able to help my family financially I remained emotionally distant and disconnected. But now I can no longer be disconnected. I know sooner or later I will be questioned by my Creator. And what then will I say? That I was scared? That I was too busy to worry or help? Should I at that moment, expect my Creator to bestow His mercy on me? I don't want to be ashamed anymore, and on that inevitable day, I want to be able to stand in front of my Lord and say that I did everything I could.
Christina Elahmer
Christina Elahmar is a newly minted ex-pat living in Luxembourg. She is a homeschooling mom of two, and a former English teacher and writing consultant. Follow her adventures in homeschooling at http://christinaelahmar.blogspot.com.