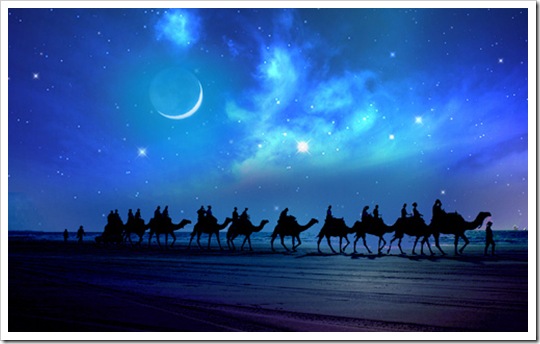 Here is a "blast from the past" post by one of our GrowMama writers we hope you'll enjoy. It was initially published in 2010 where she shares the story of a special first night of Ramadan. We pray yours are blessed as well!
Ramadan is a tremendous opportunity to strengthen a child's Muslim identity, and to build a closer relationship with Allah SWT and with community. Each year I wonder how to make it special for the family. What can I do for them to taste it's sweetness? This year, like many others, I was not completely ready. At least not with the home perfectly cleaned or the fridge stocked with all the right suhoor/iftaar groceries. I took a deep breath and said to myself, "Lets make the best of what we have."
Listen to our story…the first night of Ramadan was special for us…
An hour and a half before sunset, I started to make crescent cookies with my children. Our goal: To welcome Ramadaan as a special guest. As the cookies baked, I pulled out a box of simple Ramadaan decorations. I collected some of their Ramadaan crafts over the years. While decorating our home I thought it would be nice to invite our neighbors. We called over to Michelle's asking if they wanted to come over for milk and cookies, watch the sunset and share in our welcoming party. They were at BMX biking practice. "If we were home, we would have definitely loved to come. "
So, I tried again. We called over to Carrie's. "Do you and the boys want to come for milk and cookies and wait for our special Ramadaan to start?"
"Ohhh…we would have loved to, but we are at the Texas Road House having dinner with my mom. Can we come by later in the week?"
I sighed, maybe a dawa moment was not meant to happen tonight. As the children decorated, I remembered my new Muslim friend "Eileen." When I called, she was already in her PJ's . "No worries, I'll come as I am. Thank you so much for inviting me." She was ringing our doorbell within 10 minutes.
The house was half decorated, the oven timer dinged. The sink was full of dishes, our tablecloth was full of crumbs. We all sat together at the big table by the window. We watched the sky turn pink, ate delicious crescent cookies with milk. We talked about our Family Ramadaan Goals. My husband wrote each family member's goals on a large poster board. He included a spot for Eileen. My youngest, who is almost five said her goals were to "Be nice and learn more surahs."
Eileen said "To be kind in word and actions." My husband would like to improve his taraweeh and read more Quran. Our seven-year-old son wants to fast between breakfast and lunch and give one of his toys in charity. I want to work on learning to forgive in a better way.
We prayed a peaceful Magrib salah together. My husband put the kids to bed while Eileen and I sat out on our deck next to the forest. We enjoyed some special sister time accompanied by the night sky and forest noises. My heart sensed Ramadaan around us. I thank Allah for a very special first night. In the end, I realized, having all the "stuff"' ready wasn't as important as having the right attitude, spirit and company.
Sharda Mohammed
Sharda Mohammed is a Canadian born mother of two young children. She has a keen interest inlearnig to foster leadership, self esteem and empathy in young children. She works part time as a Physical Therapist.