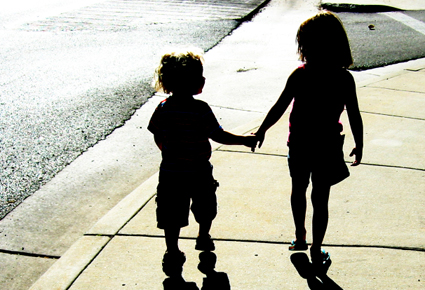 She climbs onto the twin sized bed, as difficult as it is for her, and proceeds to slap him on the face.  As she hits him again and again, she grins, sometimes babbling.  This is what her brother wakes up to many mornings.  No wonder he's not a morning person.  He doesn't get angry though, after all, he adores her.
As the day continues, she is her happiest when he's around.  When he leaves for school, she half crawls, half scoots her way to the front door as fast as she can so she can wave him "taaa-ta".  He, in turn, gives her his warmest smiles, smiles he reserves only for those people he trusts most in the world.  He loves her, there's no doubt about it, and she loves him.  He is her best friend, her very first friend.
She loves everything he loves, wants to play with everything he plays with, wants to be everywhere he is.  He shares with her, protects her, takes care of her, and feels bad when he's acted selfishly.  Perhaps he's a little too generous with her, but inshaAllah, they'll find balance in their relationship.
The relationship between siblings is complicated and is repeatedly tested as individuals grow.  I hope that as time goes by, their relationship is only strengthened, by the help of Allah.
I hope they always find comfort in one another.  I hope he'll always be there to teach her, to advise her, to laugh with her, to protect her.  I hope she'll always be there for him, to help him loosen up a bit, to help him to see the other side of things, to advice him, to be a person who truly understands him.  I hope they'll always remind each other of the values we tried to instill in them.  Their father and I can't be with them forever but they'll never stop needing a reminder of their childhood and our little family.
Yasmeen Afsar
Yasmeen is a mother of two who enjoys reading to her kids and trying new things.