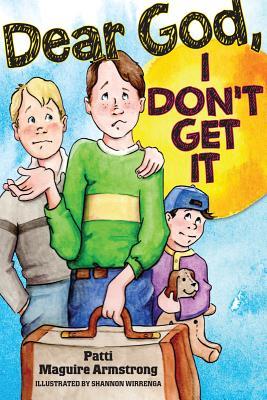 My eight-year-old has a sense of when I'm reading a book she'll like. Dear God, I Don't Get It, by Patti Maguire Armstrong (Liguori, 2013) is one of them: it's perfect for her, and though I don't have a middle grade son, I think this book would work for either boys or girls. It's cute, in the "I'm an adult reading a kids' book" way, without being cutesy.
The storyline is basic and yet…is there anything basic about being in sixth grade? Just thinking of those years makes my throat clench and my palms sweat and…well hey, I'm glad I don't have to go back to it. Armstrong knows her audience, and she doesn't downplay what's important. Reading it as an adult, I empathized. I'm pretty sure that, reading it as a kid, my eight-year-old will come away with the clear sense that she's loved by God, she has many opportunities for grace, and that forgiveness is freely given.
And the little brothers? Absolutely priceless. I suspect Patti, as a mother of 10, has some stories she could share…and what better way than in a book that will help other kids?
Good little book and definitely worth giving to the kids in your life.
Here's the official synopsis:
This new Catholic fiction novel introduces us to Aaron, a 6th grader who experiences a crisis in faith when his family moves. Author Patti Maguire Armstrong addresses those questions that young adults face when prayers aren't answered in a time of adversity-most importantly, "Is He even listening?" When Aaron shows compassion to an unlikely kid and risks losing his newfound friends' acceptance, he experiences the reality that being a real hero sometimes means that others will turn against you. Will God be there to save Aaron and his faltering faith?