Blackthorn Hoodoo Blends is a business that mainly focuses on the creation of magical teas. It was started by Amy Blackthorn (author of Blackthorn Botanical Magic) who I had learned about by listening to her interview on Down at the Crossroads. In her interview she talked a bit about her business, her book and her teas and I was instantly interested. There are few things that I love as much as magic, but tea is one of them. I went right to her website and ordered a Panacea Pouch (a sample of 6 different teas of my choosing).
In my order, I chose the following teas: VanVan, Florida Water, Crown of Success, The Good Neighbors, Hecate, and Fiery Wall of Protection. A good number (though not all of) Amy's teas are based on traditional hoodoo oil/water blends and I was blown away by how accurate some of them came out. The tins of "sample" sizes were also surprisingly large! I was easily able to make at least 6-8 cups of tea with each of the tins. I have included my initial thoughts on flavor and energetic feeling of each of the teas below.
Florida Water
The Florida Water tea was the first one that I tried, and probably the one that I've had the most of. I work a lot with actual Florida Water and I was intrigued at the idea of a consumable version. Traditional Florida Water is a spiritual cologne made up of a mixture of different floral waters (mainly neroli/orange blossom, rose and lavender), essential oils, and alcohol.
Taste: The first words that come to mind are "surprisingly warm". The florals of the tea hit you first, but then the warmth of the clove and cardamom settles in and wraps around you. Normally I am more of a black tea drinker in the morning, but this has quickly become a favorite tea to start the day with. I also tried this tea iced and infused gin with it and both were wonderful.
Energetically: This tea succeeds in instantly feeling protective and cleansing. This is one of the reasons that I love to drink it in the morning while writing my morning pages. After drinking this tea I feel like I can face the day mindfully and with a clean slate.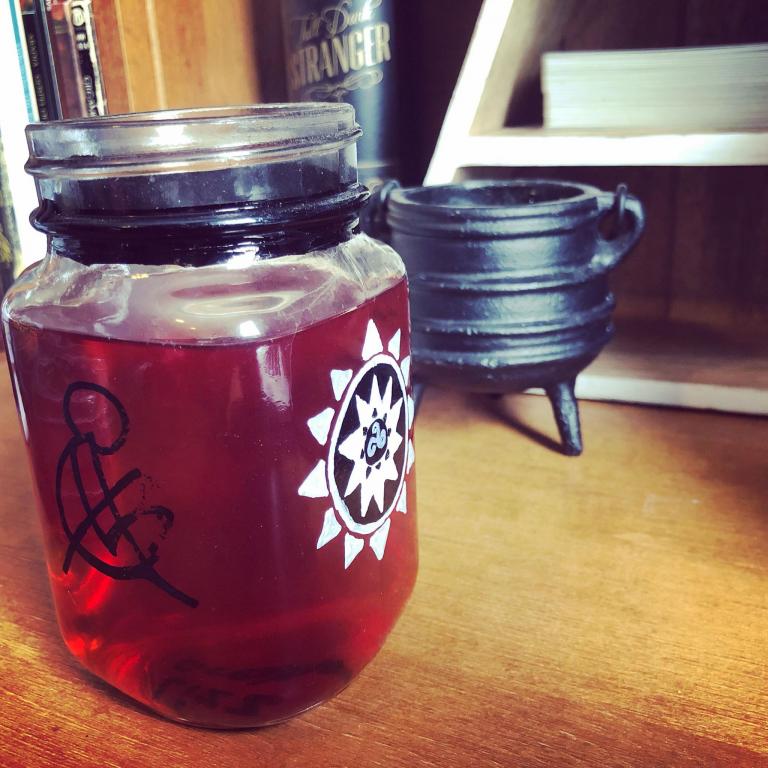 VanVan
This blend is traditionally used for a variety of reasons, including (but not limited to) cleansing, protection, road opening, and good luck.
Taste: Initially it tastes similar to the Florida Water tea as the orange and citrus hit you first, however it has a much stronger lemongrass flavor to it. It's very clear and clean tasting and makes a fantastic iced tea. I'm excited to make a sun tea with it once the New England weather finally begins to warm up.
Energetically: This tea is another great cleansing tea, however, I also found it very empowering. I have taken to drinking a cup of it before doing spellwork and I really loved the extra boost and inner cleansing that it gave me.
Crown of Success
Taste: Taste-wise this was my favorite tea. I am a sucker for Earl Grey teas, and the flavors of citrus and cinnamon are some of my go-to's. Drinking this warmed me from the inside out and allowed me to feel empowered in my decisions (It's nice that it's a caffeinated tea as well!)
Energetically: This tea really makes you feel like you can take on the world. The citrus and cinnamon are invigorating and the caffeine boost only adds to that. I felt a boost to my energetic projection in a way that would be great before things like speeches, meetings, and interviews.
The Good Neighbors
Taste: I'll be honest, I'm not usually the biggest fan of fruity/sweet teas when they're hot. I know it's odd, I just have something about warm fruit that completely turns me off. So I initially made a batch of this tea iced and it was wonderful. It was subtle, mellow and sweet. When this tea is made hot, the fruit flavors are much more prominent. It's full of apples, rose hips, strawberries, raspberries, but my favorite part of it is the taste of sweet cream that mellows out the entire experience. This is actually a fruit tea that I could enjoy hot, which is saying something.
Energetically: While I ultimately enjoyed this tea, I will admit that it's not my favorite taste-wise. It didn't change my mind on the whole warm fruit thing. I did really enjoy it energetically though, and the spirits of my house really enjoyed it as an offering. I also really enjoy using teas as stains for things like talismans, tools, and bone and this made a truly beautiful stain as well.
Hecate
Taste: This tea tastes exactly like a marzipan cookie. It is a really yummy dessert tea with a sweet almond flavor and I enjoyed it the most with just a splash of cream.
Energetically: This tea felt entirely devotional in nature. Drinking it demanded a calmness and attention. It wasn't something that I could just drink mindlessly while I wrote an article. Drinking this tea felt like sitting down in silent contemplation alongside Hecate. I tried to leave it as an offering at one point, and I was instantly told to pour myself a mug and sit down.
Fiery Wall of Protection
Taste: This chai has a kick! Containing spices like cinnamon and ginger, along with the extra kick of clove and black pepper really allows this tea to live up to its fiery name. I found that adding a splash of milk to this tea was really yummy.
Energetically: All of the herbs and spices contained in this tea work together to reinforce your protections. Incorporating this into your own spellwork for self-protection works wonders. I also added some to my floor and window washes for an extra boost of protection and felt it empower my pre-existing defenses immediately.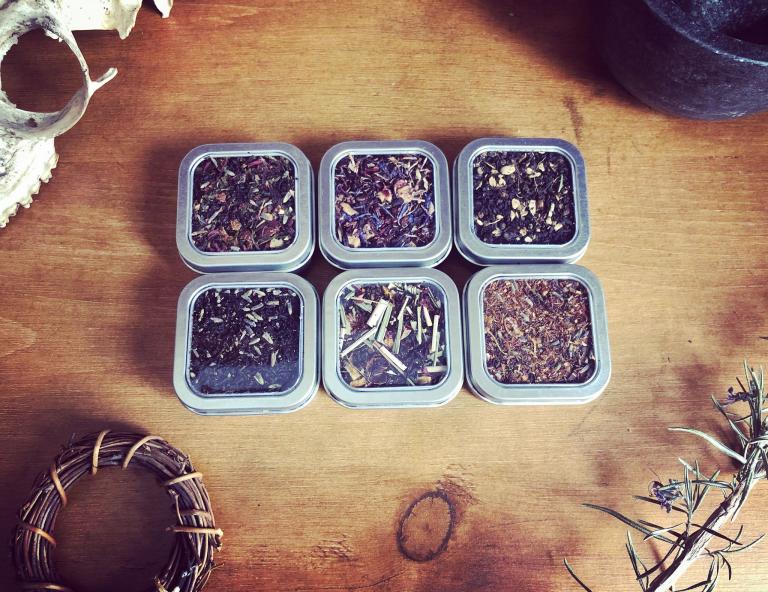 Overall there wasn't a single tea that I was disappointed with, which is fantastic! I plan on playing with some of them a bit more and looking at some other potential uses for them, such as dyes for paper and bones, washes and offerings. I will definitely be ordering more teas soon, here are some of the honorable mentions that I almost ordered: Cauldron of Rebirth, Cry on My Shoulder, Limelight, and Tarot Time.