As many of you know, thanks to Jason Mankey's post on upcoming festivals, there are many amazing opportunities to attend pagan events this summer! Personally, I am teaching at a few of these festivals this year (PantheaCon and TempleFest), but one of the ones that I am most excited for is the Salem Summer Symposium. Anyone who lives in or near Salem MA knows just how crazy it can get during October, but sometimes it can be difficult for the witches in the area to get to the more educational and witch-oriented events they would like to attend due to the more tourist-oriented attractions. A few local witches (Jacqui Allouise-Roberge, Justice Dubghaill, and Matthew Venus) saw this opportunity and teamed up to bring a summer symposium to Salem that is sure to be both educational and fun. I asked one of those founders, Justice Dubhghaill to share some details about the upcoming symposium:
What Inspired the Founders to Put this Together?
As individuals, each of the three founders have had different dreams of hosting occult & witchcraft oriented festivals. Through collaboration, we've all brought our different experiences and ideas together to organize the Salem Summer Symposium. We also each have a desire to see witchcraft & occultism be celebrated beyond the October tourist season. While we all love the frivolity and joy that Halloween inspires in Salem, we also wanted to see a festival that was a bit more serious, a bit more academic, while still having fun. This festival is meant to bridge the gap between practical occultists & the general public in a way that the carnival-like atmosphere of Salem in October doesn't.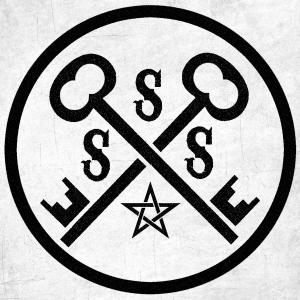 What Are Some of the Events that People Can Expect?
The Salem Summer Symposium is a multi-day festival with special events planned each day. Although official festivities begin August 3rd with an Open House event at The Cauldron Black, and a pop-up shop/sigil workshop with Laura Tempest Zakroff on August 4th, most of the main events will be held August 7th through the 11th. Besides our daily scheduled presentations held from 10 am to 6 pm at four different locations around Downtown Salem, we are hosting:
We are also offering the following free to attend events:
a Community Open Mic Night at the Hawthorne Hotel
the main public ritual The Feast of Diana
a Witch Swap – a free-cycle and trade event
and the Mercato Delle Streghe (aka Market of the Witches)*
*Donations for the Witchcraft & Human Rights Information Network will be taken at the door, as well as $5 from every Antilux ticket.
Ooh! A Market for Witches, that sounds amazing! What kind of things can people expect to buy there?
The Market of the Witches takes place in the basement-level Library room at The Hawthorne Hotel, and coincides with The Black Cat Cabaret being held in the Sophia Room on the first floor (so get your tickets now! Bronze levels have sold out). So, even though the Cabaret is a ticketed event, the Market is free admission. The Market will be featuring approximately 15 vendors, some local to the Salem area, and others coming from around the North American Continent. The Market is intended to cater to witches and practical occultists, it will include vendors and makers of magical tools and objects that can be worked with to enhance one's Craft. It will also be a wonderful event for non-magical practitioners, too, and will have something for everyone.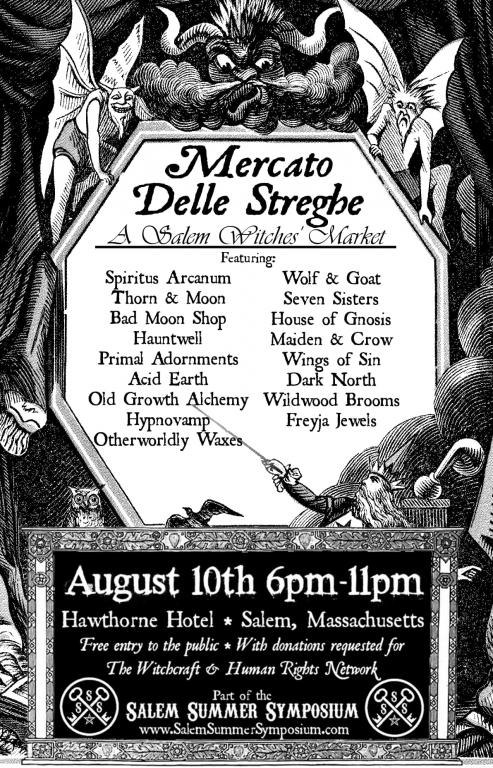 So What Makes this Event Different from Other Events in Salem?
Ultimately, I believe that the Salem Summer Symposium stands apart from other events held in Salem, MA due to the intention to bring a platform to practical occultists and academically-minded presenters that has, until now, been rather non-existent. This isn't meant to dismiss the wonderful, intentional work that has been done by those operating in Salem already, but there is a publicly-recognized void in this area that has been begging to be filled outside of the Halloween tourist season. The Symposium seeks to promote magical education, commerce, community, & activism in a way that hasn't entirely been done quite yet.
You describe the event as a "Celebration of magical education, commerce, community & activism" could you expand on that?
Salem is treated as a Mecca of sorts. Whether they are self-identifying witches, Halloween/Horror aficionados, Historical Maritime buffs, or just spiritual wanderers, thousands of people come to Salem, MA looking for *something* to connect themselves to this land, and it's the intention of the Symposium to directly connect attendees to the Spirit of Salem. As I came up with the event's Mission Statement, I quite literally looked around at what this town was truly offering and I listened to the Spirit of Salem through the voices of the locals, the shop owners, and the passers-through.
Those who have stayed in Salem long enough know how commercial, and sometimes detrimentally consumerist, the culture can be, and, because of the lurid history of the Witch Trials in which 20 people were executed under false pretenses in 1692, Salem has been a place of political activism that has quite literally changed public perception of Witchcraft & the Occult. Our Mission Statement places positive focus on these attributes, the spiritual glue that holds us together here in this community. These are the powers that make Salem go. We are here to provide magical education to both practitioners and non-practitioners to continue to dispel myths and misgivings about Witchcraft, to continue to promote the activism we need now more than ever, and to promote positive commerce that supports and enlivens the Salem (and greater Occult) community.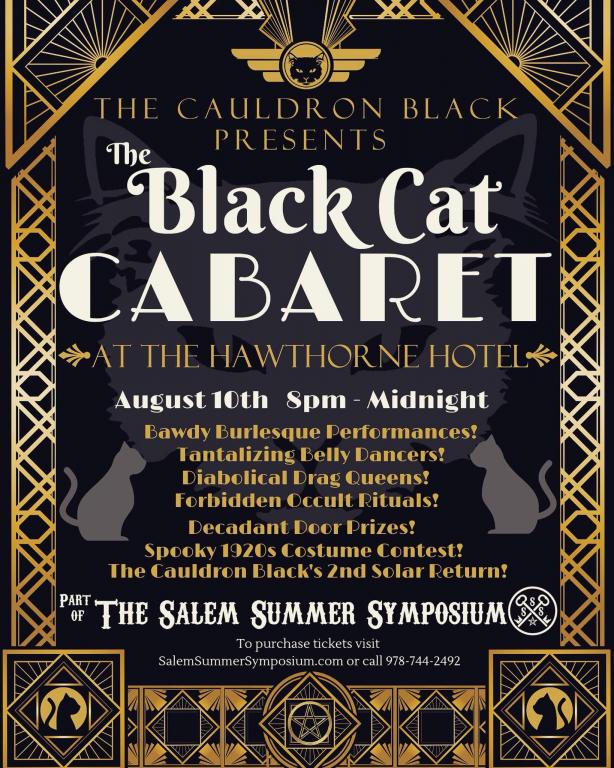 What are your hopes for the future of the Symposium?
Since this is our inaugural year, we hope that we will be successful in manifesting our intentions and be able to create a shared sacred space here in Salem that we can continue annually for many years to come. We've already attracted many wonderful presenters for this year, so we'd like to keep that trend and continue to excel our expectations for coming events. Depending on our experiences for this year, we're going to play around with the theming and special events for the coming years so that each experience builds upon the last and creates something a bit different, exciting, and new. We hope that this festival gains international attention so that Salem can enhance its ability to attract people world-wide. As I often remind my colleagues and friends, "The World Watches Salem," and so we should act like it.
Author Note: You can check out the presenters (including me!) here: https://www.salemsummersymposium.com/presenters
Anything else that you would like to share about the event?
I'm just honestly so excited about this opportunity and really have to thank my co-founders, Matthew Venus of Spiritus Arcanum, and Jacqui Allouise-Roberge of The Cauldron Black for all of their hard work. It hasn't been easy, and it's definitely pushed the three of us to our limits at times. This has been no small undertaking, but we truly believe in our Mission Statement and we are doing this work for the benefit of the Salem and larger Occult community.
Not only do we hope to continue this festival every summer, we are also planning a Saturnalia-themed masquerade, night market, and magical experience on the date of the Winter Solstice (Dec. 21st) at The Hawthorne Hotel that will act as the sister-event to the Salem Summer Symposium to keep the Wheel turning and continue to infuse the love we have of the Magical Arts into our community, locally and world-wide. Tickets for the Saturnalia party will begin to be available during the Symposium. We look forward to seeing you there and creating a wonderful experience for us all. Blessed Be!
Thank you so much, Justice! I'm excited to be involved in this event with all of you!
Justice the Wizard has been devoted to their Craft since the age of 13, dedicated to pursuing a path of deep, spiritual expansion and, ultimately, community service. They have taught at several gatherings in their home state of Michigan, including ConVocation in Troy, MI. Since moving to Salem, MA, Justice has collaborated with Spiritus Arcanum, presented and read at several New England-based gatherings, and can occasionally be found offering readings, presentations, and other services at The Cauldron Black. Justice is one of the three founders of The Salem Summer Symposium, fulfilling a long-standing dream of hosting an Occult & Witchcraft themed festival centered on education, commerce, community and activism. You can currently find them at: https://www.patreon.com/justicethewizard