It's fairly easy to find lists of all the US events and festival dates online, but it isn't always so easy to find such things for Australia. So, I did the work for you! If you know of any Australian Pagan events of 2018 that you think should be added to this post, let me know in the comments.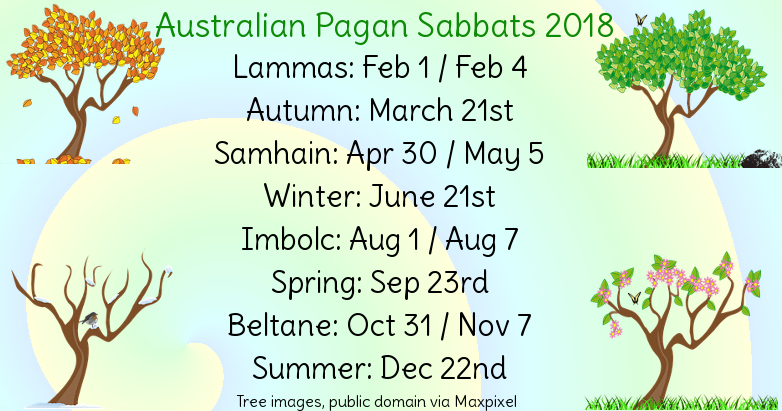 Pagan Calendar
Following is a list of dates for 2018 that may be of interest to the general Pagan community of Australia, including Sabbat dates, astronomical events such as meteor showers and even what physical events I know of that you can attend (not many though, sorry).
Jan 2 – Super Full Moon
Jan 3 – Earth at perihelion, earth is at its closest point to the sun
Jan 12-15 – Summer Gathering, Church of All Worlds, on the Gold Coast.
Jan 31 – Blue Moon in Western Australia (not in Eastern Australia), second full moon in a single calendar month.
Jan 31-Feb 1 – Total Lunar Eclipse, 9:51pm – 3:08am. Visible in all parts of Australia.
Feb – Black Moon month for Western Australia. There is no full moon in February for those in WA (not applicable to Eastern Australia). This obviously has no fixed date within February, since it is a lack of something rather than a presence of something, so if observing this phenomenon, it could be considered to be a month long thing.
Feb 1 – Lughnasadh, fixed date.
Feb 3 – PaGaian Lammas/Late Summer Ceremony.
Feb 4 – Lughnasadh (movable date).
Mar 2-4 – Seven Sisters Festival, Mount Martha, Victoria. Not a Pagan festival exactly, but an all women festival that may appeal to Pagan women.
March 21 – Autumn Equinox, 3:15am
March 21/22 – 1st Mercury Retrograde (22nd is date given, so assume 21st in Australia). Ends on April 14/15.
March 24 – PaGaian Autumn/Mabon Ceremony.
March ? – ConFest, and outdoor alternative camping event. No date announced yet, but it is usually around the end of March.
Mar 29 – Cloudcatcher Witch Camp, a Reclaiming tradition camp that runs over 4 days (Mar 29 – Apr 2). Held on the Gold Coast.
Mar 31 – Monthly blue moon (second of two full moons in a single calendar month)*
April 23 – Lyrids meteor shower. Should be visible in Australia. The shower begins on April 16 and ends on April 25, peaking on the 23rd. With best views between 1am and 6am, peaking at around 4:22am.
April 30 – Samhain, fixed date.
May 5 – Samhain (movable date)
May 5 – PaGaian Samhain Ceremony.
May 6 – Eta Aquarids meteor shower. The Aquarids are active between April 19 and May 28, peaking on May 6th. They are best viewed between 2am and 6am.
May 8 – Rite of Her Sacred Fires, international annual ritual to Hekate.
Jun 21 – Winter Solstice, 8:07pm
Jun 21 – Winter Solstice Wise Women Retreat, from the 21st to 24th. This is their first retreat, will have many workshops and will be in NSW.
Jun 22 – PaGaian Winter/Yule Ceremony.
Jun 23 – Witches Masquerade Ball in Brisbane.
Jul 7 – Earth at aphelion, earth is at its furthest point from the sun.
July 13 – Super new moon
July 13 – Partial solar eclipse, 1:04pm – 1:37pm. This eclipse is quite small, just a sliver of the moon will cover a sliver of the sun and it will only be visible in the lower parts of Victoria and in Tasmania.
July 13 – Huon Valley Mid-Winter Fest, Tasmania. Runs from the 13th until the 15th, is a local festival that "goes full Pagan" – so while not exactly a Pagan festival, it's definitely one Pagans will want to think about joining.
July 25/26 – 2nd Mercury Retrograde (26th is the date given, so assume 25th in Australia). Ends on August 17/18.
July 28 – Total lunar eclipse, 3:14am – 6:30am. some parts of Australia will miss the end of the eclipse, especially in the east.
July 29 – Delta Aquarids meteor shower. Active between July 12 and August 23, it peaks on the 29th of July this year. Best viewed after midnight.
Jul 31/Aug 1 – Imbolc, fixed date.
Aug 4 – PaGaian Imbolc/Spring Ceremony.
Aug 7 – Imbolc, movable date
Aug 11 – Super new moon
Sep 21-24 – Australian Wiccan Conference, in Perth Western Australia.
Sep 23 – Spring Equinox, 11:54am
Sep ? – EarthSong Witch Camp, usually held at the end of September over a period of 4 or so days. No specific date for this one yet. A Reclaiming style camp, in Victoria, but the venue is not announced publicly.
Oct 22 – Orionids meteor shower. This shower is active throughout October and peaks on the 22nd. Best time to view is between 1am and 5am.
Oct ? – 37th annual Mount Franklin Pagan Gathering. Date not yet announced, but it's always near Beltane.
Oct 31 – Beltane, fixed date
Oct/Nov – Wolfgangs Palace Beltane Festival, Nalangal Victoria. No exact date yet, but it is always over a weekend near/after Beltane.
Nov 7 – Beltane, movable date.
Nov 15/16 – 3rd and final Mercury Retrograde (16th is date given, so assume 15th in Australia). Ends on Dec 5/6.
Nov 18 – Leonids meteor shower. Active between November 6 and 30, it peaks on the 18th. Best viewed after midnight.
Dec 14 – Geminids meteor shower. Active between December 7 and 17, it peaks on the 14th. Considered the king of meteor showers, producing up to 120 multicoloured meteors per hour at its peak. Best viewed after midnight.
Dec 22 – Summer Solstice, 9:22am
Also keep an eye on the Pagan Alliance Network (Aus wide), Pagan Federation (Aus wide), Tasmanian Pagan Alliance (Tas), Combined Covens (Perth), Pagan Collective (Vic).
* Some places have two blue moons in 2018, in January and March and a black moon (no full moon) in February. Unfortunately, because of timezone differences, Eastern Australia misses out on these and we only get the one blue moon in March; Western Australia however does have the two blue moons and no full moon in February.
Lunar Phases
Below are two images listing the dates of the various lunar phases throughout 2018, one covers Eastern (and Daylight Savings) Standard time, and the other covers Perth/Western Australia time. The Dark Moon is the astronomical new moon, and so is the same dates as you will often find listed for the New Moon – however the astronomical new moon is when the moon is not visible, so for ease of use is listed under Dark Moon. The Pagan New Moon (the first part of the waxing moon) isn't listed, just use a date 1-3 days after the dark moon.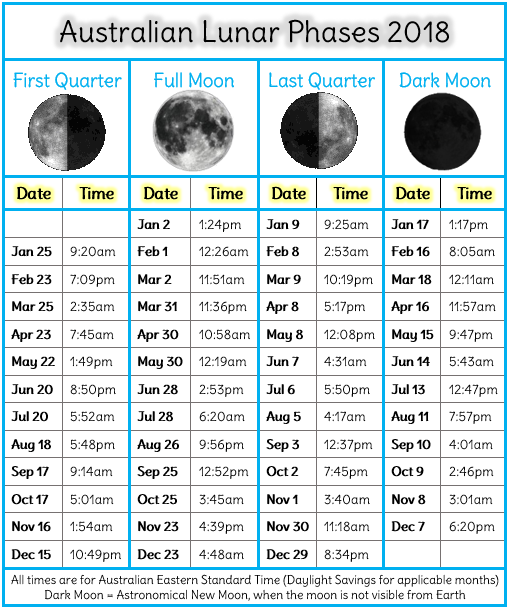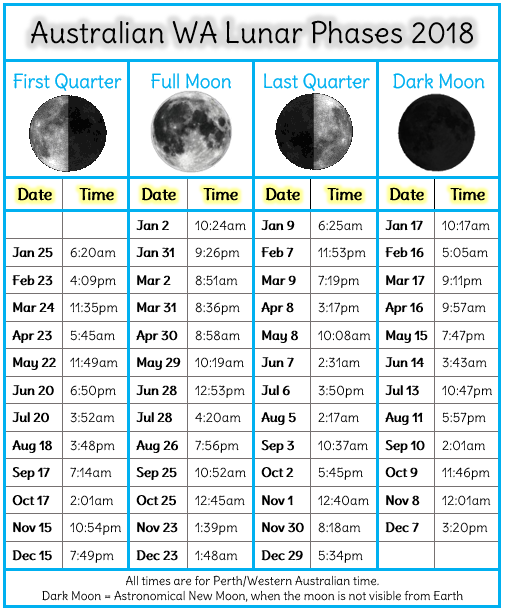 Remember to let me know in the comments if you know of any other events for 2018 in Australia that should be added to this post. Have a fantastic 2018!