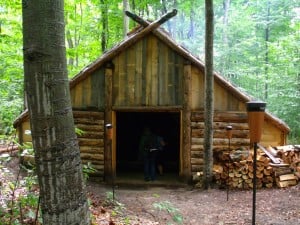 As I write this, I sit down and take a break from frantically packing and cleaning. As you read this I will already be far away from my home, up in the far north (to me!) of Michigan. In an amazing out-of-the-way campground, ADF's Grove of the Midnight Sun hosts the Midnight Flame festival; an annual event that gathers one of the largest crowds of ADFers outside of the east coast.
Last year, a few members of our Grove packed up and made the long journey together, and had an amazing time. This year we're doing it all again, including leaving at ridiculous hours of the morning so we can make it in time for the evening opening ritual. I can't even tell you how excited I am.
I don't get to attend a lot of festivals. I have three little ones whose attention spans are way too short for workshops, and a limited income that makes trips difficult. But for some events, I will scrimp and save all year to be able to attend; and Midnight Flame is one of those.
Last year, I was completely overwhelmed by the power of the rituals was able to attend. The Grove of the Midnight Sun is a Norse-oriented group, and being able to attend rituals for my deities with such passion and spiritual strength behind them was amazing. After the sun had set and dark had come on, nearly the entire group of festival-goers sang and processed down to the beautiful ritual space the Grove has created.
When Nerthus was hailed and offered to, I felt Her power and presence immediately. She was so close to this land where She is frequently given gifts, where Her name is remembered and honored. I had never felt that before, I who am used to being the only one who knows Her name at all in a gathering. It was a beautiful experience; and terrifying in its proportions, as She sometimes is.
My experience of ADF is largely my local Grove and my dear friends there; I'm not as active in their online groups as I could be – yet another thing I would love to make time for, but just haven't found a way yet! But coming together with the larger community was a transformative experience for me last year, to place those names and faces I'd seen on facebook to real personalities and people.
I was able to meet so many amazing people, those who follow my same path of scholarship and also experience of the Gods and spirits. I have so much to learn, both from the experienced and wise, and from those who are full of the wonder that a new point of view brings; and I know I will have plenty of opportunity for both this weekend.
The midnight flame, fed by so many who hold sacred the same things as I, is a flame of inspiration for me. Last year, I came home with renewed motivation and energy to finally accomplish things I had set out to do months before. This year, I hope to feel this same inspiration – and perhaps by next year, I will have finished my initiate's work, and be inspired to move forward yet further.
I wish you all a magical weekend – I know that mine will be!