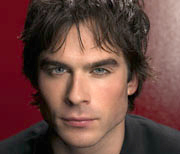 Tomorrow night, the Humane Society of the United States and Hollywood will honor the major news and entertainment media who over the last year have produced "outstanding works that raise public awareness about animal issues" with the 26th Annual Genesis Awards.
The list of nominees includes (full list at the end) features films like "Dolphin Tale," "Rio," "Rise of the Planet of the Apes," and "War Horse" as well as talk shows like The Ellen DeGeneres Show.
"Dancing With The Stars" judge Carrie Ann Inaba will host the event. Presenters include "The Big Bang Theory" star Kaley Cuoco;  "The Office"'s Angela Kinsey; "NCIS" star Pauley Perrette; "Castle" star Jon Huertas; "The Mentalist" star Owain Yeoman; "The Artist" star Uggie and dozens more. Platinum-selling multi-Grammy-winning singer-songwriter Colbie Caillat will also perform.
And – hold onto your seats, ladies – "Vampire Diaries" star Ian Somerhalder will be presented with the Wyler Award in recognition of his efforts to use his celebrity platform to advocate for animal issues.
Tickets are still available … at $350 each … but have no fear! The event will be taped to air on "Animal Planet" on May 5th and 6th 2012. Here's the full list of nominees winners are in bold/red:
 FEATURE FILM
DOLPHIN TALE   Alcon Entertainment
RIO   Twentieth Century Fox/Blue Sky Studios
RISE OF THE PLANET OF THE APES   Twentieth Century Fox/Chernin Entertainment
WAR HORSE   DreamWorks SKG
FEATURE DOCUMENTARY
BORN TO BE WILD 3D   Warner Bros. Pictures, IMAX Corporation
BUCK   Sundance Selects, Cedar Creek Productions
ONE LUCKY ELEPHANT   Crossover Productions, Sandbar Pictures
SID CAESAR COMEDY AWARD
THE CLEVELAND SHOW   "Ain't Nothin' But Mutton Bustin'"   FOX
THE COLBERT REPORT   multiple issues   Comedy Central
MELISSA & JOEY   "Toledo's Next Top Model"   ABC Family
DRAMATIC SERIES
THE GLADES   "Swamp Thing"   A&E
HAWAII FIVE-O   "Lapa'au"   CBS
CHILDREN'S PROGRAMMING
NICK NEWS WITH LINDA ELLERBEE   "Dangerous Crossroads: Human Animal vs. Wild Animal"   Nickelodeon
SID THE SCIENCE KID   "Save the Stump!"   PBS Kids
TV NEWSMAGAZINE
20/20   egg farm cruelty   ABC
ANDERSON COOPER 360   multiple issues   CNN
E:60   cockfighing   ESPN
ISSUES WITH JANE VELEZ-MITCHELL   multiple issues   HLN
NATIONAL NEWS
ABC WORLD NEWS WITH DIANE SAWYER   egg farm cruelty
CBS EVENING NEWS WITH KATIE COURIC   multiple issues
NBC NIGHTLY NEWS WITH BRIAN WILLIAMS   multiple issues
LOCAL NEWS FEATURE
KHOU-TV (Houston)   multiple issues
KPHO-TV (Phoenix)   "CBS 5 Investigates Canned Hunts"
KTLA NEWS AT 10 (Los Angeles)   multiple issues
WPMI-TV (Mobile)   "Alabama's Blood Sport" and "Training to Fight"
LOCAL NEWS SERIES
KTNV-TV (Las Vegas)   "LOLAA Kennel"
WOIO-TV 19 ACTION NEWS (Cleveland)   "Torture at the E6 Cattle Ranch"
MORNING NEWS SHOW
SUNDAY MORNING   "BATS!" from Barry Petersen   CBS
TODAY   multiple issues from Jill Rappaport   NBC
TODAY   "Online Puppy Sales" from Lisa Myers   NBC
TALK SHOW
THE ELLEN DEGENERES SHOW   multiple issues
THE MARTHA STEWART SHOW   vegan cooking
THE OPRAH WINFREY SHOW   vegan challenge
TV DOCUMENTARY/SPECIALS
GORDON RAMSAY: SHARK BAIT   BBC America
MADONNA OF THE MILLS   HBO Documentary Films
NATURE   "Broken Tail: A Tiger's Last Journey"   PBS
REALITY SERIES
ANIMAL PLANET INVESTIGATES: CAPTIVE HUNTING EXPOSED
CRIMES AGAINST NATURE   "Blood Ivory" and "Making a Killing"   Nat Geo Wild
IT'S ME OR THE DOG   "Bone Of Contention"   Animal Planet
VANGUARD   "Tiger Farms"   Current TV
BRIGITTE BARDOT INTERNATIONAL
KOPI LUWAK/ETHICAL CONSUMERISM   Carte Blanche   M-Net South Africa
THE MEDAN CONNECTION   Carte Blanche   M-Net South Africa
OUTSTANDING WRITTEN WORD
MAGAZINE
MOTHER JONES   "The Cruelest Show on Earth" by Deborah Nelson
NATIONAL GEOGRAPHIC    multiple articles   Editor in Chief, Chris Johns
O, THE OPRAH MAGAZINE   multiple articles   Editor in Chief, Susan Casey
VANITY FAIR   "Agony and Ivory" by Alex Shoumatoff
SERIES OF NEWSPAPER ARTICLES
LEXINGTON HERALD-LEADER    Janet Patton
MCCLATCHY NEWSPAPERS   Chris Adams
THE VIRGINIAN-PILOT    Philip Walzar
ON-LINE AWARD
THE ATLANTIC.COM   multiple articles on wild horses by Andrew Cohen
LA TIMES.COM   multiple issues by Dean Kuipers
NY TIMES.COM   multiple issues by Mark Bittman
TIME.COM   multiple issues by Krista Mahr, Alexandra Silver, and Bryan Walsh
BRIGITTE BARDOT INTERNATIONAL PRINT
THE INDEPENDENT (UK)   multiple articles by Martin Hickman
SOUTH ASIA magazine (Pakistan)   "Importance of Animals in Islam" by Nilofar Ahmed, "Social Justice and Ethics" by Anees Jillani, and a commentary by Syed Rizvi
THE SUNDAY TIMES (UK)   multiple articles by Daniel Foggo, Simon Parry, and Hannah Ashwell
WILLIAM WILBERFORCE AWARD
PRISM   "A Call to Compassion from Our Brothers the Animals" by Kendra Langdon Juskus
ST. ANTHONY MESSENGER   "Finding Faith in God's Creatures" by B.G. Kelley
THE WYLER AWARD – IAN SOMERHALDER
INTERNATIONAL HUMANITARIAN AWARD – PRITISH NANDY
You can learn more on the website for The Genesis Awards.