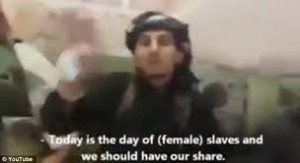 Most Iraqi Christian and Yezidi girls are kidnapped and sold, categorized, stripped, shipped naked, examined upon arrival by their buyer, distributed like produce or packages of beef—in groups of hundreds.
Less expensive than livestock, "sabaya" (girls sold into slavery) are worth less than $200. Once they are purchased, they are held down, violated and either discarded or returned to be resold and remarried—up to 20 times—each, according to reports by the United Nations.
In some cases parents are able to buy back their kidnapped daughter for approximately the equivalent of one year's salary.
Others are less fortunate. Parents are forced by Islamists to marry their daughters to jihadists in exchange for their family's protection; some are given high dowries.
But this isn't solely happening in Iraq and ISIS-controlled areas.
The Qur'an permits: marrying multiple women (Surah 4:3), including slaves (Surah 4:24) and prepubescent girls (Surah 65:4), and beating wives as a form of punishment (Surah 4:34).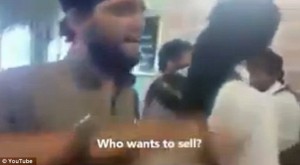 In Rotherham U.K., Imams have married girls to men for marriages that last for one hour.In Manchester, girls and women are trafficked against their will, and expected to be married at least 10 times—each.
Associated with child marriages and sex trafficking, health clinicians from the U.K. to Libya document growing numbers of forced abortions, miscarriages, stillbirths, and labor complications as well as the spread of sexually transmitted diseases.
Nine year-old girls are pregnant: some after being raped by multiple men.
Doctors have observed young girls do not understand what is happing to them, don't know what sex is, what pregnancy is or that they are pregnant, or why they are bleeding. But they do know excruciating pain.
Older Kurdish girls are killing themselves; ISIS revels in posting photos online of them dead, after suicide, after experiencing such torture.
Few, if any of these girls can read or write. They are invisible—yet repurposed as profitable commodities.
To help, people can donate money and needed items to people living and working directly with survivors to:
International Association for Human Values
Iraqi Christian Relief Council