June 5- July 6, 2016, marked the month of Ramadan, the Islamic holiday observed worldwide. Followers of the Qur'an fast during the day, then eat at night, for a whole month, to commemorate the first revelation of the Quran given to Muhammad.
It is emphasized by leaders as a time of peace and forgiveness for all Islamists. However, as The Religion of Peace website indicates, Ramadan is one of the most deadly months of the year.
The editors of the site write:
"Muslims often insist that other religions are just as violent as theirs and that the bigger problem is 'Islamophobia.' We put that narrative to the test each Ramadan with a running count of ALL terror attacks, categorized by motive."
This year, by July 6, 2016, the site recorded 238 fatal terrorist attacks that occurred in 32 countries solely in the name of Islam. No other ideology caused a single terrorist attack over the same 30-day period.
That's roughly 61-62 people killed every day in the name Islam.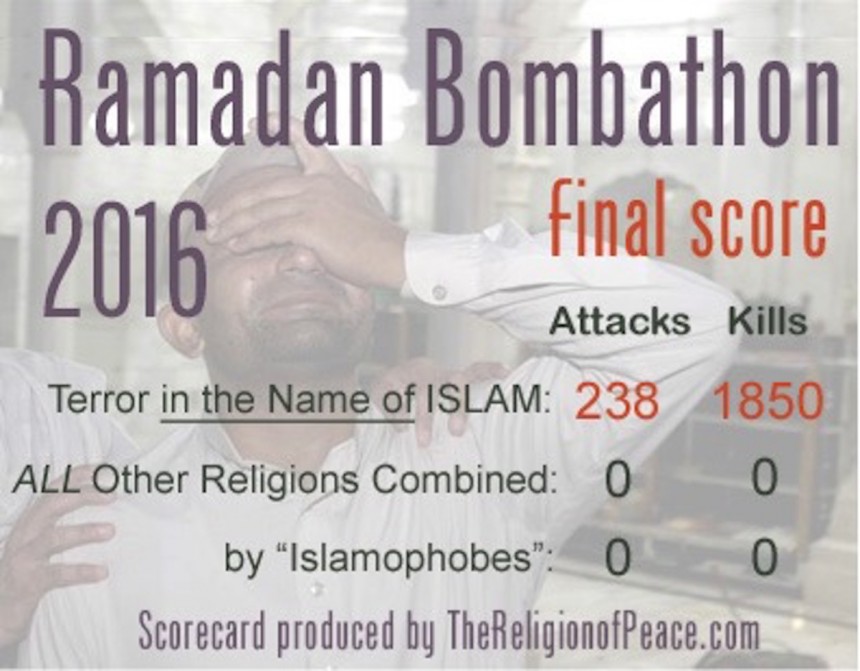 TheReligionOfPeace.com lists high profile suicide attacks that occurred in Baghdad, Bangladesh, Florida, Turkey, Yemen, and other parts of the globe whose 1,850 victims were Buddhists, Christians, co-religionists, Hindus, homosexuals, and Jews. These fatal attacks were all perpetrated only in the name of Islam.
Every week the site lists, "Atrocities of the Week." Those that occurred during a five-day period during the halfway mark of the month of Ramadan included:
The last few days of Ramadan included:
The Religion of Peace website "is a non-partisan, fact-based site that examines the ideological threat that Islam poses to human dignity and freedom."
Its numerous resources evidence that Islam is anything but "peaceful."