U.S. Roman Catholic bishops have organized a commitment to pray for the Supreme Court starting tomorrow, August 3rd through September 28, to protect human life.
From Friday, August 3, 2018 to Friday, September 28, 2018, the weekly Call to Prayer will be adapted as a nine-week Novena for the Legal Protection of Human Life.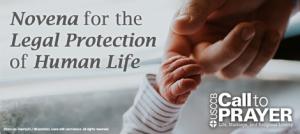 "Each Friday, from August 3 – September 28, 2018, I urge all people of good will to join me in prayer that this change in the U.S. Supreme Court will move our nation closer to the day when every human being is protected in law and welcomed in life," Cardinal Timothy Dolan said.
Participants will also be provided with weekly opportunities to learn more about 
Roe v. Wade
 and share that information with their elected officials, the Bishops state.
They:
"invite the faithful to join a movement of prayer and sacrifice for the protection of life, marriage, and religious liberty in our country. Serious threats to each of these have raised unprecedented challenges to the Church and the nation. When confronted with challenges, our Lord calls us to sacrifice and pray."
Participants can also click on the "Join Call to Prayer" button on their website.